Sleep – Shelter Island Hotels and Guesthouses
Once you discover Shelter Island, you will definitely want to stay for awhile. Since the Island is small, there are only a handful of Shelter Island hotels, many of which have excellent restaurants. Remember to book early – especially on July 4th or Labor Day weekends. In addition, there are several Shelter Island Guesthouses that are wonderful. Read on for some of my favorite picks in wonderful Shelter Island.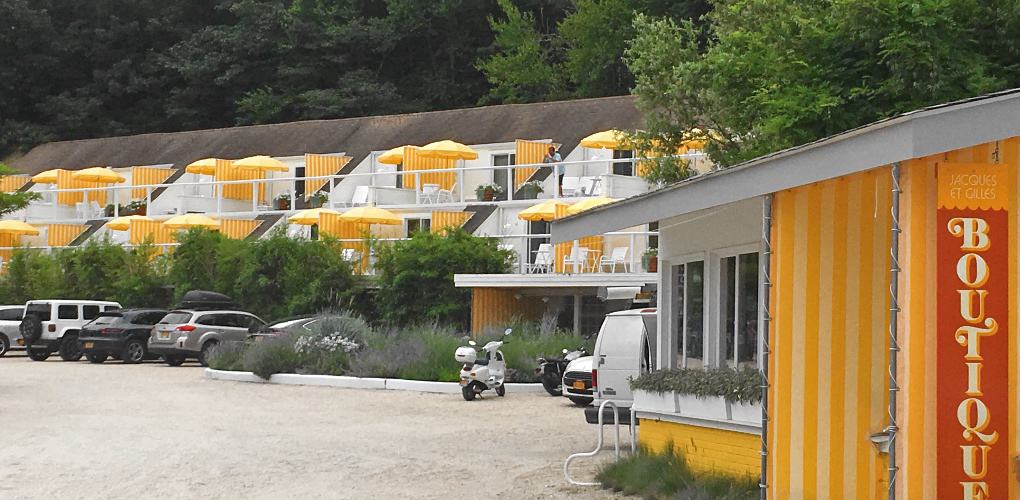 Escape to Sunset Beach and you'll feel like you're waking up in a different world.  Feel a European vibe in this unique, charming hotel located on Crescent Beach. Large studio rooms all have spacious sundecks facing the bay. Enjoy complimentary beach chairs with towels, bicycles and paddleboards. Play petanque and pingpong.
Sunset Beach has a terrific outdoor lounge area with a fire pit and occasional live music. The three-level restaurant and bar area are always filled with a lively crowd.  Rosé wine is flowing and a Frosé  is perfect on a hot summer day. Of course, DJ music plays from the afternoon into the wee hours of the night. Being right on the beach makes this the ultimate spot with a French twist.
The Pridwin reminds me of a grand hotel. It has a huge lobby, very nice rooms and a pool.  In addition, the upstairs balcony has one of the best dining views on the island, and great food. It is a 5 min walk to Sunset Beach, which is a hot spot both day and night.
You will discover casual sophistication and a chance to explore the local feel without sacrificing luxury. Shelter Island House has a pool and is close to Crescent Beach. The property just opened a delicious new restaurant, Caci.
West Neck Guesthouse, is only about two years old. The property offers comfy and beautifully appointed guest rooms all with king beds, private baths, flat screen TV's with cable, and Wi-Fi. Just a 10 minute walk from Crescent Beach.