Split, Croatia is a city that we enjoyed immensely and would love to return to. Old Town is amazingly charming and clean with shiny limestone pedestrian walkways throughout. There is a unique mix of history and architecture on every cobblestoned street. Moreover, you have your choice of many good restaurants and charming shops to visit. One of the things we loved the most is the Croatian people. They couldn't be nicer or more helpful!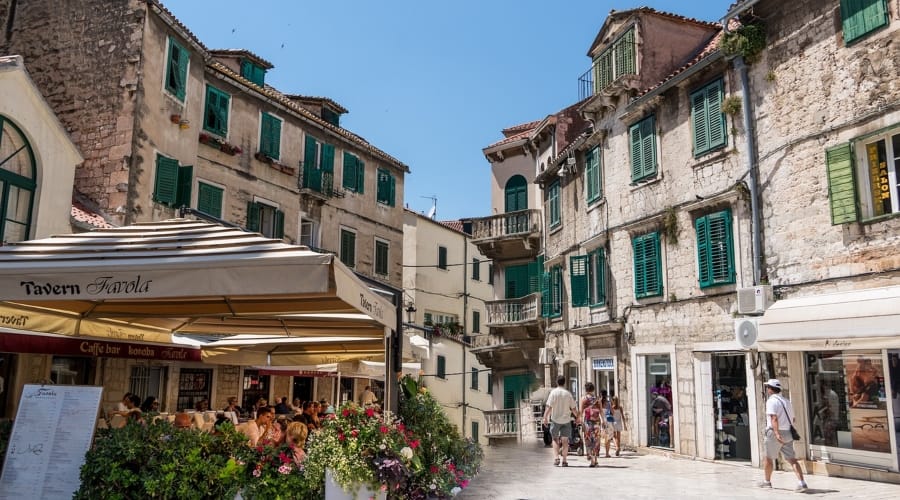 One of the main attractions you will come upon is the Split Riva Promenade. It is a way to enter the pedestrian only Old Town of Split. This bustling waterfront features numerous eateries, scenic views and an expansive boardwalk bordered with flowering trees. It is a pleasure to take in the sights of the harbor during the day. Moreover the evening brings music and lights which fill the multitude of open-air restaurants. It's a lively beautiful sight to behold.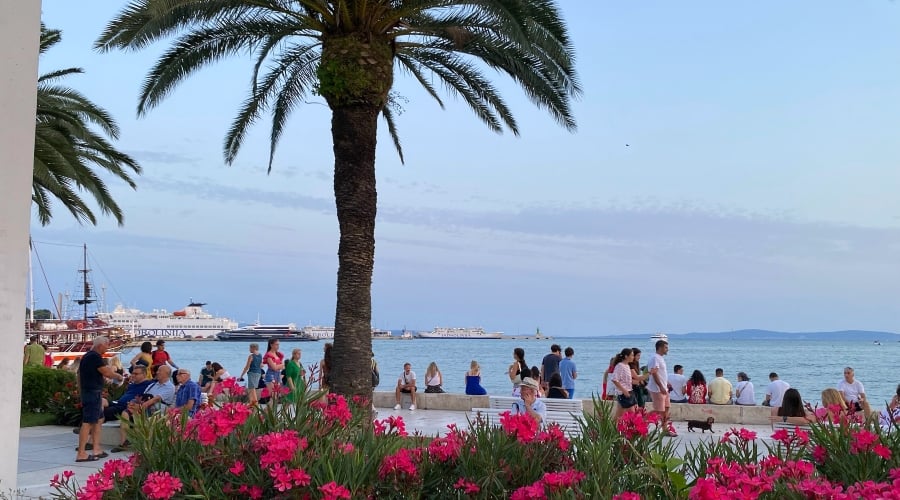 Things to do in Split Croatia
Simply walking around Old Town, you will come across many beautiful nooks and crannies. For instance, ancient ruins, centuries-old cathedrals, open-air markets and more.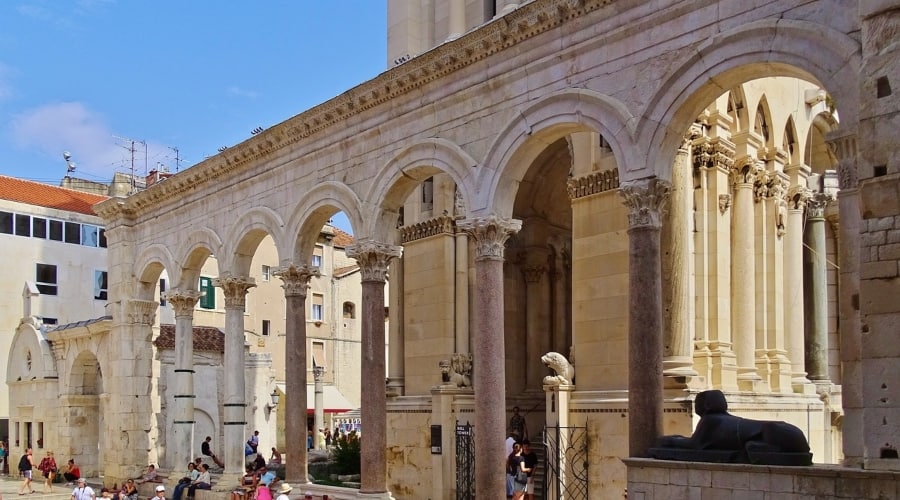 Diocleatian's Palace is a beautiful historical landmark. This palace served as the Roman emperor's residence. In addition, it served as a fortress for the military garrison. It is an outstanding sight to see, with exquisite arches and columns. Today there is a terrific restaurant/bar, Luxor, which occupies the center square of the palace. In the evening, pillows are set on all the steps around the square for everyone's comfort. Luxor serves delicious cocktails and has live music. It was one of our favorite nights, with everyone dancing and loving their evening!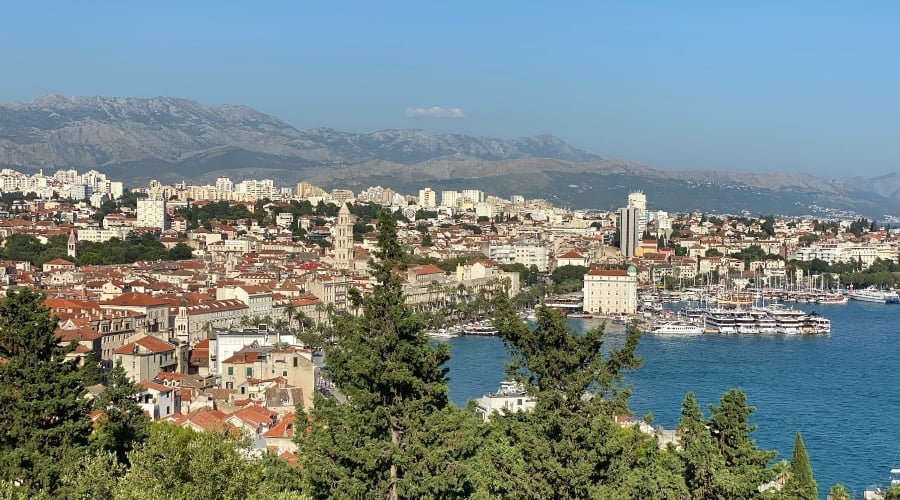 Marjan Park View Point is a beautiful spot overlooking the harbor and city of Split. There is an easy walking path which brings you up to the park. Along the way you will pass several churches, the last one completely built into the stone wall. Enjoy beautiful views perfect for pictures. Moreover, you will find a cafe for a drink or bite to eat.
Split Croatia Beaches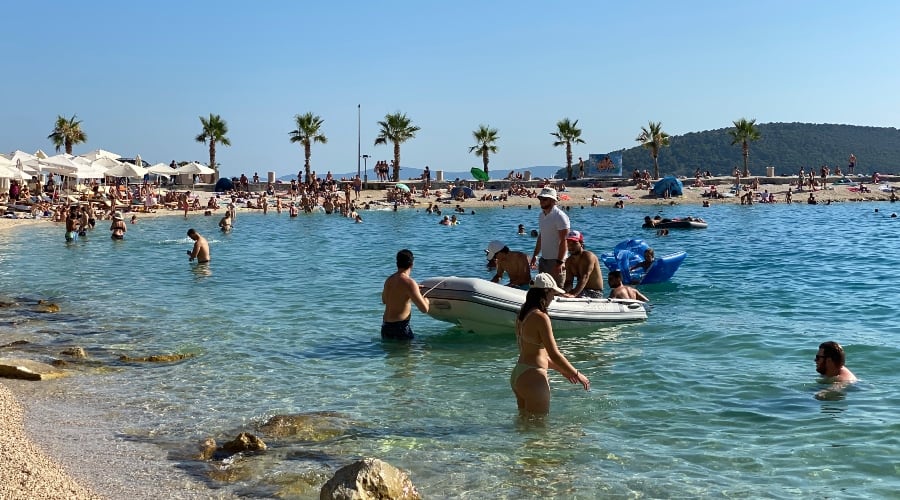 As for Split Croatia beaches, our favorite was Joe's Beach Bar. Only a short taxi ride from town, it has beds and umbrellas for rent and great lounge music. The cost was 35 euros per bed including the umbrella. The water was wonderful and the view was beautiful. I highly recommend!
Additionally, Bavich Beach is within walking distance to town. There are no rental facilities and you need to bring your own towels etc. Honestly, I wasn't crazy about this beach – sorry!
Shopping in Split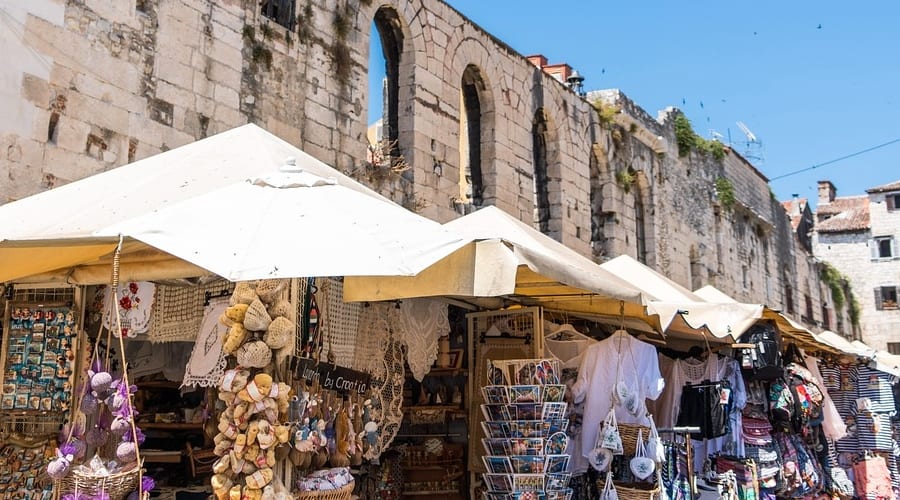 Beside the numerous chic shops in town, Split offers a few markets that were terrific. A popular one is the Green Market. This farmers' market has stalls of fruits & vegetables. In addition, they offer a large meat selection.
There is an another market which we loved – the one with beautiful clothes! This market was at the end of the Riva. Some beautiful beach cover-ups and dresses are now in our suitcases!
▶︎ Split is only a 3 hour drive from Dubrovnik, which is definitely worth a visit! 🚘
Split Picture Gallery