Let me take you on a journey to amazing and romantic Venice Italy. You will discover all that this magical city has to offer. Find top attractions, best hotels, delicious restaurants and much more advice on visiting this amazing city by reading my Venice travel guide.
Venice Italy is one of the most amazing and enchanting places on earth. It is a city of beautiful architecture and bridges, not to mention boats and canals. Delight in riding a gondola with an Italian serenade to charm your ears. Wander in a maze of narrow cobblestone walkways and let your eyes feast on the amazing sights around you. Enjoy every moment of this magical city!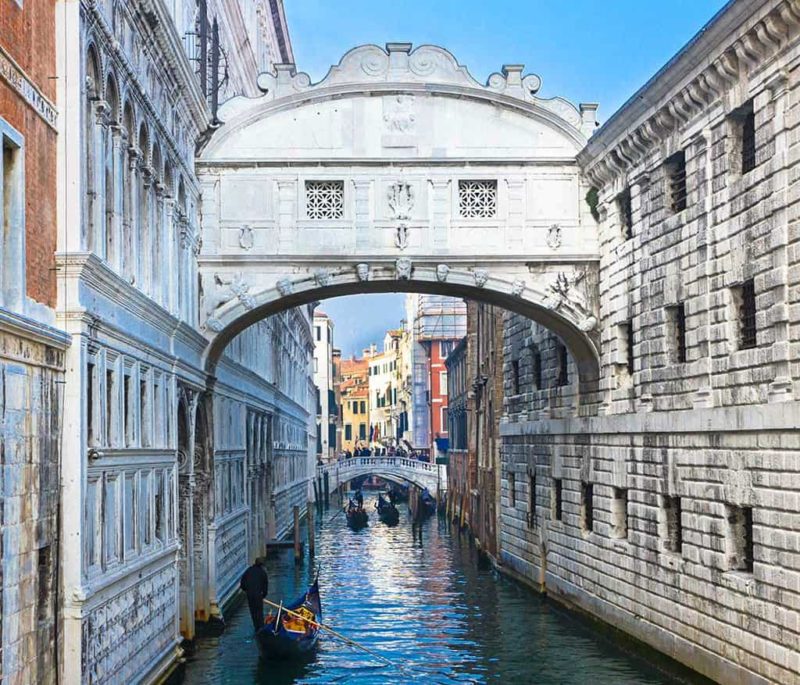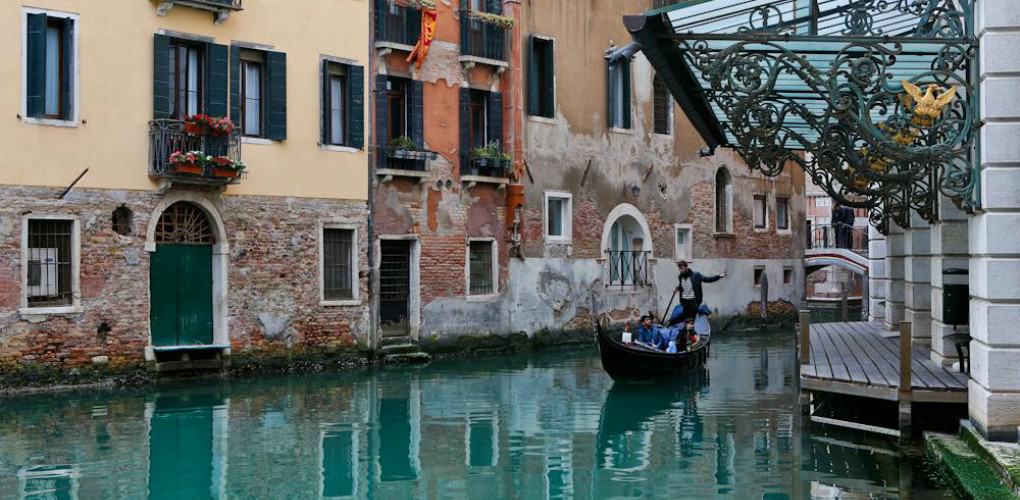 In my opinion, this is the most enchanting and unique place in the world, not to mention one of the most romantic. Furthermore, Venice not only boasts spectacular scenery but is abundantly rich in art and history. It is a city of canals, bridges and beautiful architecture.  Where else can you get serenaded on a gondola, lost in a maze of narrow cobblestone walkways and let your eyes feast on the amazing sights around you?

Notably, this magical city is built entirely on water which is a feat of creative genius. In fact, the only method of transportation is by foot or by boat. It sits on over 100 islands and has 400 bridges, the most famous which are the Rialto Bridge (Ponte de Rialto) and the Bridge of Sighs.
Travel Venice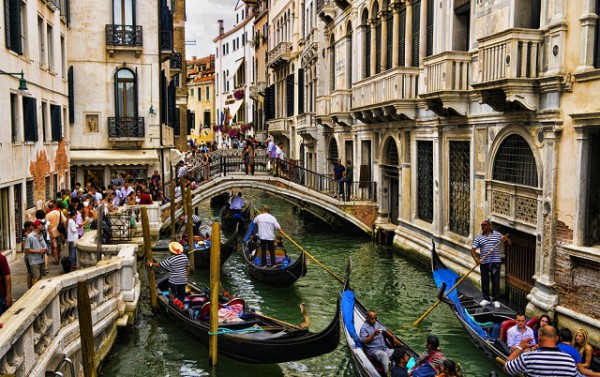 This city has magnificent must-see landmarks and is ideal to walk in – you can really walk everywhere from one end to the other. Since this is one of the most visited cities in the world, it can get quite crowded. The city gets up to 60,000 visitors a day and 30 million a year! Although this may be true, you can get away from the bustling crowds. Leave the San Marco area by the major sights and go into the other neighborhoods. There you will enjoy beauty and serenity among the waterways and narrow lanes.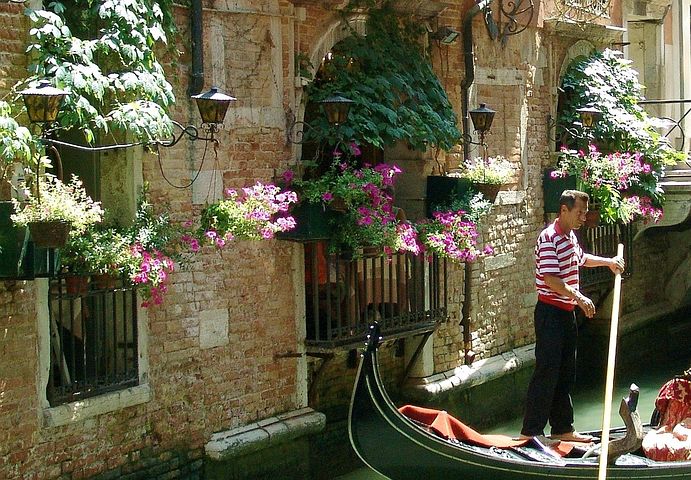 Save time to explore all the side streets and canals that Venice Italy has to offer. A casual stroll around this scenic city is part of the attraction. Grab a gelato, your camera and start your adventure. You can browse my Venice Italy Travel Guide and related posts on your phone as you stroll.
Note: It is important to know that this is a car-free city: boats and gondola's only. Therefore, pack lightly since you may have to walk and cross bridges to get to your hotel with your luggage.
Air Transportation: Marco Polo Airport is an international hub for those who would like to start or end their vacation in Venice. In addition, it is easy to travel to and from the city by train. For info on getting from the airport to your hotel, check out my comprehensive Transportation Guide.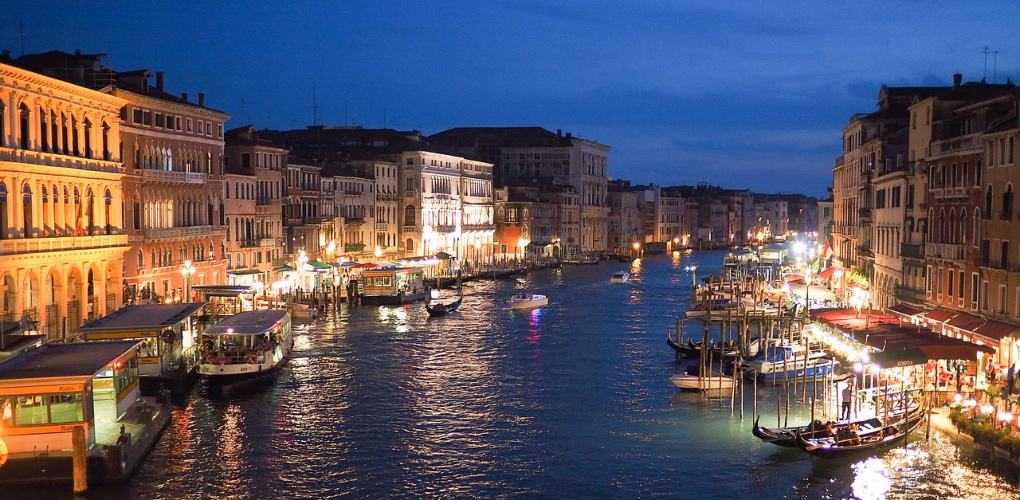 Fun Fact: Venice is the birthplace of both the Bellini cocktail and one of the most famous lovers in history, Cassanova!
TRANSPORTATION IN VENICE
The city center is car-free, an entirely pedestrian area. By foot or by boat….here are the different modes of public transportation.
Vaporetto – A public 'bus' boat. Vaporettos have regular routes along the Grand Canal as well as stops on the islands of Murano and Burano. You need tickets to board which you can buy at the Vaporetto stops.
Gondola – Your trip won't be complete without a Gondola ride! The gondoliers wear striped shirts and sing. They are the classic image of Venetzia. Make sure you know the official gondola fares so that you don't get overcharged. In addition, my suggestion is to take your ride on the side canals, not the Grand Canal. My favorite canal is the Rio de la Palazzo o Canonica. It is a scenic canal that runs under the Bridge of Sighs behind the Doges Palace.
Traghetto – A traghetto looks like a gondola but is less ornate and has two drivers. Venetians regularly use this to cross the Grand Canal where there are no bridges. It's a very short ride and a bargain rate of a few euros to get across the canal..
Related articles to my Venice Italy Travel Guide:

Tip: To avoid crowds, visit popular attractions first thing in the morning, during lunch or right before closing. Book your tickets online if you are not doing a guided tour.
Visit Venice Attractions for comprehensive information on all attractions including hours, tours and ticket prices. The top sights to see: The Grand Canal, St. Mark's Square, St. Mark's Basilica, Rialto Bridge and Doges Palace. All are within steps of each other, but since there are thousands of tourists, plan accordingly.
From seeing the top attractions to kayaking in the Venetian canals, your trip will be filled with a plethora of things to do in this city. Read about concerts, operas, day trips and exploring the hidden corners of Venice in my Things To Do guide.
Check out my Venice Hotel Guide for some great hotel recommendations. Are you traveling as a couple, single or family? Are you honeymooners or backpackers? I have a variety of hotel suggestions from dripping with luxury to hipster-chic value.
Compared to the rest of Italy, it could be challenging to find a good restaurant here. Generally, Venice is not known for its food. But don't worry, I will gondolier you in the right direction! Check out my Venice Restaurant guide.
Venice Italy EVENTS
Check out my Venice Event guide to discover what takes place in this amazing city. First of all, the events that happen in this city are superb and world-renowned. Not only do they attract people from all over the world, but some events are also iconic in their field. For instance, The Film festival is an international leader in the film industry. The Art Biennale shows works of international artists oven an amazing 6-month event! The Venice Carnival attracts people from all over the world and the festivities are amazing. For these reasons, Venice is a mecca for international leaders, creative thinkers and artistic spirits.