Finding a delicious restaurant in Venice could be challenging. Let me give you some tips and recommendations on finding some of the best restaurants in Venice Italy.  Compared to the rest of Italy, most Venice restaurants are not known for their food.  Indeed, Venice is known for its high prices and poor cuisine. This is because thousands of tourists are passing through and they do not have to hold themselves to high standards or reasonable prices.  Although this may be true, I will give you tips to navigate around this.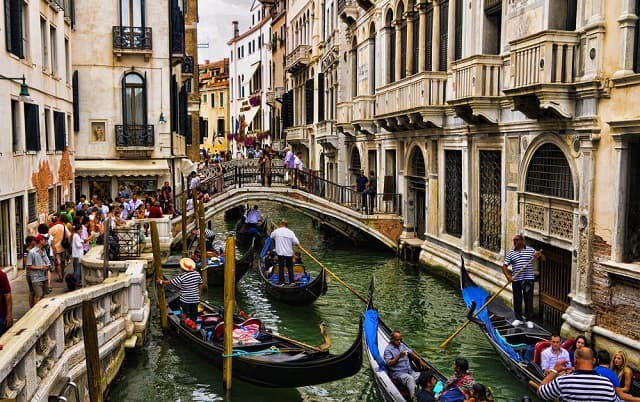 In the first place, avoid eating by St. Marks Square or the Rialto Bridge which are the main attractions of Venice. Stay away from touristy restaurants that have picture menus or waiters trying to lure you inside. You can ask your hotel for a few restaurant recommendations, then I suggest to read their reviews before reserving. Go off the beaten path, and you will find something worthwhile.
If you are traveling during carnival time, read my Venice Carnival Guide for information on exclusive and delicious dinners and balls to attend.
Note:  Be aware to look for the following in small print on your menu: A cover charge (coperto) which is about 1-3 euros per person – or more!   A charge for sitting at an outdoor table.  Sitting at an indoor table and not at the bar.
Best Venice Restaurants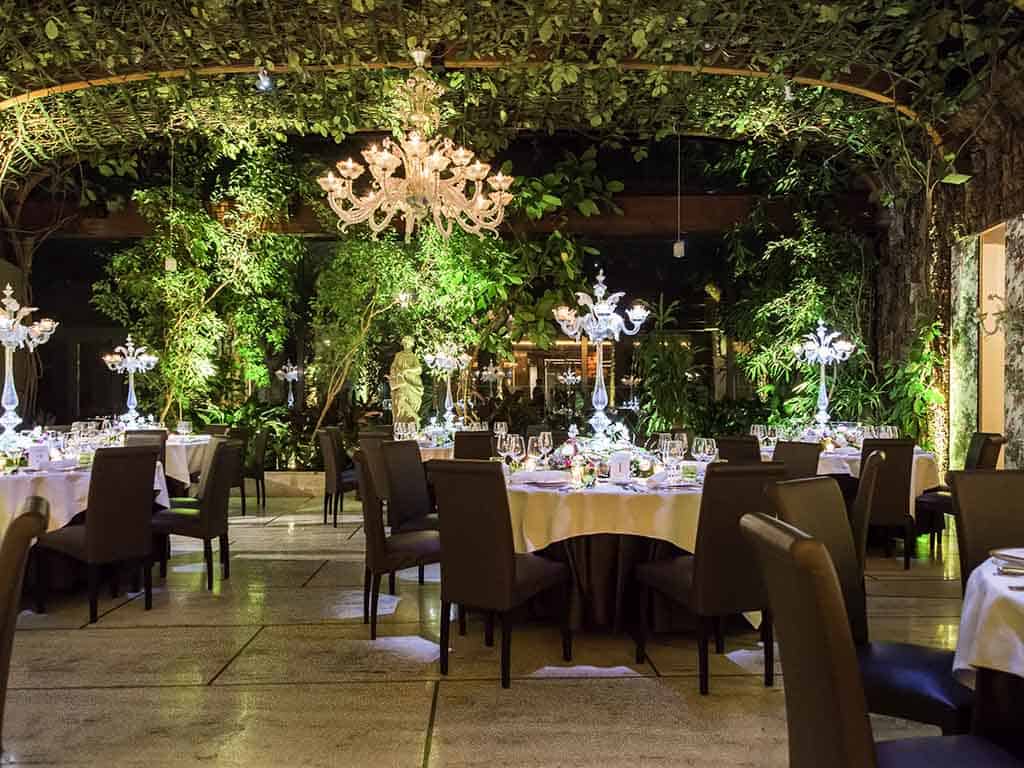 Fine Dining: This outstanding restaurant is located in the Hotel Papadopoli. You will indulge in delicious food paired with a great selection of local wines. Not only is the food amazing, but the presentation is excellent. Giardino D'Inverno has particularly beautiful ambiance which is enhanced with live music. I think this is one of the best restaurants in Venice! Enjoy!
Address: Santa Croce 245 Phone +39 041 710400
Fine Dining: The menu at Alle Testiere depends on the availability of fresh fish at the market. Menu varies from shrimp, lobster, razor clams and whole fish to pastas with clams, prawns, etc. The food is amazing and the Venetian wines are delicious. Reservations are a must. If you love seafood, Osteria alle Testiere is definitely worth a visit.
Address: Calle del Mondo Novo , Castello Venice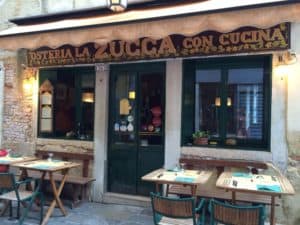 Moderately Priced: Fresh seasonal food that is always delicious and creative. The house wines are also delicious. La Zucca is a small restaurant with outdoor dining and is right off a pretty foot bridge and canal in the Santa Croce area. Note that this is a popular restaurant, by all means, remember to make reservations.
Address: Sotoportego del Tintor 1, Santa Croce 1762 Phone: +39 041 524 1570
Trattoria Bar Pontini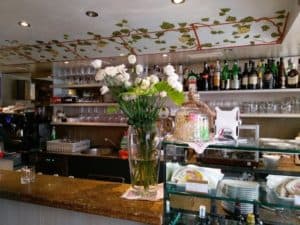 Casual: Away from the touristy area of San Marco, this little restaurant sits on a side canal in the Cannaregio area. Enjoy the delicious food and the waterfront table views. Definitely try the eggplant and zucchini parmesan. Since this is a small restaurant, don't forget to make reservations or you will wait for a table.
Address: Fondamenta Cannaregio, 1268 Phone: +39 041 714123
WINE BARS
Cantina Arnaldi

Cantina Arnaldi has delicious wine and a warm, cozy atmosphere. There is a good variety of fine wines, delicious food, abundant cheese & meat boards and a terrific, knowledgeable staff. A good value for great wines.
Address: Santa Croce 35, Venice
I hope you enjoyed this post of the Best Venice Restaurants!
I hope you and yours will be able to visit this magical city sometime soon!