OIA Santorini is Paradise in the Greek Islands
When you visit the village of Oia Santorini, it seems like you stepped into a fantasy.
First of all, Oia Greece is one of the most spectacular places I've ever traveled to. It is known for it's devastatingly gorgeous views, amazing sunsets and sloping cliffs. A volcanic eruption thousands of years ago gave Santorini its distinctive crescent shape, sheer cliffs and shimmering bay called the Caldera. It has entranced visitors and locals alike ever since. Oia is perched high upon a soaring cliff making views of the infinite blue Aegean sea sensational and endless. Furthermore, the charming, iconic whitewashed homes, labyrinth of narrow streets and blue domes truly magnify its beauty. Oia is beyond doubt, a feast for your eyes!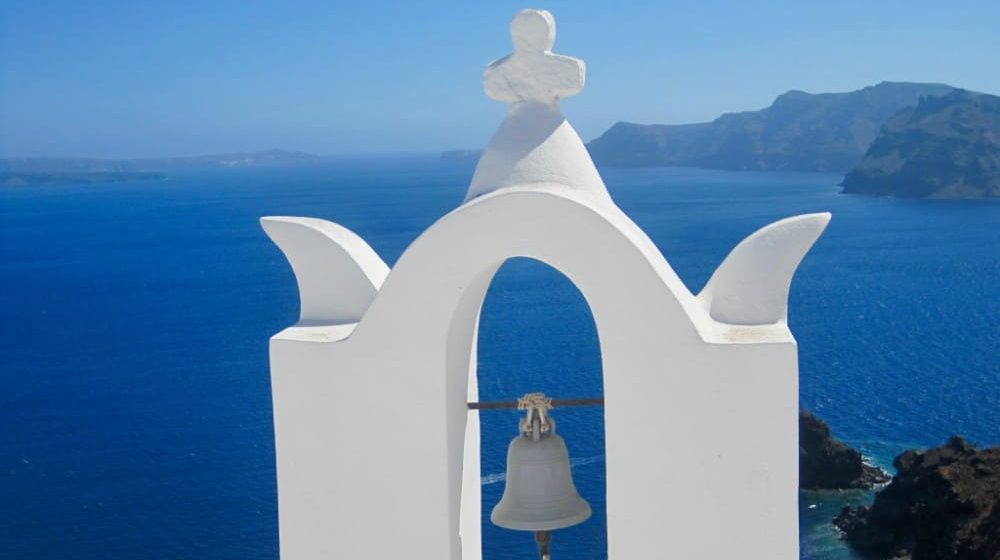 Oia Santorini is busy with tourists strolling the streets visiting the multitude of shops, cafes, restaurants, and art galleries. In addition, it is a hot spot for honeymooners and long-time couples alike. Most of all, the beautiful village of Oia has hypnotic vistas, jaw-dropping views and colorful sunsets into the sea that you will remember for a lifetime. When you visit Greece, and the Greek Islands don't miss out on visiting Oia Greece.
Oia Sunset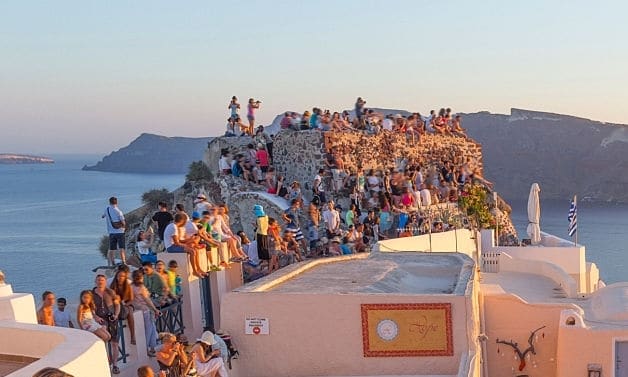 The magnificent sunset-watching hour is a major event in Oia Santorini. Crowds gather on the terraces, walls steps and main pedestrian street at the tip of the cliff in order to see this beautiful event! All the cobblestone streets are clogged! There is actually a spectator look-out area by the Byzantine Castle, but go early in order to get a good seat! Better yet, grab a spot in a restaurant or cafe and take in the spectacle with some delicious Greek wine. Opa!
Nightlife in Oia Santorini
The restaurant and cafe scene is tremendously busy in Oia, but for clubs and dancing, you would have to visit Fira. Using public buses is a convenient and inexpensive way to get around, with many departure times. For schedules, check Santorini Public Buses.
Cost: Oia to Fira is EUR 1.80 (EUR 2.30 after midnight) and takes about 25 minutes.
Things to Do in Oia Santorini
Amoudi Bay
Three hundred steps down from the village of Oia Santorini is the charming, quiet port of Amoudi. Here you will find several traditional tavernas that serve fresh caught fish and octopus. Looking up, you will see the picturesque whitewashed houses of Oia in the distance with red cliffs all around you. The water is crystal clear and sparkling blue. You can walk along the bay on the big rocks or take a refreshing swim. Remember to take your camera because you will get some great shots on the steps and by the water. Believe it or not, walking down gives your legs a workout because the steps are a few strides deep and slanted downward. Consequently walking up is a vigorous hike. Wear good shoes/sneakers. Alternatively, you can take a taxi or bus.
Fun Fact: The movie, Sisterhood of the Traveling Pants, was filmed at Amoudi Bay in Oia Santorini Greece.
Byzantine Castle Ruins
Formerly a 15th-century castle, today you will find ruins of a tower here. Notably, the best panoramic views of Santorini are seen from these ruins. The view from the citadel boasts picturesque whitewashed buildings, a windmill, and the azure sea beneath spectacular cliffs. A photographers dream! Also this is the best spot to see Oia's spectacular sunset.
Catamaran Excursion on the

Sunset Oia
Enjoy a morning or sunset cruise on a 74′ catamaran! It is a wonderful way to see the beautiful vista of the red cliffs and villages perched above. Included is a delicious BBQ, beer, wine and soft drinks. You can sun on the catamaran's trampoline or sit in comfortable lounge seats. It stops at the Red beach and White beach for swimming and snorkeling. In addition, it stops at the Hot Springs for swimming and a mud bath. The morning cruise time is 9:30-2:30. You can also take an afternoon cruise to see the spectacular sunset. A memorable, wonderful day is in store for you! Departures are from Amoudi Bay in Oia.
The Best of Oia Santorini……….
OIA HOTELS
Note: Check out Santorini Greece Hotels for hotels in other areas of Santorini.
Oia Santorini RESTAURANTS
Jump to Santorini Restaurants for great food in other villages.
OIA BEACHES
There are several lovely beaches in Oia, some of which are accessible by climbing steps. Although it may be a bit of a strenuous activity, it is definitely worth it. These are the beaches of Armeni, Ammoudi, Baxedes, Katharos and Koloumbos.
Katharos Beach, Oia Santorini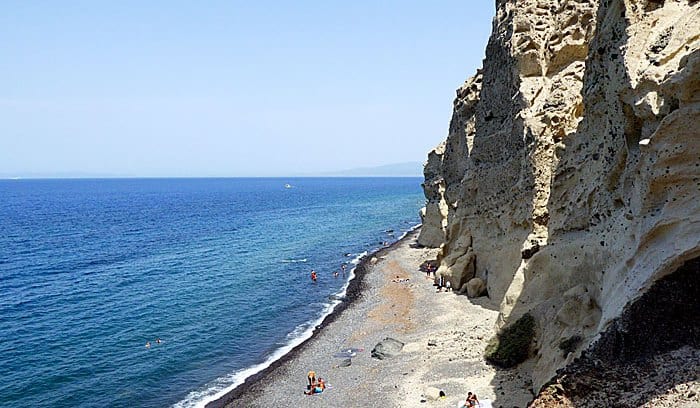 This is a very quiet and beautiful small beach with black sand and pebbles. From Oia, Katharos Beach is only a 15 minute walk down the cliff steps and on a path. On the way down, there is a cute cafe where you can get a nice lunch. There are no facilities, therefore, bring your towels.
Jump to Santorini Beaches for beaches in other villages
Kamari Beach, Santorini


A fun suggestion is to rent an ATV or scooter for a 35 minute ride to a very popular beach resort, Kamari Beach. Karmari Beach is a totally different vibe that Oia. Kamari's long sandy beach is crowded with plenty of sun worshippers. Oh, did I mention that the sand is black? Furthermore, the beach is lined with a multitude of cafe's, restaurants, boutiques, stores and tourists. Public bus to Kamari Beach (Santorini Public Buses) takes about 45 minutes with a change in Fira.
Travel Directions to Oia Santorini
From Athens
By Ferry: A high speed ferry from Athens to Santorini is about a 5 hour trip. On some ferries you can sit out on the decks and get an awesome view of the cliffs and caldera when entering the port of Fira, Santorini. The SeaJets Ferries or the Blue Star Ferries leave from the popular Athens port of Piraeus, typically about 7am in the morning arriving about 12 noon.
Once arriving at the Port in Fira, you can get to you destination in Oia Santorini by:
Hotel Transfer
Private Transfer
Taxi
Bus: Take a bus from Fira Port up to Fira town. Then transfer to a bus from Fira to Oia (30 minutes). You can pay when you board the bus.
Boat: There are speedboat transfers to Amoudi Port and then take a bus up to Oia village
By Air: Flights are a much faster option. From Athens Airport (ATH) into Fira, Santorini (JTR), the flight time is only 45 minutes. Check flights with RyanAir, Olympic/Aegean and Sky Express.
Hotel Transfer
Private Transfer
Rent a Car: Car rentals are available at the airport. At the entrance of Oia village is a car park where you can leave your vehicle.
Bus: From Airport to Fira and then a change of bus from Fira to Oia Santorini
Santorini Jazz Festival – Kamari
If you love jazz music, the Santorini Jazz Festival will entertain you with famous Greek and international performers. This three-day summer festival takes place in July, and attracts a big crowd of jazz music fans. It is held in the beach town of Kamari.
Aegean Regatta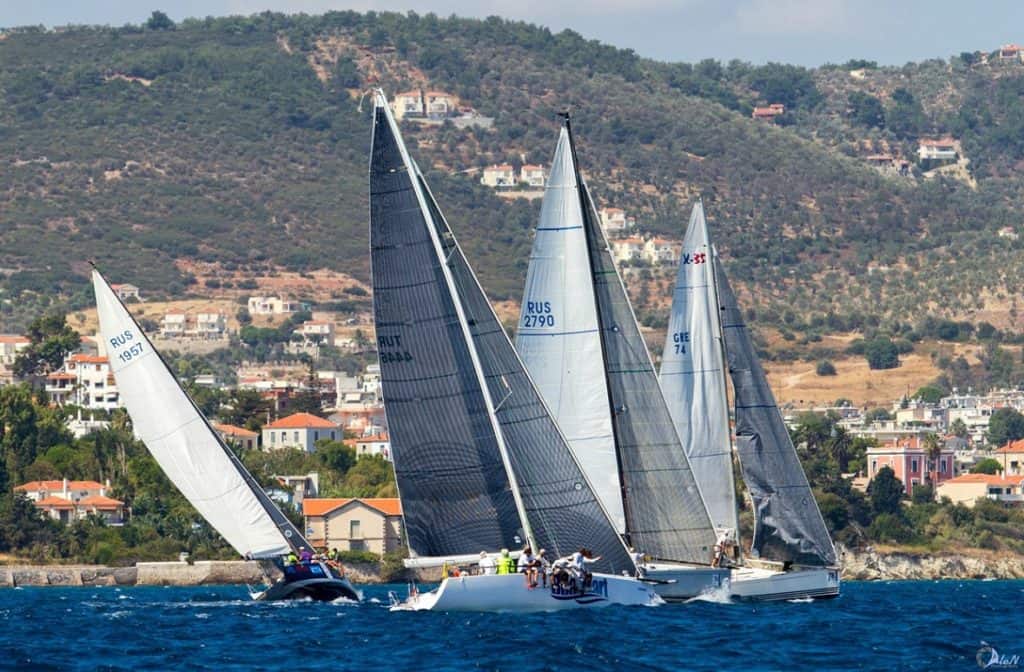 August 18-26, 2018. Do you like boats and the gorgeous blue sea? Did you ever dream of sailing in a regatta? This is the biggest international open sea sailing race in Greece. The regatta begins in the small, quaint island of Skyros and competitors will make stops at other islands before finishing in Sammos. This exciting event covers 190 nautical miles. Check out AegeanRegatta for more information or to register for your experience of a lifetime!
This annual festival takes place during the month of August and features a series of concerts and art exhibitions. The iconic Gyzi Mansion in Fira hosts this festival. For more information, go to gyzimegaron.gr.
Ifestia Festival
The Ifestia Festival (Greek Volcano festival) This festival takes place in August and is all about the history of Santorini's volcanic eruption. There are concerts, performances, fireworks and many other happenings at this festival.
International Music Festival – Fira
The International Music Festival welcomes artists from the international music scene to perform at the Nomikos Conference Centre in Fira . This two-week festival takes place during the first few weeks in September. Source: www.greeka.com