The Ancient Greek Theatre Taormina is the most significant and popular monument to visit. It is an incredibly beautiful place and a treasure of antiquity. Italians call it Teatro Greco and it is also known as the Greek-Roman Theatre. Not only does it have artistic and historical value, but the scenery itself is stunning.
The Greek Theatre is the second largest classical theatre in Sicily. Building began on the Greek Theatre during the 1st century BC, during the Greek era. Afterwards, the Romans reconstructed and enlarged it in the 2nd century AD. The orchestra is in the center and then, set around the orchestra is the auditorium or cunei.  It holds at least 10,000 spectators!  Hunting shows, or venation's, were very popular in the 3rd century AD.  At that time, Gladiators and wild beasts took center stage. The theatre itself is a testimony to the wealth and prosperity enjoyed by Taormina between the 1st and 3rd century AD.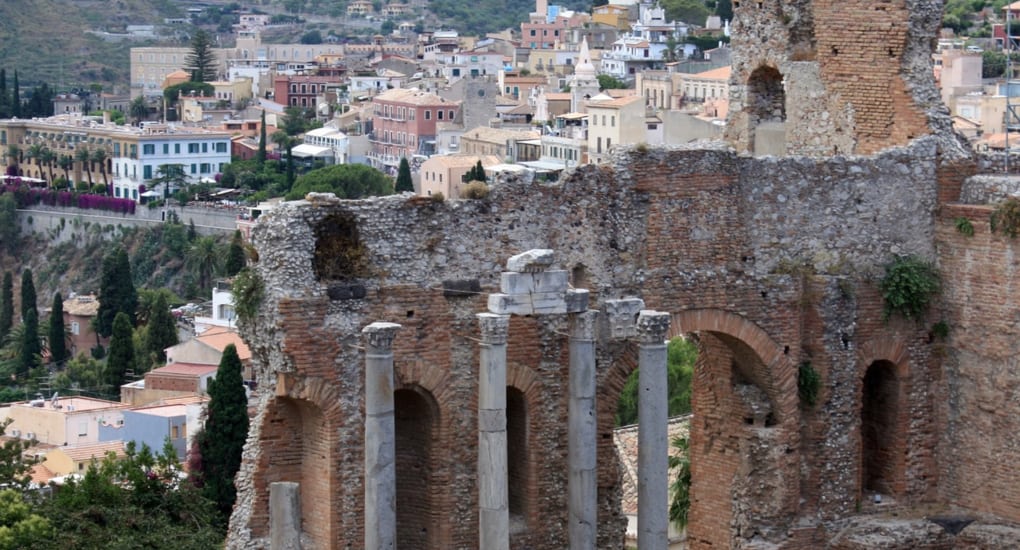 Getting to the The Greek
Teatro Greco is within walking distance from everywhere in upper Taormina. It is located directly off the main pedestrian walkway, Corso Umberto.  It is by the Porta Messina Arch of Corso Umberto. Walk past beautiful Hotel Timeo and you will find the entrance.
Address:  Via del Teatro Greco, Taormina Sicily
Greek Theatre Taormina Events
Furthermore, Teatro Greco is the most spectacular ancient venue in the world! Not only is it food for the historian's soul, but it is also a concert venue for culture and music lovers!  Since the 1950's it has become a modern entertainment venue.  Shows range from Sting and Brian Wilson to classic operas and the delicious sounds of Il Volo.  Various performances include concerts, operas, theatre productions, and symphonies. Make it an unforgettable night in Taormina -see a show at the Ancient Greek Theatre Taormina.  Click here for upcoming events and to purchase tickets.