TOP HOTELS IN TAORMINA
In the first place, there are so many Taormina hotels to choose from, but which will be the perfect one for you?  Let me help you discover the best Taormina Sicily hotels that you will love. In the first place, here are some things to consider. Do you want to be in the heart of the historical center, or on the outer edges. Do you prefer Taormina hotels with pools? If so, there are only a handful available. Do you want be in the lap of luxury or a stay at a value hotel.  Additionally, you may want to choose a hotel by the beach.  For 6 euros roundtrip, there is a funivia (cable car) from beach to town.  All things considered will help you find your perfect choice!


In my opinion, staying in town center is best.  Taormina is built on a steep hillside overlooking the sea and the views are spectacular.  It is a very walkable town – essentially a pedestrian only resort.  Most hotels are no longer than a 15 minute walk to center. Some are on the main pedestrian walkway, Corso Umberto.
Tip: Before you book, know your hotel basics. Do they have a shuttle to the beaches. Do you have to walk far with your luggage? Is there be a steep climb up to hotel?
TOP TAORMINA HOTELS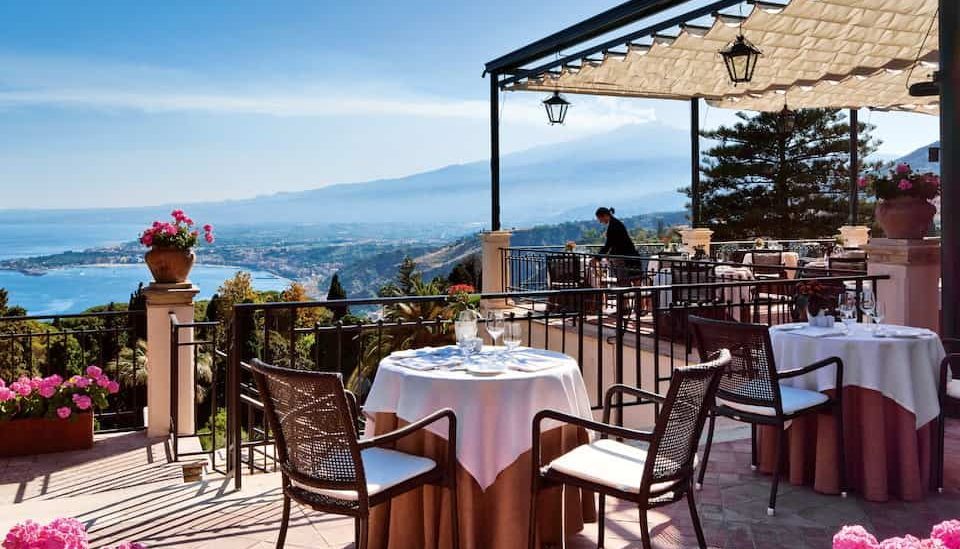 Luxury – For an unforgettable experience, the world-renowned and majestic, Grand Hotel Timeo, will more than fill your every wish.  Situated on a Sicilian clifftop, it overlooks the terracotta rooftops of the medieval town and sports a mesmerizing view of the shimmering Ionian Sea. The rooms are elegant, spacious and beautifully decorated, most with a beautiful views. You will receive personalized service and attention to detail from the amazing staff.
A MUST is relaxing and having a cocktail on their exquisite terrace or a dip in the pool. There are cascading gardens below and a magnificent view of the sea, Taormina rooftops and Mount Etna in the distance. The restaurant has delicious locally sourced Sicilian favorites and, of course, it is the most scenic restaurant I've ever been to. The hotel is perfectly located, as it is just steps off Corso Umberto.  It is also next door to the Ancient Greek Theatre, where ancient history mixes with amazing performances.  You will have an amazing experience during your stay at this magnificent hotel.
Tip:  Even if you are not staying here, definitely go for a cocktail, hors d'oeuvres and take in the  amazing view on their grand terrace.  All are welcome.  Dress appropriately.
Address · Via Teatro Greco 59, 98039 Taormina, Sicily, Italy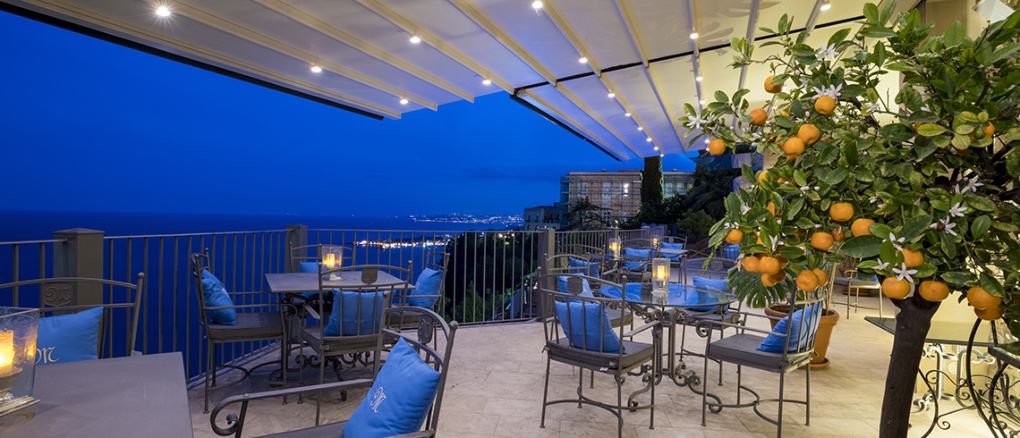 Luxury with Pool – Incredible views, excellent service and great music on the terrace. Simply my favorite hotel in Taormina is Hotel Metropole. First of all it is located perfectly in the center of town withing walking distance of everything. Secondly, it sits cliffside with spectacular views of the sea from it's terrace lounge and restaurant. Rooms also have sea views and some have Jacuzzi's on their balconys. The staff is top notch and will help you with any need. In addition, your car service can pull up to drop off luggage on the lower floor behind hotel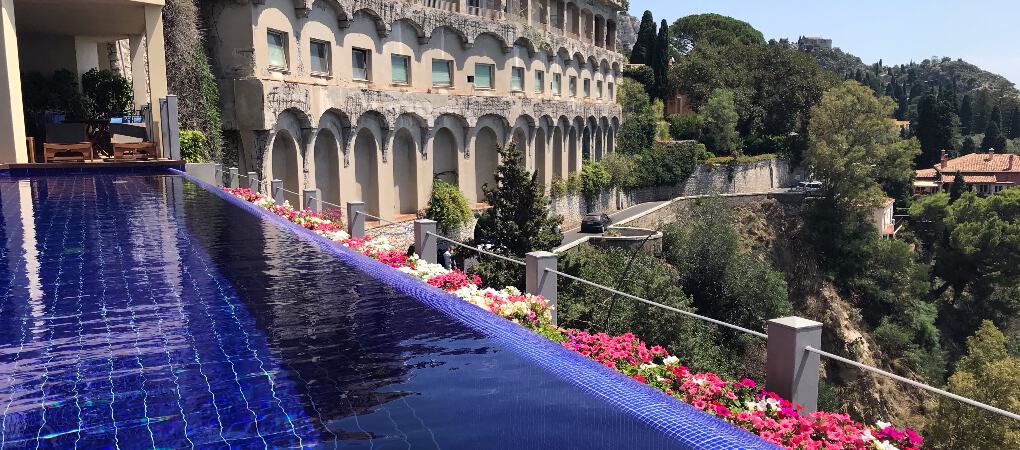 The infinity pool at Metropole is beautiful and refreshing after a hot day of sightseeing. Enjoy a swim and excellent cocktails by the pool!
Address: Corso Umberto 154, Taormina
The Ashbee Hotel is on the grounds of a restored luxurious 1900's villa. The rooms are elegant and refined including some with stone fireplaces. It is located 2 minutes outside the beginning of Taormina historic center on the grounds of a beautiful Mediterranean garden . It boasts a large panoramic terrace, an infinity swimming pool and incredible views of the sea. A wonderful view and breakfast is served on their rooftop terrace. You will have a wonderful stay in the beautiful boutique hotel.
Address:  Via San Pancrazio n. 46, Taormina
Superior – The Taodomus is a wonderful boutique hotel located in the center of Taormina on the wonderful pedestrian street, Corso Umberto. There is a lovely rooftop terrace with beautiful panoramic views.  In the morning, enjoy a delicious, bountiful breakfast served al fresco on the rooftop.  In the evening, watch the sunset and enjoy drinks at the honesty rooftop bar. The rooms are spotlessly clean and tastefully decorated. It is an oasis of calm on the buzzing Corso Umberto, and steps from all that Taormina has to offer!
Tip: Save 10% if you book on  Hotel Taodomus' website and they will also reserve your parking.
Address: Corso Umberto 224, 98039 Taormina, Sicily
Value: I like La Pensione Svizzera for it's value, location, cleanliness and wonderful staff. It is a family run Sicilian styled hotel with charming gardens and seating areas. Most rooms have balconies with panoramic sea views and you will be welcomed with a bottle of vino. Be aware that you have to walk up steps as there is no elevator. You will get the best view on the fourth (top) floor.  Breakfast is amazing and served on the outdoor terrace with a view to the sea. This hotel is a five minute walk to Porta Messina, which is the beginning of the Corso Umberto. On your way, you will pass the Cable Car (Funivia) which brings you up and down from Taormina to the beautiful beach area.  In addition, if you walk a few minutes in the other direction, you will find the bus station.
Address: Via Luigi Pirandello 26, 98039 Taormina, Sicily
TAORMINA B&B's
B&B Varo

B&B – This hidden gem is a terrific Bed & Breakfast in a wonderful local home. Varo B&B is perfectly located in beautiful little Piazza Varo. It is just steps (less than one minute) from the center of Corso Umberto.  Alessandra and Federico are the perfect hosts and will help you with anything!  In addition, you will have a wonderful breakfast on their scenic rooftop terrace.  Alessandra makes a wicked apple cake and the best cappuccino!  Absolutely delicious! The rooms and bathrooms are sparkling clean. In my opinion, this is the best B&B in Tormina!  You will love it!
Address:  Piazza Varo 10/12, 98039 Taormina Sicily
TAORMINA BEACH HOTELS
Luxury: First of all, La Place Resort is a five star luxury hotel on the beach with a gorgeous view of Isola Bella.  Secondly, the hotel and rooms are absolutely beautiful and elegant.  You will be in the lap of luxury and get VIP treatment from the staff. In addition, they have an exclusive spa to get pampered in.  A great place for a magnificent wedding reception.
Address: Via Nazionale, 107/A, Isola Bella, Taormina