Villafranche sur Mer
Certainly one of the most charming villages on the French Riviera – actually it's my favorite!
Villefranche sur Mer is positioned on a beautiful bay between Monaco and Nice.  Alongside its attractive harbor are cafes, restaurants and boats bobbing in the Mediterranean. If you are looking for a classic old town village with class and beauty, this is for you. This charming old town winds its way up narrow cobblestone streets with colorful buildings. Moreover, flowers, plants and ivy adorn the walkways, balconies and buildings.  There are boutiques and cafes scattered all around. This town is a feast for your eyes and joy for your soul.                                                                                                                                       
Moreover, the restaurants here are incredibly delicious!  I have been lucky enough to travel here 5 times and each and every visit just outdoes the last with the amazing food – just superb! Villefranche is a wonderful summer vacation spot, sometimes more busy than others due to cruise ships visit.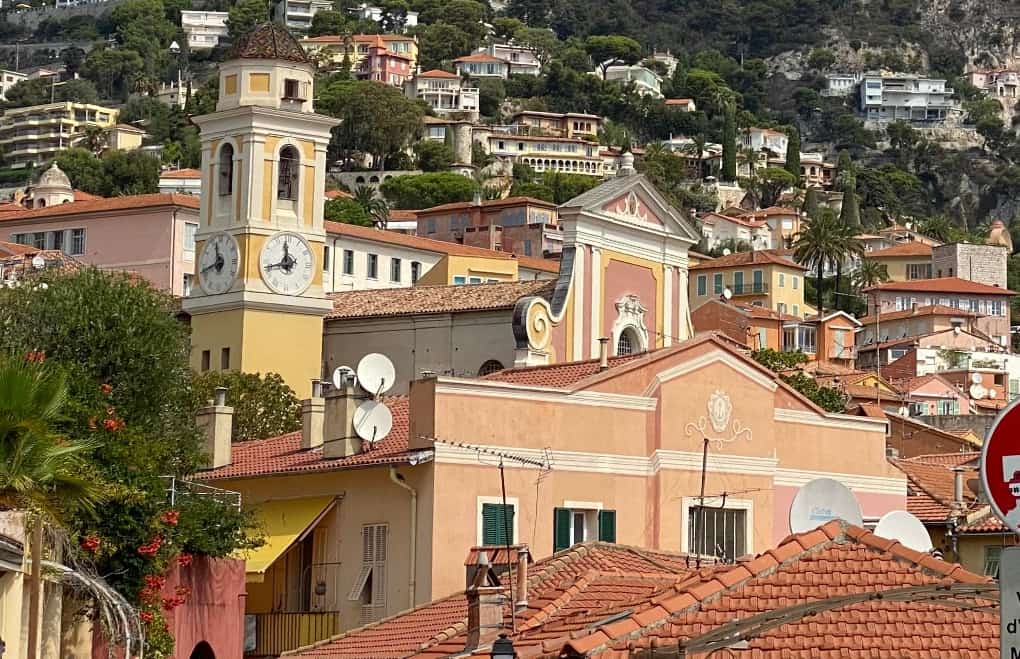 Most of all, the locals are wonderful and sweet people. As a result, Villefranche-sur-mer is a picturesque, delightful village. Therefore, I strongly suggest a visit if you are in the French Riviera. It is definitely a very special town. Indeed, it is absolutely worth a visit if you're in the south of France .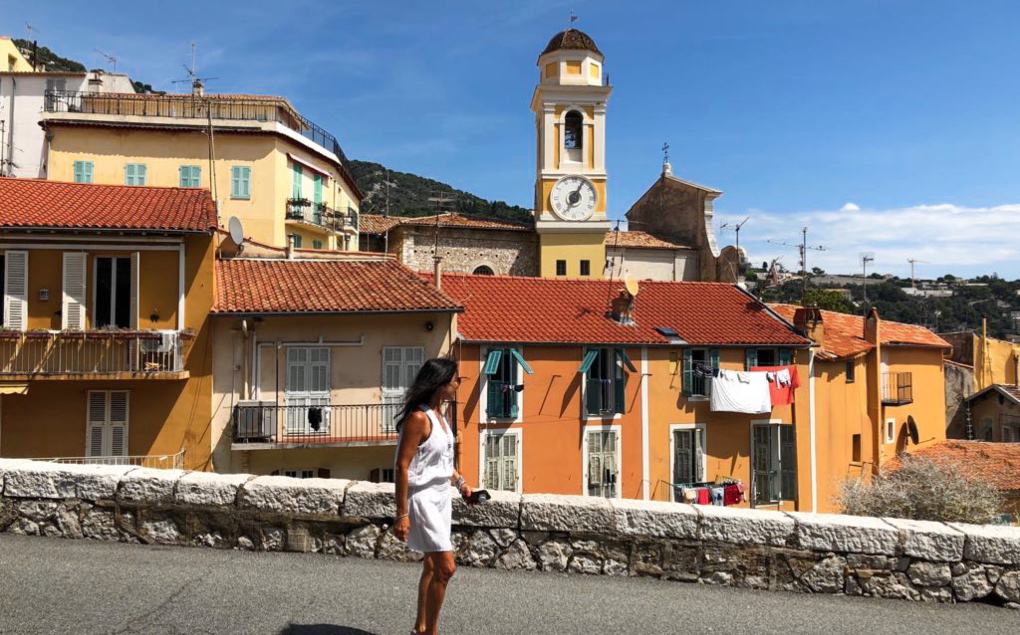 VILLEFRANCHE SUR MER THINGS TO DO
First of all, there are so many choices!  Relax on the beach and take in the French sunshine. Sip a glass of Rose wine at the harbor.  Relax in a cafe and watch people pass by while you eat croissants.  Walk to the beaches and nearby towns. Enjoy the magnificent scenery all around.  Shop at the boutiques then enjoy an amazing dinner in the evening. You will love it here.

St. Jean Cap Ferrat
From Villefranche it is a gorgeous walk to St. Jean Cap Ferrat. It is mostly along the coast and the views are gorgeous! You will not be able to resist taking a million pictures. You can go in the morning and have lunch by the port. St. Jean Cap Ferrat is a beautiful town.
Villa Ephrussi de Rothschild – Magnificent seaside Palazzo and beautiful gardens. Located in stunning Saint-Jean-Cap-Ferrat.
Definitely worth a visit to this beautiful medieval old town. It is impossible to convey its beauty through one picture. To explore more, visit my blog post on Eze.
Nietzsche Trail
Enjoy the outdoors and get your exercise while taking a hike to Eze Village. Get the full scoop on Nietzsche Trail on my Eze blog post.
Directions to Nietzsche Trail from Villefranche-sur-Mer: Take a 6-minute train ride to Eze-Bord-de-Mer. Walk up the steps and make a right. Continue 5 minutes and on your left, you will see a little sign 'Sentier Nietzsche'. Follow the ramp and enjoy a healthy hike up to amazingly beautiful Eze Village.
Monaco, Monte Carlo
Monaco is famous for its casino and plenty of exotic cars! Indulge in an afternoon visiting Monaco. It is a quick 14-minute train ride from Villefranche.
Villafranche sur Mer Events
'Combat Naval Fleuri' or Battle of the Flowers – Villefranche-sur-Mer hosts this traditional festival event yearly in February/March. To begin with, boats parade in the harbor bedecked with beautiful local flowers. Finally, a flower battle begins! Of course, many other attractions are held on the promenade. This is a very popular event, therefore book your hotel in advance. Enjoy the festivities!
Please check exact dates at www.villefranche-sur-mer.fr
TRAVEL DIRECTIONS to VILLAFRANCHE SUR MER
Villefrance-sur-Mer is ideally located right between Nice and Monaco
From Nice Cote d'Azur Airport:
Drive/taxi in 40 minutes
SNFC Train from Nice to Villefranche-sur-Mer is 15 minutes. Villefranche-sur-Mer train station is a five minute walk from town center.
Here are some of my favorites in and around Villefranche sur Mer…..
VILLEFRANCHE SUR MER HOTELS
My favorite hotel in Villefranche sur Mer is the Welcome. Most noteworthy is their perfect location on the waterfront and in the heart of Old Town. All the rooms are tastefully decorated and have balconies which give you a beautiful view of the sea. They also offer complimentary breakfast as well as a complimentary boat shuttle to Passable Beach. Additionally, the entire staff is amazing! They will happily help you with any of your needs. Tell Julien and Oliver that Linda says HELLO!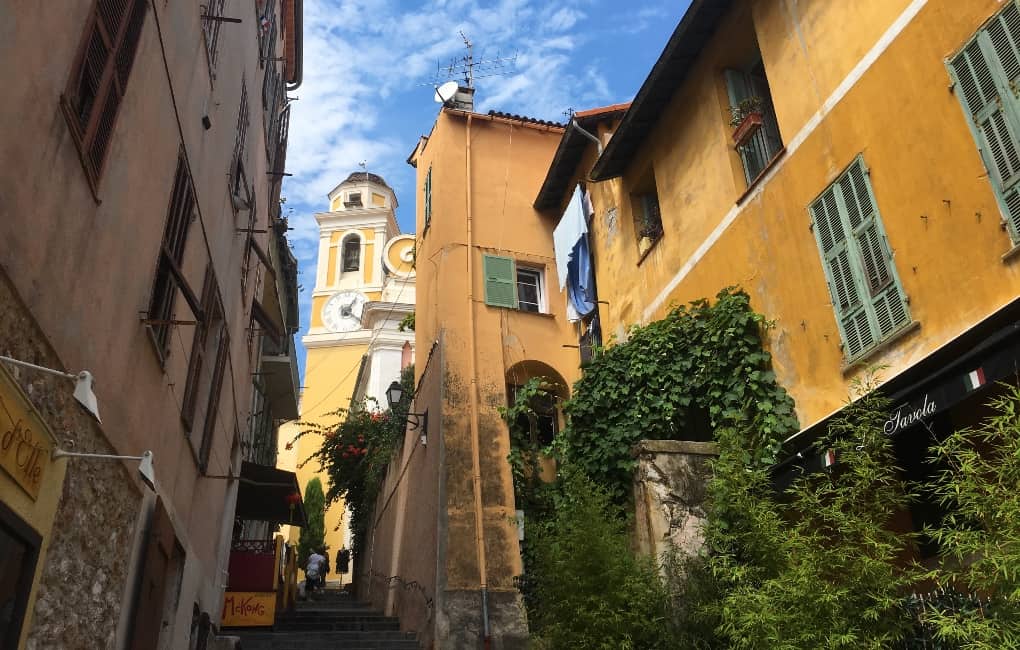 You will be in foodie heaven when eating in Villefrance sur Mer. Villefranche sur Mer restaurants are some of the finest restaurants I've visited in Europe. The food is absolutely amazing and delicious. Click here to discover the best restaurants in Villefranche.
There are terrific beaches in Villefranche. All are fully equipped with rentals of beds and umbrellas. You can also indulge in certain watersports. Check out my Villefranche sur Mer Beach Guide.