Honestly, you will be in foodie heaven when eating in Villefranche restaurants. The chefs take pride in their dishes and the cuisine is absolutely delicious!  These restaurants are consistent – they have been open for years and every time I have been here, which is often, it surpasses my last visit. Looking for the best restaurants in Villefranche sur Mer? Here are some of my favorites
Tip:  Make reservations. Restaurants in Villefranche-sur-Mer are extremely busy in summer season
Les Garcons

Les Garcons is a must go restaurant for foodies – do not miss it. The BEST burrata ever!   You will be served absolutely delicious French cuisine.  They have a lovely outdoor courtyard as well as inside dining.  You will enjoy a delicious meal with wonderful ambiance and great service.
L'APARTE

This photo of L'Aparte is courtesy of TripAdvisor
L'Aparte is another restaurant with amazing local cuisine.  It is run by two French women, and the food is excellent!   The menu is creative and prepared with local fresh ingredients.   L'Aparte is located at the entrance of the rue Obscure, a very old-world pedestrian street in Villefranche.  Outdoor dining is limited, so make a reservation if you would like to sit outside.
La Belle Etoile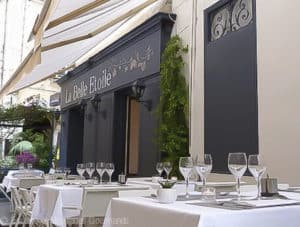 Another exceptional restaurant is La Belle Etoile.  The menu choice, quality and food presentation is exceptional.   In addition, the atmosphere is lovely,  as it is located at the top of the pedestrian staircase with plenty of outdoor seating.  The inside is also very nice.
L'OURSIN BLEU

L'oursin Bleu is a harbor front restaurant the serves delicious, perfectly plated food.  There are indoor or outdoor tables right on the harbor side dock.  If you like to dine waterside, this is a great choice.