Villefranche sur Mer beaches have a beauty and charm all their own. You can go to the local beach, Plage de Marinieres, a few steps away from town.  There you can get cozy with the locals and a handful of tourists alike.  Furthermore, you can visit some beautiful and chic beaches in the area.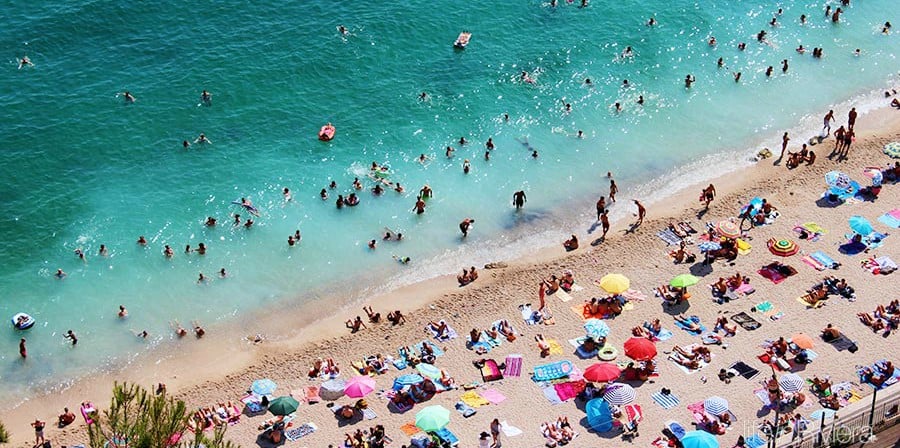 My favorite beaches near Villefranche sur Mer are Passable Beach and Paloma Beach. These are are car ride or boat shuttle away.  If you decide to walk, as I have done many times, you can enjoy the beautiful sights along the coast. The walk has some very picturesque areas, therefore, don't forget to bring your camera. In addition you will see some very special homes during your walk.  Villefrance sur Mer beaches also have wonderful restaurants which serve amazing food.  When you visit beaches in the French Riviera (Cote d'Azure), it is typical to have a delicious lunch and then go back to swimming and having fun in the sun!
Tip:  Umbrellas, beds and towels are available at all the beach clubs. It is a good idea to have your hotel reserve them for you in advance, as they fill up quickly.  In addition, let your hotel make lunch reservations for you.  If not, you will wait for a table as lunch is part of the highlight of the beach. Enjoy the wonderful day you will have!
Beaches on a Budget
If you are traveling on a budget or prefer to spend your hard earned cash in a delicious restaurant instead of beach rentals, all the above mentioned beaches have a public section.  Remember to  bring an umbrella and towel to lay on.  Check with your hotel to see if they offer complimentary towels or umbrellas. If not, there is a little variety store on the walkway leading to the local beach which sells umbrellas and towels as well as floats and sunscreen. Have a great day at the beach!
Plage de Marinieres
Plage de Marinieres is a busy beach which is a quick five minute walk from the center of town.  The water is beautiful and calm.  This beach is populated mainly by locals.  Recently a new beach club opened called Deli Bo.  It makes a great addition to the local beach since it is the first beach club there. You can order lunch and a bottle of Rose to have table side or at your lounge chair. Umbrellas and beds available for rental.
Passable Beach

Passable Beach is a wonderful beach club with a terrific restaurant and delicious food!  I highly suggest visiting Plage de Passable. The swimming is wonderful and there are also paddle boards to rent.  It has amazing views of Villefranche-sur-Mer.  To get here, you can take a boat ride from the harbor in only 5 minutes. Have your hotel  secure Passable Beach's complimentary boat shuttle.  In addition, I also suggest a lovely a 35 minute walk from town to this beach.  You will pass Ville Nellcote, a 16 room mansion where Keith Richards from the Rolling Stones lived for a year.  Exile on Main Street recordings took place in Ville Nellcote during 1971. If you decide to walk, you can always take the complimentary boat shuttle back to town.  Enjoy!
Passable Beach – 1 Chemin de Saint-Hospice, Saint-Jean-Cap-Ferrat
Telephone:  +33 4 93 01 64 71
Paloma Beach


August 2018 UPDATE:  Right now, Paloma Beach is closed. The French Government is making changes because they want most beaches public, not private.  I will keep you updated.
Paloma Beach or Plage de la Paloma is a little paradise on the exclusive and chic Cape Jean Ferrat peninsula. It is hidden in a beautiful cove  at the bottom of a cliff. There are steps to descend unless of course you arrive by yacht.  At Paloma Beach you will find crystal clear water and beautiful views of the mountains. In addition, there is an elegant and delicious restaurant.  The menu consists of grilled fish, mussels, amazing salads and a wine list of excellent Côte de Provence Rosé. Reservations are highly recommended for the restaurant.  Of course there are sunbed and umbrella rentals and a variety of water sports to indulge in. Interested in walking?  It is a beautiful 50 minute walk from Villefranche to chic Paloma Beach. On the way, you will pass movie star, David Niven's, beautiful house.
Fun Fact:  Honeymoon beach scenes in Fifty Shades Freed were filmed at Paloma Beach.
Paloma Beach:  1, route de Sainte-Hospice –  Saint-Jean-Cap-Ferrat
Telephone: +33 4 93 01 64 71
Eze

Beaches
It is only a six minute train ride from Villefranche sur Mer to Eze sur Mer if you would like to explore Eze Beaches. Check out my Eze Beaches post to read more about them.
In addition, I highly suggest a visit to the clifftop Midieval village of Eze. You can visit this beautiful village and the beach in the same day, especially if you hike down the mountain.  Read all about it in my Eze post.