You may never appreciate how delicious Greek cuisine is until you travel to Greece. Santorini Restaurants serve up traditional Greek dishes made with fresh local fish, meats and vegetables paired with delicious local wines. Moreover, they use amazing Greek olive oils in their cooking. As a matter of fact, I was so surprised that Greek olive oils give Italian olive oils a run for their money! Most of the restaurants keep olive oil on your table as a condiment. Enjoy your meals at the following amazing Santorini restaurants. Your hotel will be happy to make reservations for you. Restaurants are listed by village.
OIA SANTORINI RESTAURANTS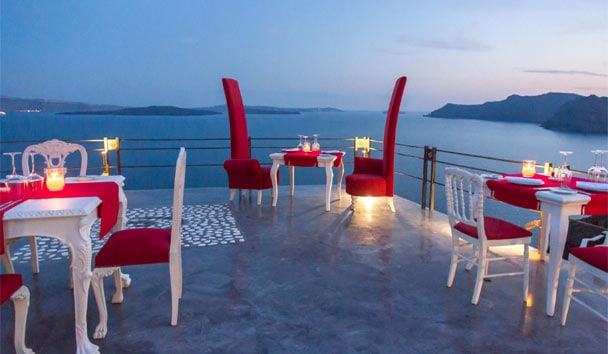 Fine Dining: Not only does Lauda have stunning views and impeccable service, but the food is also amazingly fresh and delicious. You are in for a culinary treat at Lauda, a top choice of Santorini Restaurants. This is a romantic, elegant restaurant which is located in the Andirons Boutique Hotel. Try the Octopus, it is amazing.!!!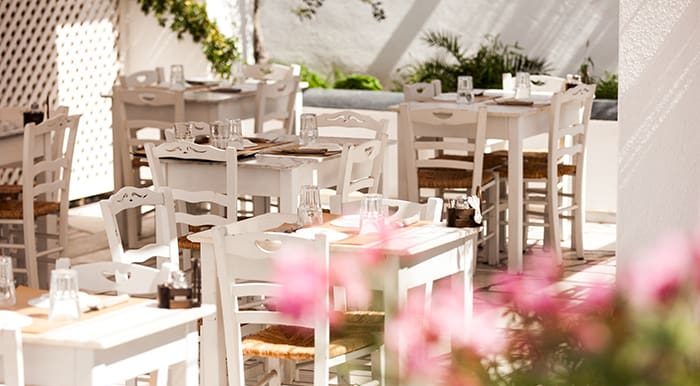 Moderately Priced: Laokasti Restaurant is another top choice of Santorini Restaurants. In the first place, Laokasti's traditional and inventive Greek cuisine tastes incredible not to mention being artistically plated. Made with fresh local ingredients, you will enjoy every bite. The ambiance here is beautiful with indoor dining and an outside terrace. Try the sesame honey fried feta and the veal orzo! They are both delicious! Do not miss going to this wonderful restaurant!
Casual: Small shop with the BEST Gyros since Jimmy's Gyros in Mykonos! Excellent!! They also have delicious Kababs, Souvlaki, etc. Stop in for lunch or for a bite at dinner!! This is basically atake out place with limited seating outside. Luckily, you can walk up and sit curbside to admire the gorgeous view! My suggestion is to try the pork gyro — your welcome!
KAMARI SANTORINI RESTAURANTS