Positano Italy is a stunning cliffside village located on the Amalfi Coast. Certainly a top resort destination, it is truly a jewel and not to be missed. Indeed, you will fall in love with Positano!  Bougainvillea, vegetation and flowers cascade down buildings and balconies. Boutiques, galleries and eateries line the streets. It is a shoppers paradise. There is a array of amazing hotels and delicious restaurants. Positano is absolutely fabulous, dripping with charm, and there is something to do for everyone!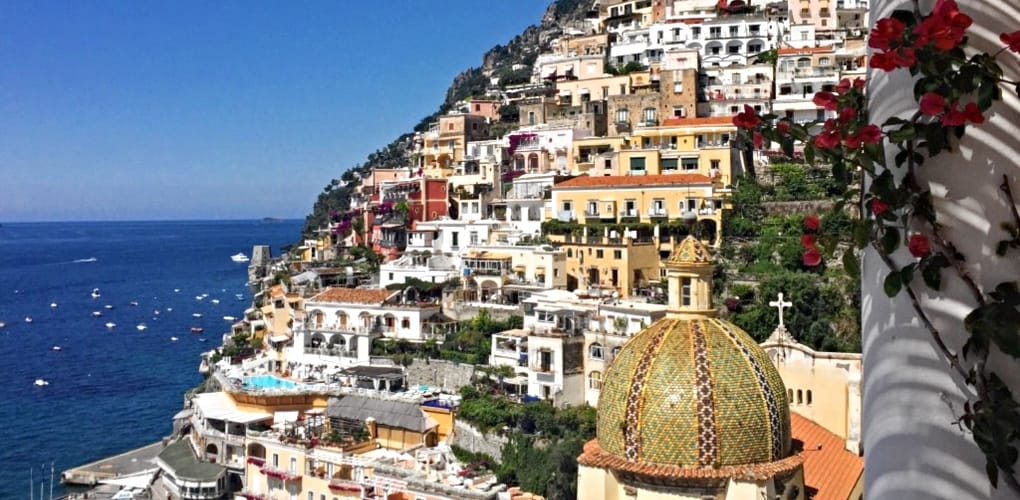 Picturesque Positano Italy is a magical and enchanted village known throughout the world. Celebrities arrive by land or by yacht in the summer. It is built into a cliff and is also called the Vertical City. With this in mind, an unusual network of stairways enhance the town. There is only one street for vehicles. Hence, the rest of the village is pedestrian only. Getting around by foot will let you appreciate pastel-colored homes, flower filled terraces and endless steps carved out of the rock. There are narrow pedestrian alleys and, of course, steps that flow down to the busy harbor and beach.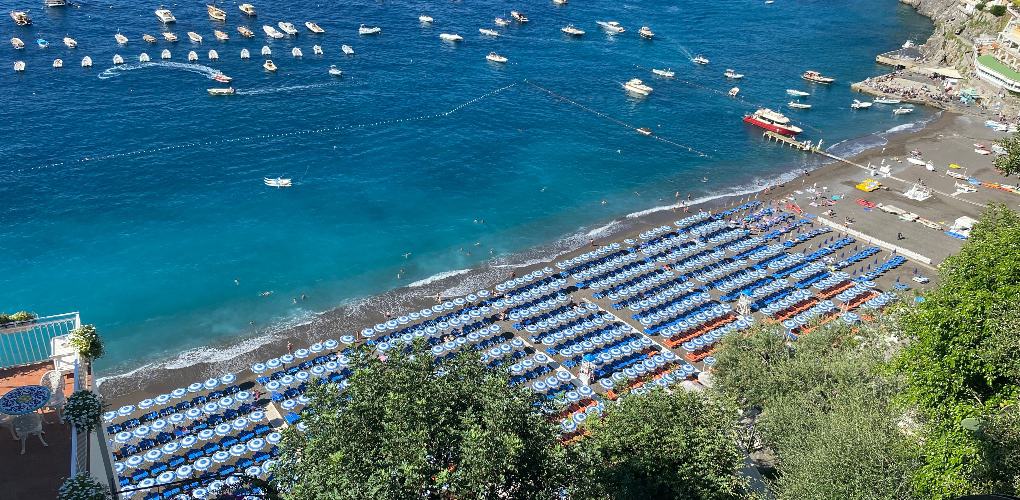 The beautiful beaches are the main event and a hub of activity. You will relax and swim in the sparkling blue Mediterranean. Then have a delicious lunch along the walkway. A perfect way to spend the day!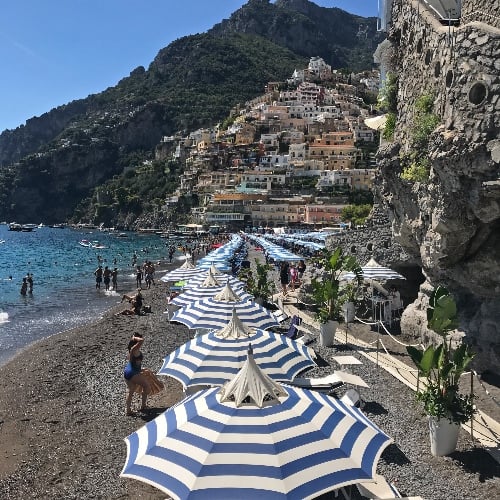 GETTING AROUND POSITANO ITALY
Via dei Mulini is the main road through town that leads down to the beach. The center of town begins at Piazza dei Mulino, which is where all vehicle traffic ends. After that, Via dei Mulini is pedestrian only. It is a pleasure to stroll and browse in all the art galleries, boutiques and various shops. Try to stop in at Sapori e Porfumi di Positano. The fragrance of the candles and perfumes are fabulous! If you're lucky to have a chat with the 'Lemon Lady', you will find that she is an amazing entrepreneur and spirit! Of course, you will also find an abundance of restaurants and cafes.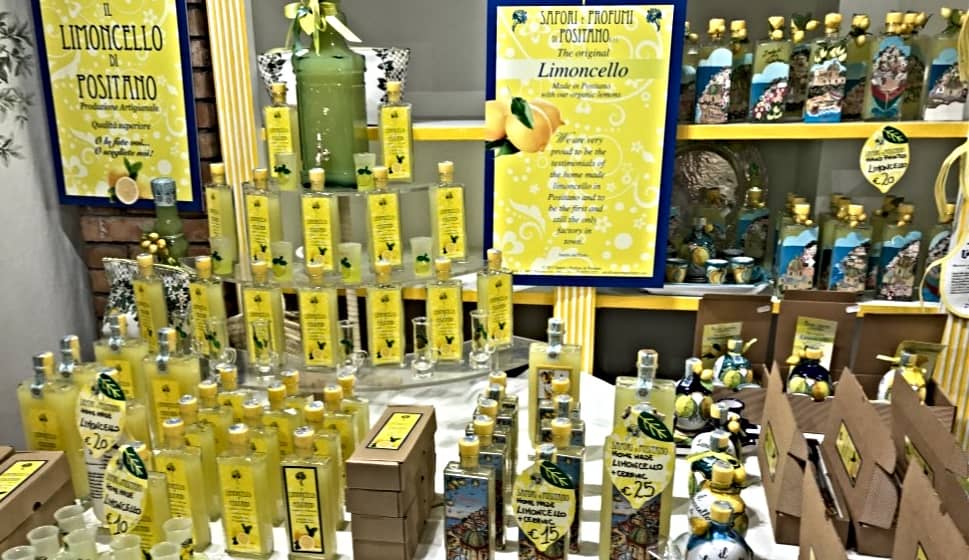 You can reach every corner of this beautiful area without climbing countless steps. The local bus service is easily accessible. Bus stops are indicated with the sign Flavio Gioia and the orange busses have three routes: Interno Positano , which departs every 30 minutes from Piazza dei Mulini which tours around town. Montepertuso Nocelle departs every hour and goes to the higher communities. And lastly, Praiano-Positano, which brings you to the nearby town of Praiano. Furthermore, if you need information on getting here from Naples, read my Naples to Positano Guide.
Those charming steps…..
A few steps from the beach, you will find the church of Santa Maria Assunta. It features a majolica-tiled dome and a 13th-century Byzantine icon of the Virgin Mary. Legend says that in the 12th century AD, a ship carrying this same icon came from the sea during a huge storm. The sailors all heard a voice saying, "Posa Posa" which means "leave me here". Thus the name Positano. Moreover, this is why the Madonna has been kept in Chiesa di Santa Maria Assunta ever since.
Posa Posa – We DO NOT want to leave! Feel the warmth and friendliness of the wonderful locals. They are so welcoming. Take joy in the beauty of the landscape, the gorgeous views, and the pretty beaches. Positano Italy is simply magical!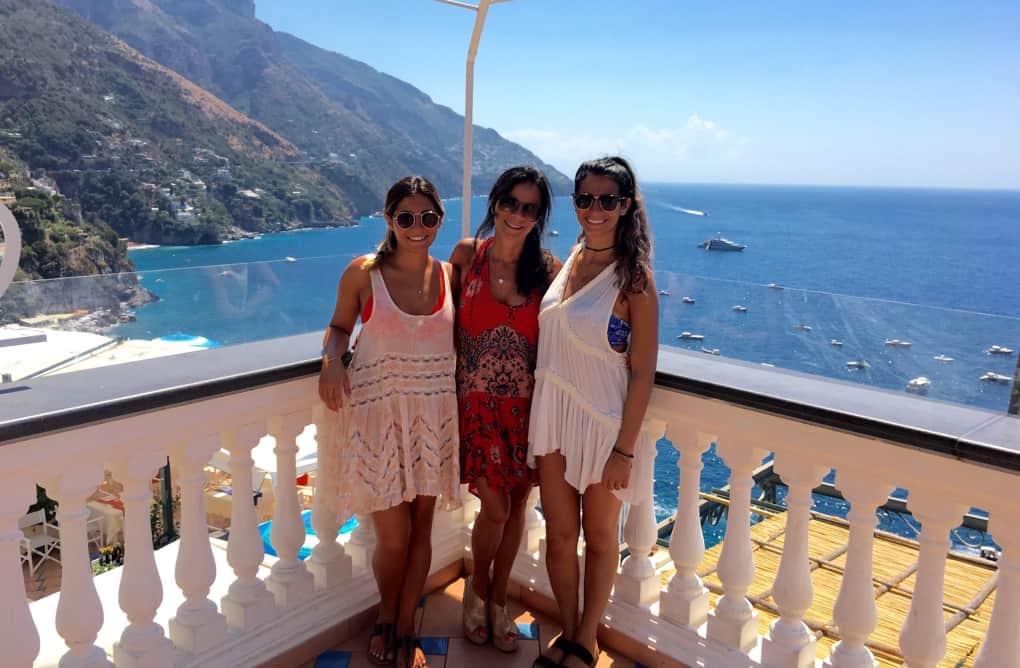 The BEST of……
If you're looking to bask in the Mediterranean sun, you will love the beaches here. Sun lovers will enjoy a beautiful smooth pebble beach and gorgeous blue water. Read about Spiaggia Grande and the beach clubs…..Comprehensive Guide to Positano Beaches.
If you don't know the layout of the land, or should I say mountainside, it could be a challenge to pick a hotel.  Do you want to be in the heart of town; high up on the cliff with stunning views; or down by the beach with fewer steps to climb.  I will help you in my comprehensive Hotel and Orientation Guide.
The restaurant scene here is buzzing with delicious Southern Italian food and beautiful ambiance. There are so many excellent choices for you! Restaurant Guide
Nightlife
Nightlife in this glamorous town consists of everything from dining in a cliffside restaurant with a panoramic view to dancing till the wee hours of the morning in the hottest Amalfi Coast club. Nightlife Guide.
Closest Airport: Naples Capodichino (NAP).
Various transportation options are available such as: ferry, train & bus, private transfer, and car rental. For comprehensive information on transportation choices, CLICK HERE.