When it comes to Amalfi Coast beaches, you will love the scene here. Positano beaches are fabulous, beautiful and everything, including boutiques and cafes, is within a short walk. Sun lovers will enjoy beautiful smooth pebble beaches and gorgeous blue water.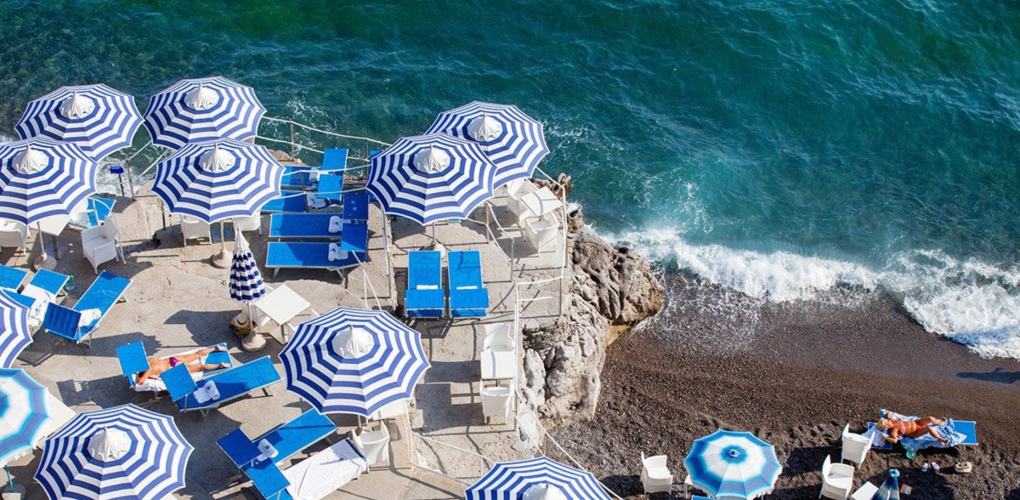 There are full service beach clubs, all with delicious seaside restaurants. Furthermore, there is a public area (Spiaggia Libera) where you are free to bring your own towels and enjoy the day. Spiaggia Grande is the center and main Positano beach.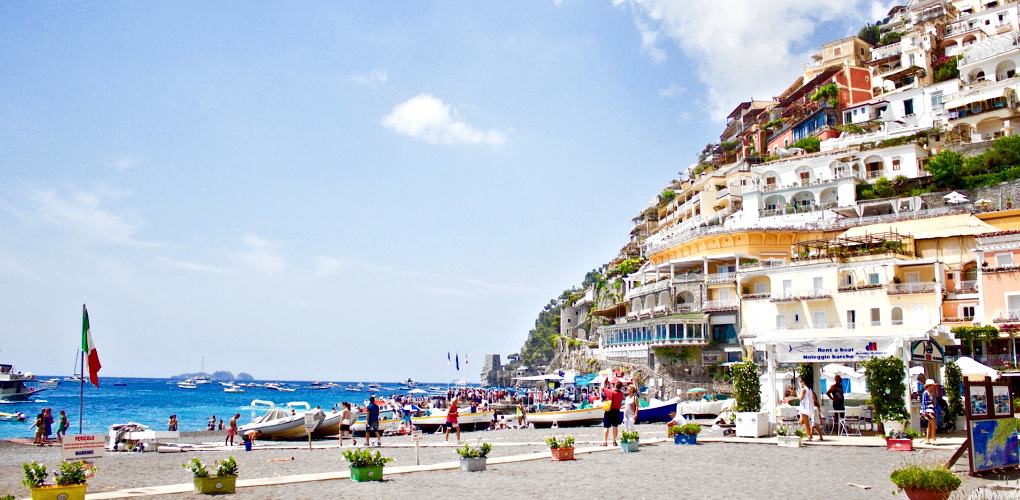 In addition, there is a small harbor on Spiaggia Grande. Not to mention ferries and excursion boats ready to whisk you off to other Amalfi Coast towns . This Positano Italy beach is one of the largest and glamorous on the Amalfi Coast. It attracts a fashionable crowd from all over the world.
POSITANO BEACH CLUBS
Lido L'Incanto
Lido L'Incanto offers all the conveniences needed for a fun and relaxing day in the sun and sea. They rents out sun beds, deck chairs and umbrellas.  In addition it provides changing rooms showers and free wi-fi.
Prices: One bed & one umbrella (2017): 1st row is E20; 2nd row is E17.50; 3rd row and after is E15.  If you want 1st row, which is sea-front, I would suggest to advance reserve online or ask your hotel to reserve for you. The 3rd row and after price option is available in person but not available online.  To book online click here.

Not only does Lido L'Incanto have a delicious restaurant, but they also have the Blu Bar. You should stop and soak up the atmosphere. Order a delightful drinks and enjoy the music.

There is a pretty walkway between the beach and the restaurants.  It is busy with people and even an artist or two painting works of art.
Lido La Scogliera

As you walk down toward the end of the beach, you will find a small corner of paradise, La Scogliera. Partially set on a rocky terrace, you can indulge in excellent service, attention and relaxation in a stunning setting.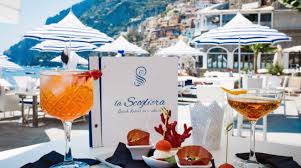 This lido is owned by L'Incanto, and pampers their guests. At sunset, it turns into a romantic lounge/bar from 7:30-10:30pm.  They also have have live music and DJ sets till 11:30 on Sundays and Wednesdays.  In addition, you will find the hottest club on the Amalfi coast located here, Music On the Rocks. Positano nightlife is the best on the Amalfi Coast.
Spiaggia Grande Harbor
Here you will find a small jetty that offers boat excursions, rental boats and a sea taxi service. You can boat to other areas of the Amalfi Coast and to small coves nearby, which can only be accessed by sea. Likewise, there is also a dock for ferries and larger boats. (A great option for transportation to and from Naples) For a unique and delicious lunch, as the sea taxi to take you to Da Adolfo Ristorante.  You can only arrive by boat and it has its own little beach.
Fornillo Beach
If you're looking for a quieter beach which is only a 10 minute scenic walk away, you will enjoy Fornillo Beach. From the Spiaggia Grande harbor, bear right and walk along the costal path. There are a few fully equipped Lidos and the rentals are much less expensive than Spiaggia Grande.
Positano Beaches make you Jump for Joy!