Where to stay in Positano? It's beneficial to understand the layout of the land, or should I say cliff, while choosing Positano hotels. To begin with, you will be in The Vertical City, with tons of steps from beginning of town down to the harbor. At the same time, this is what makes Positano so unique and spectacular.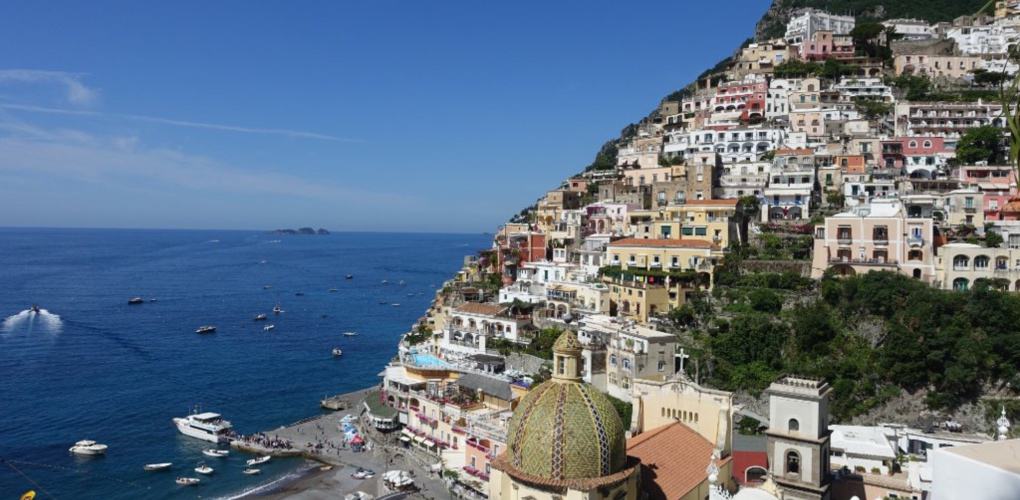 Therefore, there are some things to consider according to your mobility and preferences.  First, if your hotel is high up on the cliff, you will have stunning views but lots of steps to climb up and down to town center and the beach. Secondly, there are hotels mid-way on the hill which are closer to the center of town with fewer steps to climb. Lastly, there are also hotels down by the beach and just seconds from town center. These are reached by a sloped walkway and have the fewest steps. I will help you discover the best hotels in Positano.              JUMP TO HOTELS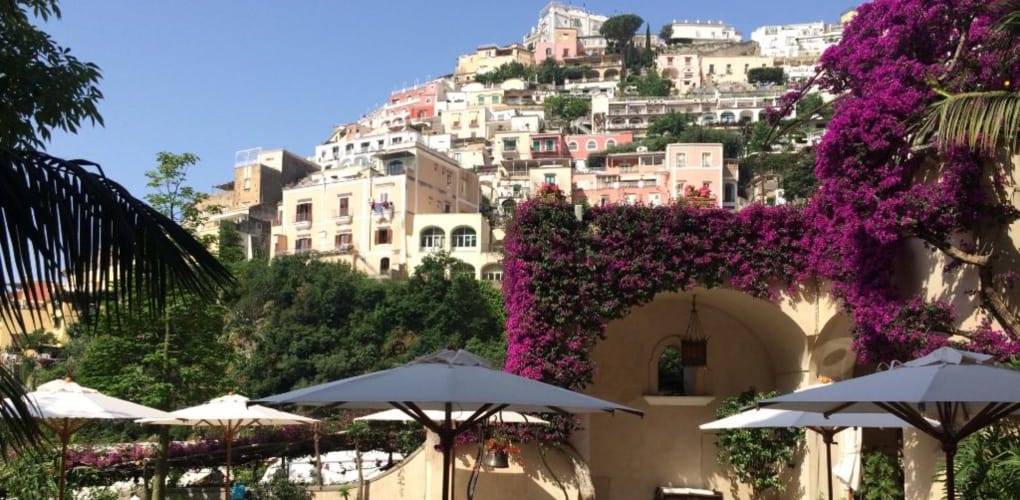 It is important to know that which ever you choose, there are internal busses that can take you all around. Most upper Positano Italy hotels have bus stops right by their entrances. In addition, porter service is available that will collect your luggage at Piazza dei Mulini (Euro 6 per bag – cash only) and deliver them to your hotel. Piazza dei Mulini is the drop off point in town from which you have to continue on foot to reach many hotels. You can find the porters in front of the Pharmacy (few steps before Piazza Mulini) or just ask the parking attendant or your driver.
First, those charming steps…..
In my opinion, steps are a perfect way to burn off all that delicious Italian food! It's like an Italian StairMaster – no need to hit the gym! Get a leg workout and your heart pumping while you see the sights. Although steps are the fastest route (shortcut), there are a few inclined winding roads that you can walk back and forth to your destinations. Take your time and enjoy the charm of discovering all the nooks and crannies this beautiful town has to offer. You will find boutiques, cafes, restaurants and of course, the best hotels in Positano.
Second, where is the center of town?
When picking a hotel, I feel it's good to know where its location is in relationship with town center. This is especially true in Positano because of the vertical layout. The center of Positano is from Piazza dei Mulini to the Church of Santa Maria Assunta. The church is set back from the main beach, Spiaggia Grande, which is within a minutes walk.
TOP POSITANO HOTELS
Le Sirenuse
Luxury Hotel – Pool – Breakfast included – Bottom of hill
You will be in the Lap of Luxury!  Here you will find impeccable service, gorgeous surroundings and spectacular views of the sea and beach. Expect to be pampered and let your eyes feast on the beauty of your surroundings. Enjoy!
Address: Via C. Colombo 30, Positano
Hotel Buca di Bacco
Luxury Hotel – Breakfast included – Bottom of hill – Practically on Beach
Buca di Bacco's location is basically on the beach. It is extremely easy to get to the beachfront restaurants, the ferries and excursion boats as well as all the shops and galleries. Service is excellent. The rooms are spacious and decorated with old world charm. You will love it!
Address: Via Rampa della Teglia 4, Positano
Covo dei Saraceni
Luxury Hotel – Pool – Breakfast included – Bottom of Hill – On Beach
An ideal location! This is an excellent hotel with a beautiful view right over the beach. They have a wonderful rooftop pool and bar. Rooms and common areas are beautiful.  A perfect choice!
Address: Via Regina Giovanna 5, Positano
Palazzo Murat
Luxury Hotel – Pool – Breakfast included – Bottom of Hill
This hotel is on the prettiest via in all of Positano. It is basically a glamorous oasis in the center of everything! Moreover, this is one of the most beautiful hotels you will find. A gorgeous entryway that opens up into beautiful outdoor garden restaurant. It is a very short walk to the beach.
Address: 23 Via dei Mullini, Positano
Hotel Villa Franca
Luxury Hotel – Pool – Breakfast included – Top of Hill
Villa Franca is perched high on the hill with incredible views and impeccable service. The hotel and rooms are beautifully decorated. They offer complimentary shuttle to the beach area, which is basically town center.
Address: Via Pasitea 318, Positano
Mid-range Hotel – Breakfast included – Middle of Hill
A wonderful hotel with beautiful vistas.  I suggest booking a room with a balcony. It is in a great location because it is close to the main beach area with many restaurants above and below. Address: Via Trara Genoino 29, Positano
Villa La Tartana
Mid-range Hotel – Breakfast included – Bottom of Hill
I happen to love Villa Tartana. It is very close to the beach and tucked away in a little corner. Rooms are spacious and beautifully decorated. Their breakfast and cappuccino – molto bene! The staff is excellent and will even help you learn Italian! A great mid-range choice right near the beach and town center. Note: Choose an upper room
Address: Via Vito Savino 6/8, Positano
Villa Rosa
Mid-range Hotel, Breakfast included – Mid to lower Hill
Excellent staff, tastefully decorated, excellent views of the sea and Positano. Wonderful breakfast served in your room – sit on your terrace and enjoy the view!
Address: Via C. Colombo 121, Positano