How to get from Naples to Positano
Closest Airport to Positano is Naples Capodichino (NAP)
Getting from Naples to Positano by car can be more than a thrill (terrifying for some) since most of the road zigzags on the edge of a cliff! Even so, if you elect to drive, you will be rewarded with spectacular views. Moreover, you will have the freedom to stop and visit various Amalfi Coast towns. Thankfully, there is now a tunnel between Sorrento and Positano that cuts out some of the cliff-edge driving. In addition, it is important to realize that when you reach Positano, there is limited parking above the town. Check to see if your hotel offers parking.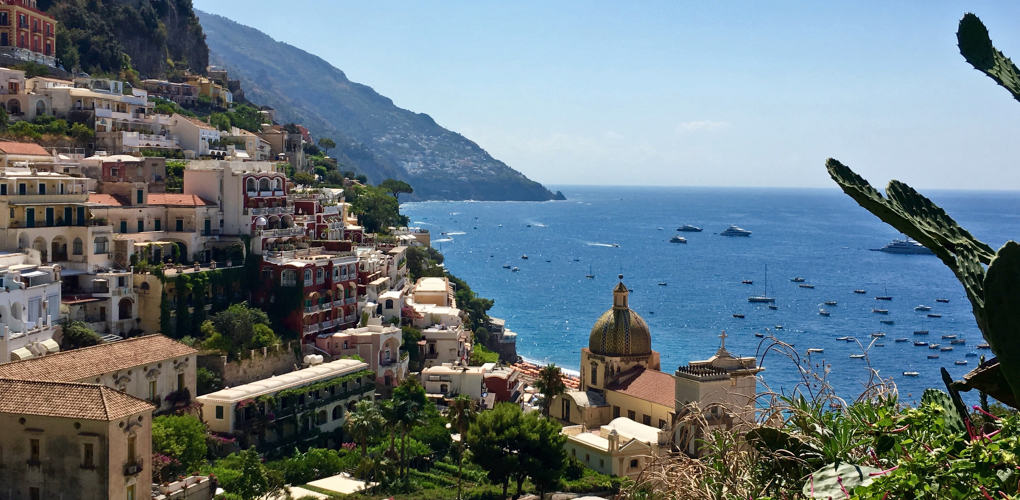 I've found that the least expensive choice (train and bus) takes the longest time. Furthermore, it could be the most crowded and inconvenient with luggage. I find that the moderately priced option (ferry) is an easy way to go. The fastest and most comfortable (private driver) is the most expensive. In my opinion, there are things worth splurging on, and things worth skimping. Safety, time, and convenience may be worth the splurge for you.
Naples Airport to Positano Options:
Train & Bus from Naples to Positano                              
The least expensive way is to take the train to Sorrento and then bus to Positano. First, from the Naples airport, take the free shuttle to Napoli Centrale Garibaldi Train Station. Go to the lower level and take the Circumvesuviana train to Sorrento which is the last stop. Trains depart every 30/60 minutes and the journey can be up to an hour and a half. Be aware that in the summer months the train from Naples to Sorrento is jammed, with standing room only, and not air conditioned! It can be a very unpleasant ride. You can buy your tickets from an automated ticket machine or the ticket office. Secondly, take the Sita bus to Positano. The bus journey is an additional 35 minutes.
Train Tickets: Naples to Sorrento 4.50e each.
Bus Tickets: Sorrento to Positano 2e each.
Important Note: Remember to validate your train ticket before you get on the train! If you don't, you can be subject to a fine and must purchase another ticket. Also, be aware of pickpockets on the train.
Naples to Positano Ferry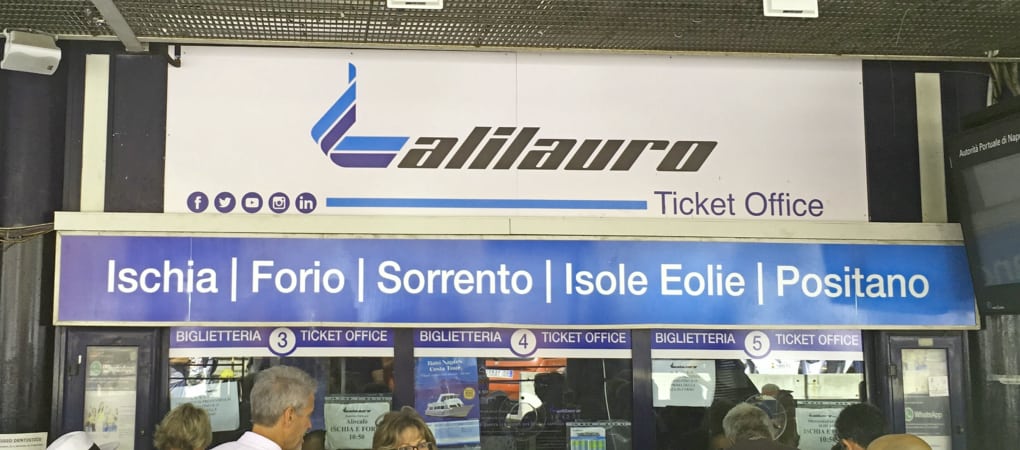 This is a beautiful way to arrive in Positano. You will enjoy the wonderful cascade of colorful homes clinging to the cliff. Positano's view from the bay offers you a priceless landscape. First take the airport shuttle to Naples Beverello Harbor. Shuttles depart every 10 minutes. Secondly, when arriving at the harbor, find the Alilauro ticket office to purchase your tickets. The Hydrofoil is about a 40 minute journey to Sorrento and then onward to Positano. Be aware that the ferry pier is on beach level near Spiaggia Grande. There is quite an uphill climb to the hotels. You can always hire a porter service when you arrive. It is a good idea to check your hotel location in relation to the pier. Check out my Positano Hotel Guide for my favorite hotels and their position on the mountain.
Note: CASH ONLY! Many people waited on line only to be turned away to find an ATM.
Ferry times: Go to Alilauro for ferry schedule since it varies according to season.
Tickets: First – One way from Naples to Sorrento is 14.10e. Second – One way from Sorrento to Positano is 20.10e. Total is 34.90 euros per person. Also, luggage is 2.10e per piece, per trip.
Private Transfer to Positano


Most of the scenic towns that dot the Amalfi coast, including popular Positano, are not accessible by train. In my opinion, the most hassle-free way is via private car transfer from Naples. If you decide on door to door transport, I highly recommend Renato Como Transfers. They will pick you up at the airport arrivals point, and take you directly to your hotel in Positano. In addition, if you want to sightsee for a few hours, you can stop in Pompeii, Herculaneum or Sorrento. Your luggage will be safely stored in the vehicle. Furthermore, you can also stop for delightful lunch at a cliffside restaurant.  Anything you desire they will accommodate.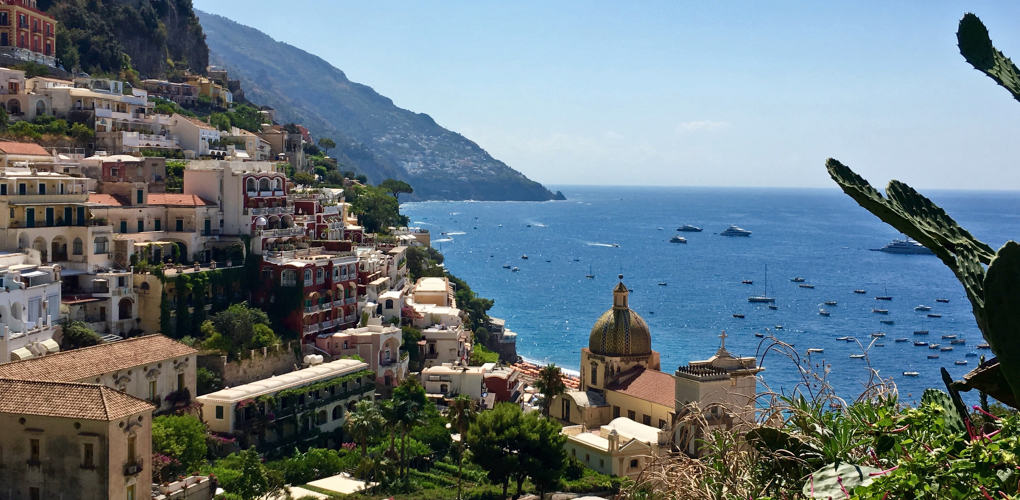 Whatever option you choose, enjoy getting from Naples to Positano. Relish the breathtaking views and appreciate the locals! Of course, when you are on the Amalfi Coast, make your way to Capri, Sorrento, Ravello and Amalfi.
.