Explore charming and delightful Sorrento. It rests atop a cliff on one of the most beautiful and loved coastlines in the world. Sorrento Italy guarantees stunning views. You can see the glistening Mediterranean sea below from Mount Vesuvius to Capri – it is truly breathtaking. Certainly it is one of Italy's most popular vacation destinations since ancient Roman times. Check out Getting to Sorrento from Naples for any travel help.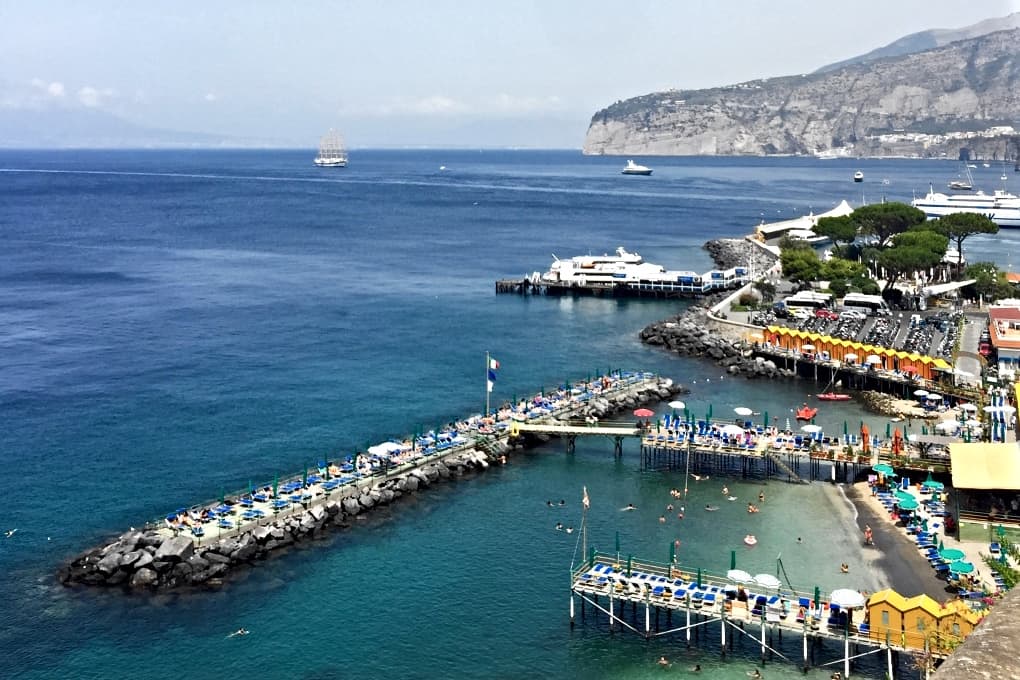 Sorrento Italia, known for appetizing food and unique lidos, also has beautiful art and architecture. The charming historic center is made up of lovely narrow cobblestone streets. There are many cafes, boutiques and shops catering to your every taste. It is impossible to avoid lemons and delicious limoncello here – it is known as the land of lemons!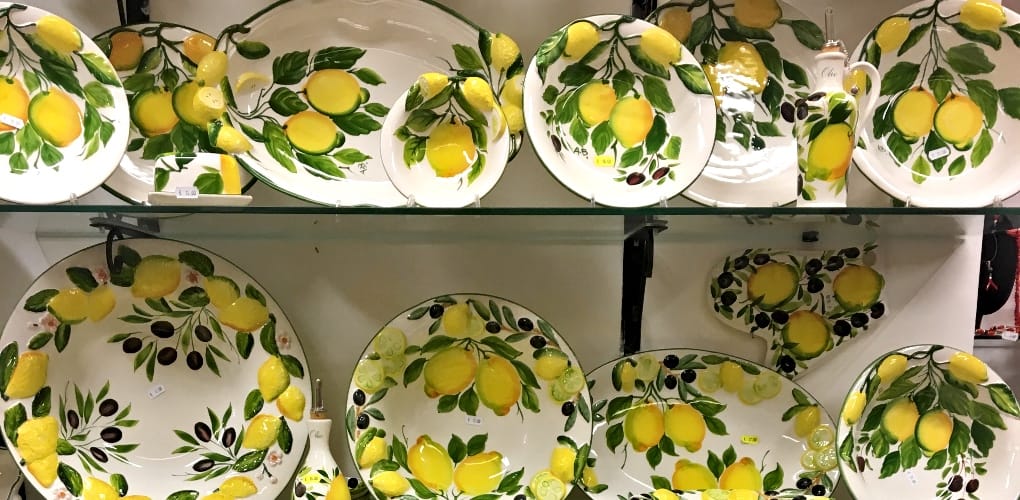 Not only is Sorrento is a perfect base for visiting the Amalfi Coast Italy, but also nearby islands. A short ferry ride can whisk you away to gorgeous Capri and Ischia. Moreover, if you are historically minded, it is easy to get to Pompeii and Herculaneum. Also, a short 35 minute drive will take you to Positano. Excitement and wonderful possibilities await you on your Sorrento holiday.
Things to do in Sorrento
The town itself does not have a great deal of attractions. Therefore it is mainly used as a base from which to explore the surrounding areas. I recommend a two night stay if you are going to visit Capri. Also, It makes for a beautiful wedding backdrop, if you are inclined to tie the knot. On the other hand, it is so sweet to see a lovely bride and groom!
Explore Sorrento
First of all, take a stroll on Corso Italia. It is the main street in town with plenty of stores, hotels and eateries. During the evening, it turns into a lively pedestrian only walkway. Equally important is to explore all the alleys and lanes in this historic town. There are many cafes, shops and boutiques to discover.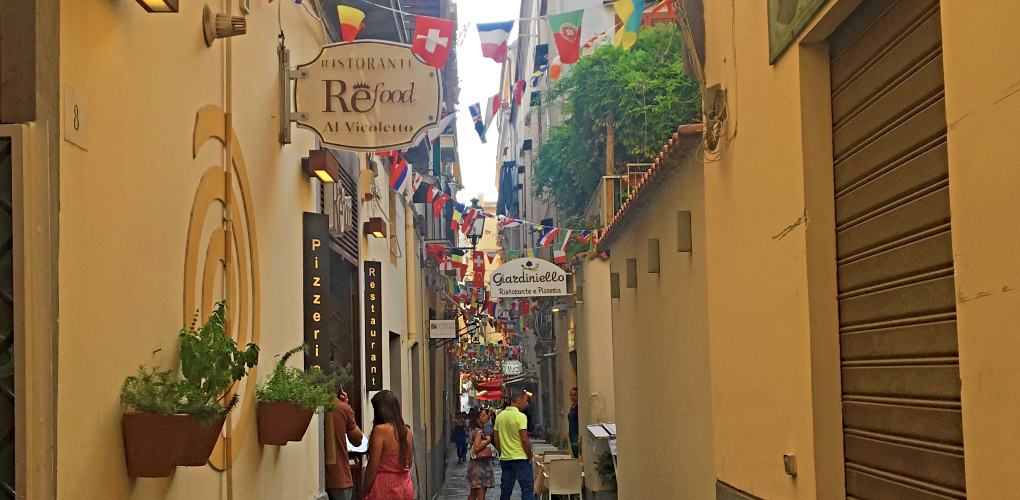 During your stroll, you will frequently stumble onto sculptures and art randomly mixed into the surroundings. Consequently you may find sweet surprises as you walk around.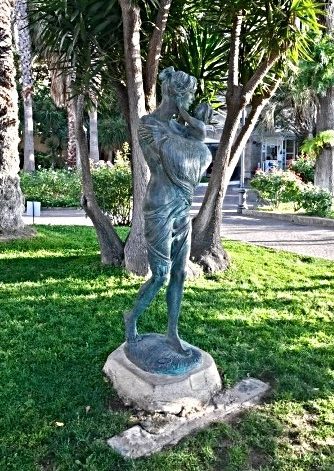 Especially make sure to take a walk to the Villa Comunale Park which is at the edge of the cliff. There you have a spectacular panoramic view  of the sparkling Bay of Naples. By the park you will find a winding walkway carved into the cliff. It leads down to the sea and lidos. The walk is a photographer's dream – don't forget your camera. Conversely, there is also a lift to take you up and down for 2 euros.
Moreover, here you will find Chiesa di San Francesco, a 14th century church. It boasts a gorgeous garden/courtyard with occasional art displays and showings. All are welcome to enjoy the tranquil beauty you will find here.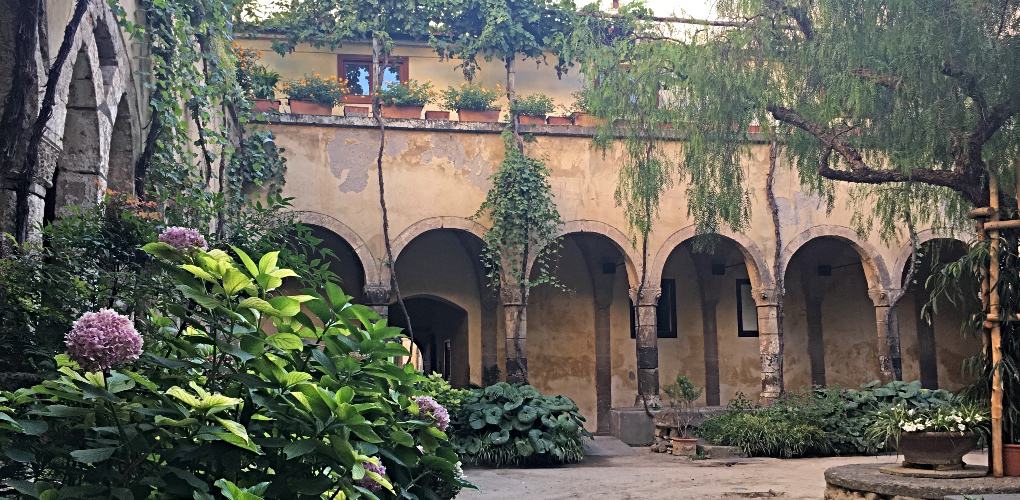 Piazza Tasso
Piazza Tasso is the main square of Sorrento. Live music, horse carriage rides and a mini tourist train are found here. Tasso is the town hub. It is lined with cafes, restaurants and shops. Be sure to order a cafe and enjoy the scene as people go by. During the evening, live musicians perform wonderful Italian music! Additionally, you will find another staircase here that will lead you down to the port and lidos.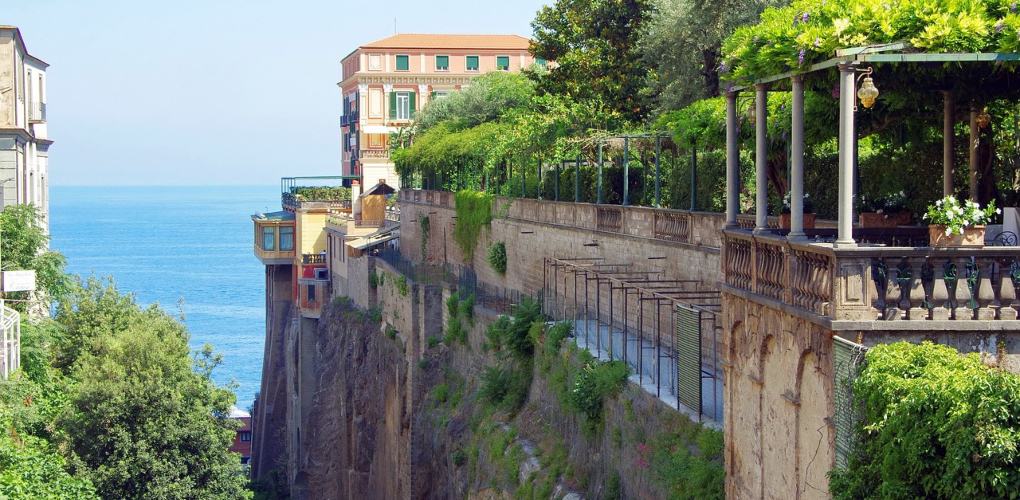 On the whole, Sorrento is a fun, lively and wonderful town to visit. It is easy to get here from Naples and is a great first stop on the Amalfi Coast. I suggest staying a night or two before heading to Positano, Amalfi or Ravello. Also consider staying on Capri for a night or two.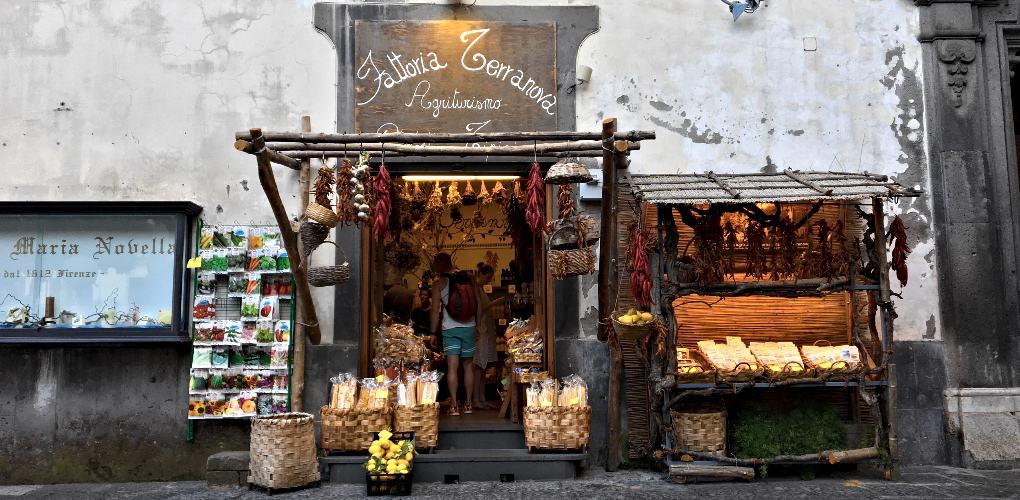 Definitely make time to enjoy a day at the beach. Sorrento has unique lido's with piers that jut out into the water. Check our my Sorrento Beach page for comprehensive info and rental prices.
Of course, there is nothing better that great Southern Italian food! There are so many restaurants in Sorrento to choose from! Savor these amazing flavors at some of my favorite restaurants in Sorrento.
Get information on the best Sorrento Hotels from luxury to budget on my hotel post!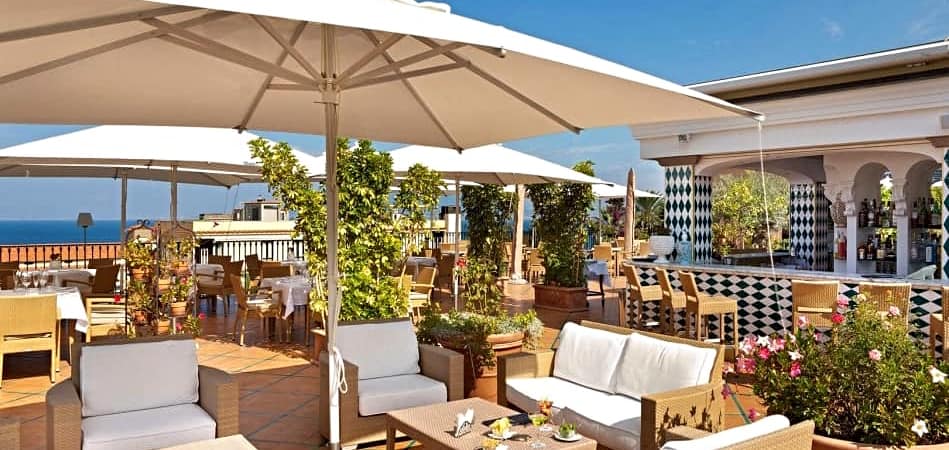 Nightlife in Sorrento
Fauno Notte Club
Fauno Notte in Piazza Tasso is a late night dance club. DJ and dancing fun. Most arrive after midnight and it closes at 5am!
Filou Club
This club/piano bar is so much fun! Sing with the piano man to great Italian and American tunes. It gets an after dinner crowd and is a definitely a blast! Sorrento Italy has a fun nightlife!
Day Trip to Capri
Take a hydrofoil to the gorgeous island of Capri.