Savor the Flavor – Best Sorrento Restaurants
Honesty, Sorrento has the most delicious food in the entire Amalfi Coast! Sorrento restaurants take pride in delicious tomato sauces, homemade pastas, fresh seafood…..yum! In my opinion, there is nothing better that great southern Italian food in Sorrento! There are so many restaurants to choose from! Savor a bounty of amazing flavors at some of my favorite restaurants in Sorrento. Let's dig in…
We all have priorities in restaurants such as amazing food, charming ambiance, as well as first class service. Moreover, some like to dine at a trendy scene. My recipe is to mix all these ingredients and suggest the best to you. Buon Appetito!
L'Antica Trattoria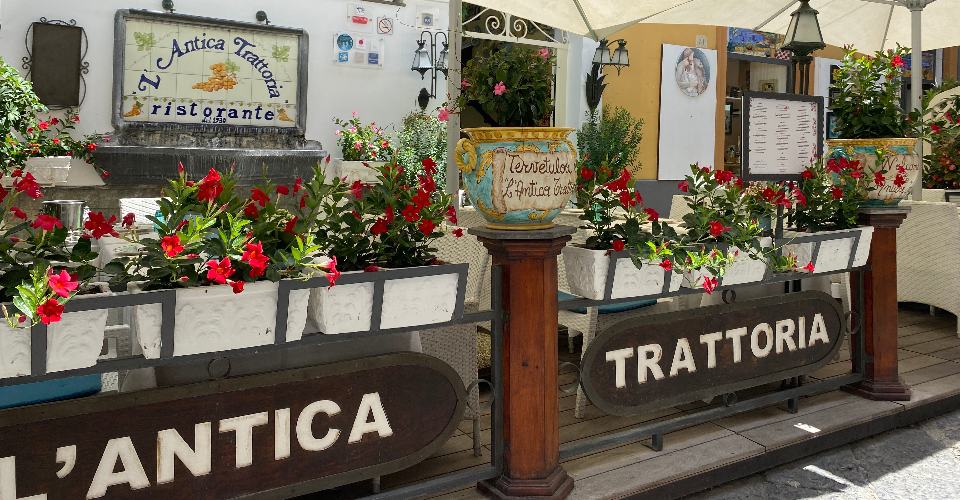 Fine Dining – Not only will you feel like you are in an enchanted garden, but the food at L'Antica Trattoria is spectacular! Coupled with wonderful, elegant service, you will have a dining experience to be remembered for years to come. Every dish here is heavenly from beginning to end. Amazing pastas, seafood and top-notch zucchini flowers. Buon appetito and enjoy the scrumptious food, gorgeous decor and the wonderful mandolin player!
Address: Via Padre Reginaldo Giuliani 33
Ristorante Donna Sophia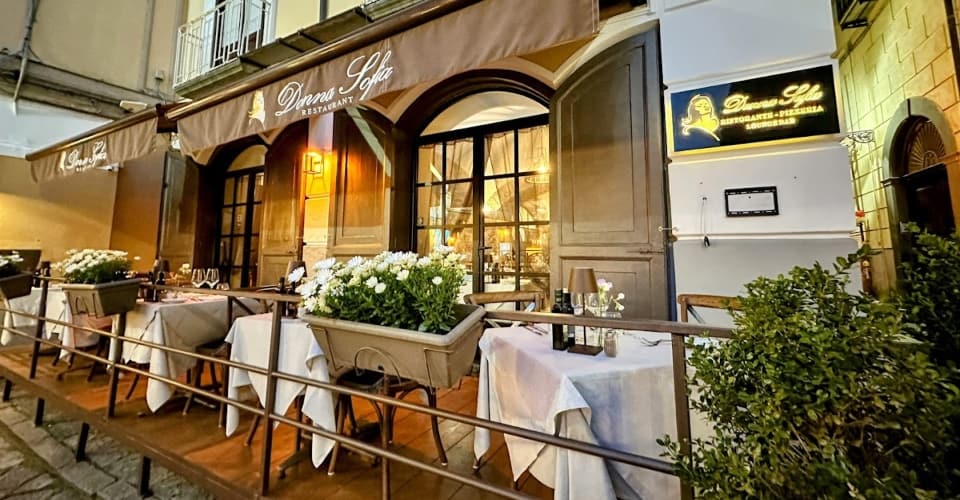 Mid Range – When in Sorrento, this restaurant is a must! Not only is the food excellent and delicious but a fabulous atmosphere, with pleasant music in the background makes for a perfect evening. Moreover, the walls have a number of terrific photos of Sofia Loren placed throughout. Yes, you will enjoy delightful homemade pasta and fresh seafood. Donna Sophia – an absolutely perfect meal from start to finish. And finally, the staff is just wonderful.
Address: Via Torquato Tasso 45
O'Parrucchiano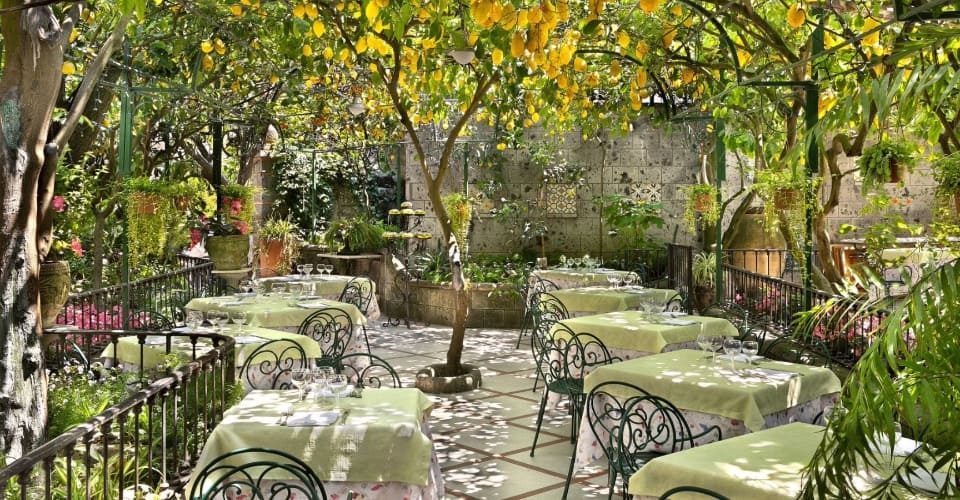 Mid Range – O'Parrucchiano is famous for eating under lemon trees in a beautiful garden – it is gorgeous! There is an emphasis classic southern Italian dishes such as lasagna, cannelloni, etc. After all, this restaurant was opened in 1868. Moreover, there are good seafood and meat dishes also. The SAUTÈ DI VONGOLE is absolutely amazing – we went back again for it! At least go once for the gorgeous atmosphere.
Address: Corso Italia 71
Ristorante Bagni Delfino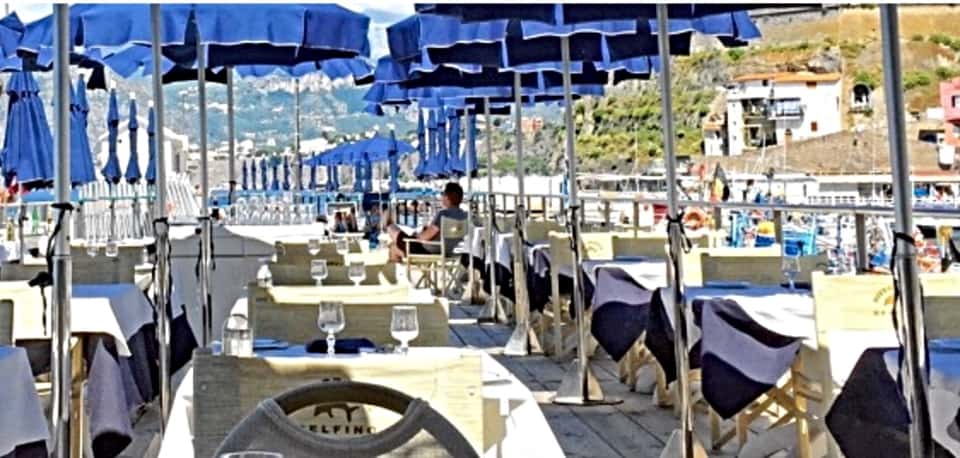 Mid Range – This superb restaurant is located in Marina Grande. You have the option of dining over the water since they have a pier jutting out into the marina. Definitely a beautiful setting, but equally important is the outstanding food the chef prepares! The seafood dishes are simply amazing. Daily fresh caught fish can be grilled and then filleted table side. Flavorful pastas are cooked to perfection. In addition, an extensive wine list is offered. Moreover, the service is outstanding.
Address: Via Marina Grande 216
Ristorante L'Abate
Mid Range – Ristorante L'Abate has delicious dishes, outdoor dining and a wonderful singer who sings so many terrific Italian songs. I really love this restaurant! Not only is the food excellent, but I love the atmosphere. I had to go back a second time. Try the shrimp risotto and the meat & cheese cannelloni. Awesome! Make reservations to sit in the outdoor garden. The waiters are so very friendly. You will have a wonderful dining experience. Mangia!
Address: Piazza Sant'Antonio 24 – Located a few steps off Piazza Tasso.
Ristorante Sorrento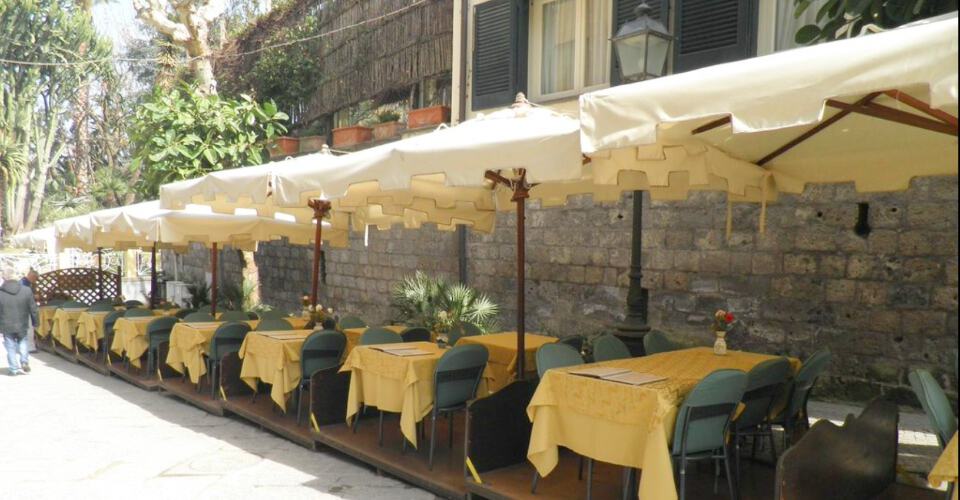 Mid Range – If you like lobster over pasta and fresh sea bass filleted table side, this is the place for you! As we were walking by, a delicious aroma of a lobster dish got my attention. We decided to give it a try the following night. So happy we did! It was delicious, although I definitely spiced it up with red pepper oil! We also got a local grilled sea bass, which was filleted table side and awesome!
Address: Via PR Giuliani 66
Leonelli's for Lunch at the Beach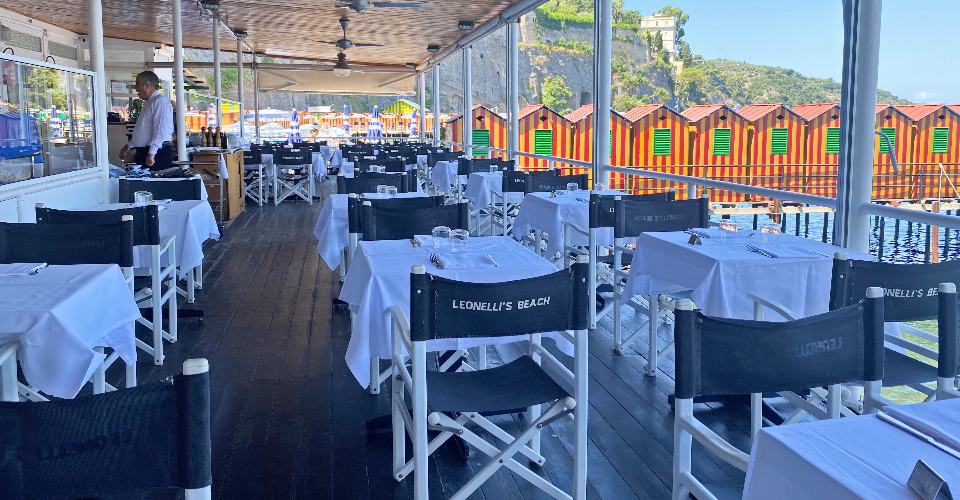 Keep in mind, that when you go to the beach, each club has a restaurant where you can have a great lunch. My favorite is Leonelli's. They offer a varied menu and cocktails. The food was absolutely delicious, especially the grilled vegetables and sautéed clams. In addition, they will also serve you at your lounge chairs, which is a nice touch!
Bellevue Syrene – Great for Cocktails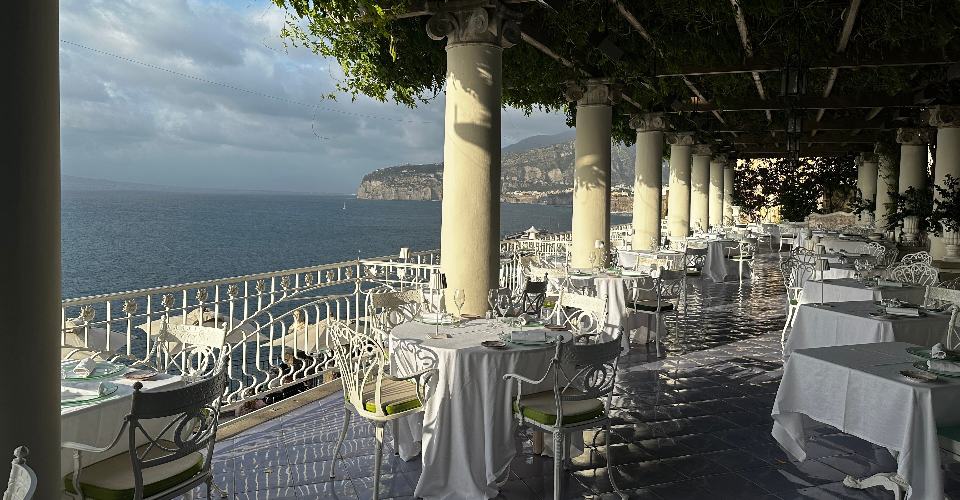 Definitely stop by Bellevue Syrene for a cocktail. Enjoy a spectacular view while enjoying a delicious drink. They have amazing bartenders and Bellinis. Furthermore, there is an entertainer singing classic Italian songs! Of course, dinner must be delicious, but I have not eaten here.
Hope you give these Sorrento restaurants a try. I really think you will enjoy a wonderful meal!
Dishes at my favorite restaurants in Sorrento: