Sorrento Beaches
In the first place, beaches in Sorrento are unique. Visitors will find Sorrento lidos practically floating on water! Long colorful piers jut out into the sea because of limited amounts of sand. From here, enjoy a beautiful panoramic view of the Bay of Naples. Not to mention crystal clear water!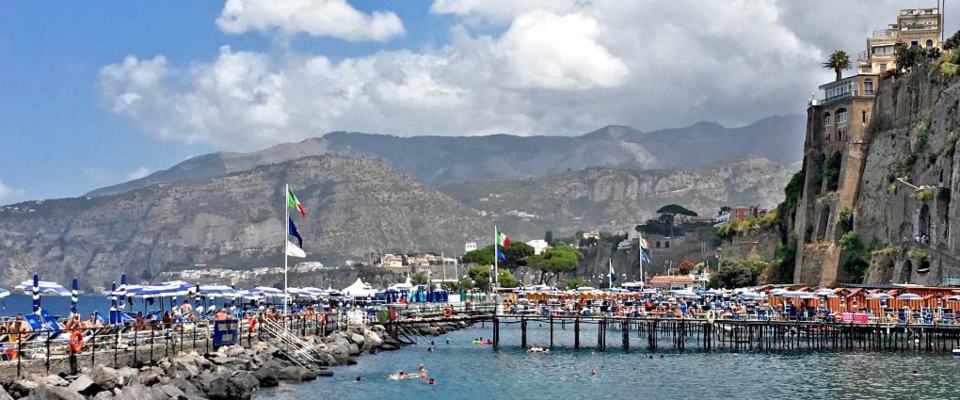 Sorrento beaches are located in Marina Piccola, which is directly down the steps/lift from town center. All the lidos offer delicious restaurants and bars. In addition, each are fully equipped with showers and offer sunbed/umbrella rentals. If you're looking for a beach with the most sand, Lido Leonelli is the best beach in Sorrento for you.  Furthermore, there is also a free public beach – remember to bring your own towel.
Sorrento Beaches & Lidos
Peter's Beach
Peter's Beach is the first lido you will encounter of the Sorrento beaches. Great staff and good food. Plenty of changing cabins and a small sandy beach. Prices: Beds @ 15 euros
Marameo Beach
Marameo Beaches has 30 changing cabins, floating sun beds, king size sun beds, leisure zone with giant sofa, chaise lounge and Jacuzzi. The restaurant is open daily for lunch and dinner. Prices: Beds @ 14 euros, Towels @ 3 euros
Leonelli's Beach
This is my favorite! At Leonellis' you will find three terraces equipped with deckchairs, sunbeds and umbrellas. There is a cocktail/snack bar and also a restaurant on the beach, which is the biggest and most delicious. In addition, Leonellis' has the best beach in Sorrento because it is the widest and longest. 2023 Prices: 2 beds, 1 umbrella and 2 towels @48 euros
Bagni Salvatore
Bagni Salvatore is the last lido you will find. It has over 3 large piers. You are offered beds, umbrellas and chairs. Additionally, there are rentals of pedal boats, canoes and cabins. Of course, there is a delicious restaurant and bar. Prices: Bed @ 13 euro.  Towels @ 2 euro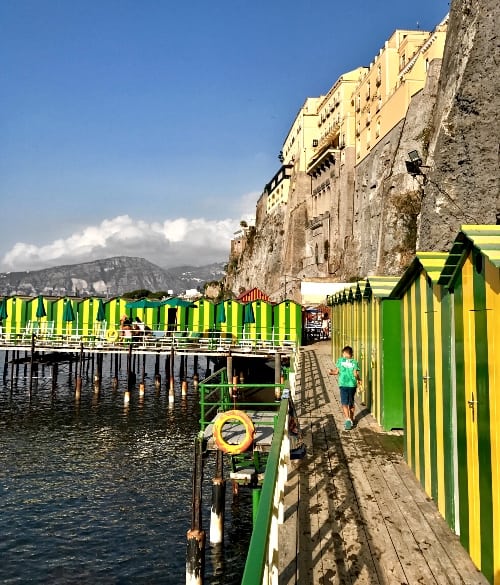 In fact, whichever lido you choose, every comfort you might need is available to be enjoyed. All this while sunning, swimming and admiring the Bay of Naples and mountain view. It is just gorgeous and you will love all the Sorrento Beach Clubs and Lidos.
Gallery of Sorrento Beaches