5 Best Hotels in Sorrento
Sorrento's spectacular location on the Amalfi Coast makes it a popular destination to explore the world's most loved coastline. When it comes to visiting Sorrento Italy, you can choose from a host of luxury, boutique and budget Sorrento Hotels. Since this is the case, let me help you weed through the array of choices. Here are my pics of the 5 best hotels in Sorrento, listed from luxury to budget.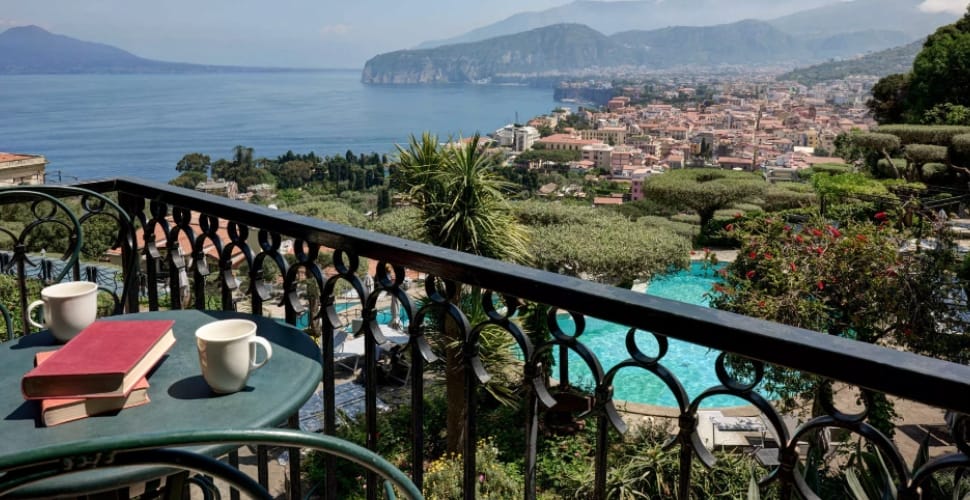 Grand Hotel Capodimonte is a 4* luxury hotel with breathtaking views. It is simply beautiful, the lobby, rooms, dining areas – everything! Moreover, it has an amazing, multi leveled, cascading pool area, a spa, gym, and many beautiful gardens and places to take fantastic pictures. After many years, this August was my second stay at Grand Hotel Capodimonte and it was excellent. Everything is beautiful, new and updated. They had live entertainment one of the evenings we were there that was terrific. In addition, the breakfast is very good.Our room was sparkling clean and large with a bright, pretty decor. I will definitely stay here again.
The value of a stay here is excellent. I think that is because it is at least 10 minutes by foot to Piazza Tasso, which is the hub of Sorrento.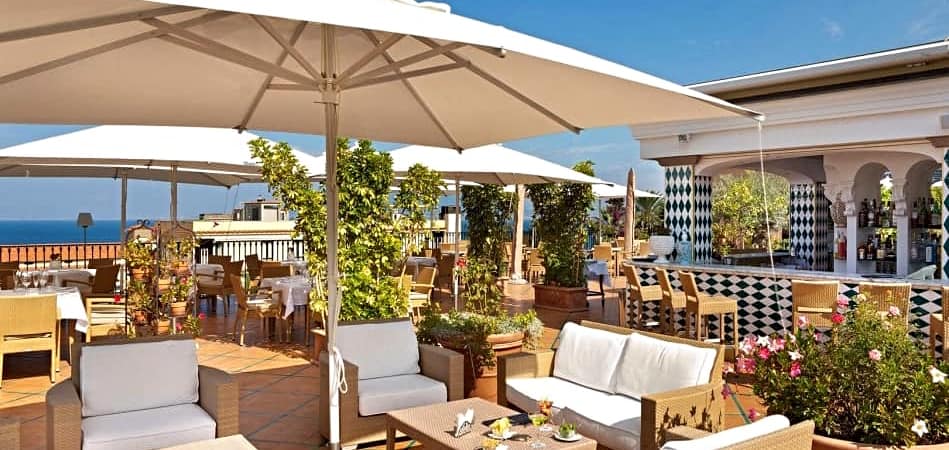 Luxury with Pool – In the first place, La Favorita is in an excellent location high atop a cliff. It is perfectly positioned between the sea and center of town. Secondly, it one of the most elegant and beautiful properties in Sorrento. Not to mention, there is nightly rooftop entertainment with dancing and cocktails. Of course, the rooftop pool, as well as the hotel, has stunning panoramic views of the Mediterranean.
Address: Via Tasso Angolo, Piazza Vittoria Veneto
Luxury with Pool – Bellevue Syrene is a 5* Luxury Hotel perched upon a sheer cliff overlooking the sparkling Mediterranean Sea. If you are looking for luxury, I highly recommend the elegant Bellevue Syrene. The building and grounds are gorgeous and of course the service is excellent. Every room faces the sea and you are welcome to use their private beach.
Address: Piazza della Victoria 5, Sorrento
Boutique Hotel – Palazzo Marziale gives you old world charm in a stunning 15th century palazzo. It is now a family run boutique style hotel with exceptional customer service. There are only a few rooms so book early. Many wedding parties book here and use the beautiful cloister of San Francesco for their venue, which is right across the road. Only a five-minute walk to Piazza Tasso and another short walk to the elevator that brings you to Sorrento beaches and the port.
Address: Piazza Francesco Saverio Gargiulo 2, Sorrento
Midrange – Palazzo Starace is located in the heart of Sorrento on a quiet lane just steps from lively Piazza Tasso. Restaurants and shops are at your fingertips. In addition, it is close to the port, bus and train stations. The rooms are sparkling clean and lovely. Keep in mind that there is no elevator but the staff will take care of your luggage. Breakfast is very good with a large assortment of foods. Only a 5 minute walk to the beach elevator or steps, Palazzo Starch is a reliable choice for a value stay. In addition, FYI the front desk closes at 8pm.
Address: Via Santa Maria della Pieta 9, Sorrento
Midrange – Piazza Tasso B&B is located in the most noted square in Sorrento, Piazza Tasso. It is right in the heart of Sorrento where the real substance of Sorrento is captured with its local restaurants, bars, shops, and fun nightlife. It is also convenient for the train, bus and port. Rooms are clean and tastefully decorated. Get a balcony room overlooking the square and enjoy people watching. You can also see concert and festivals from your room. This is a great value hotel if you enjoy staying in a lively area. The Excelsior Room is a corner room with two balconies with a fantastic view Piazza Tasso. You can't go wrong here. Oh yes, cappuccino and croissants delivered to your room every morning. Ask for Silvana.
Address: Corso Italia 185, Piazza Tasso