My favorite town in Lake Como is beautiful Bellagio! It is a charming, attractive town with the lake in front and the hills behind. Moreover, the views are spectacular. Here you will enjoy a pedestrian old town with cobblestone streets and colorful buildings. The food is great and the locals are so friendly. Bellagio Italy, known as the Pearl of Lake Como has everything I look for in an Italian town.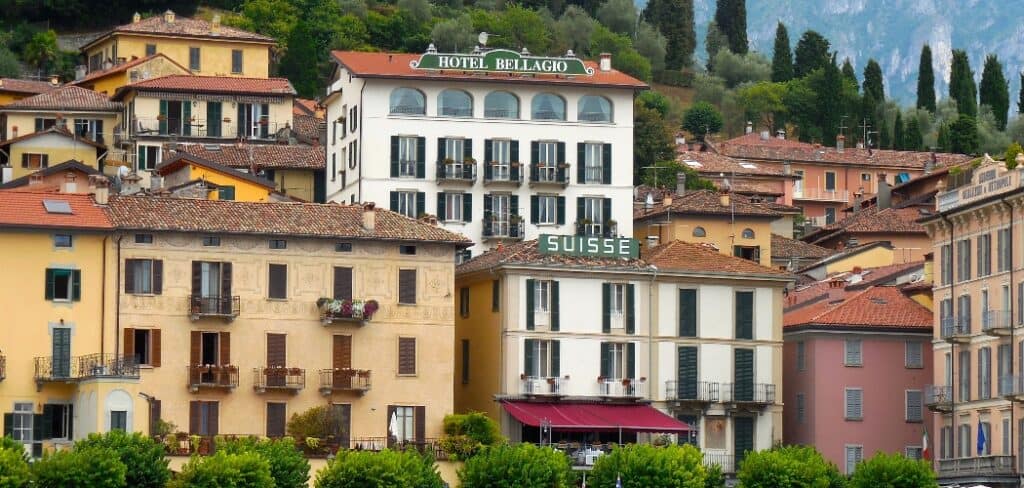 Of course, Bellagio, is considered the highlight of Lake Como. It has a wonderful blend of cute shops, caffes and delicious restaurants on active cobblestone streets. Not to mention spectacular views. It is a small town and completely walkable – perfect for taking a long leisurely stroll. Narrow streets run uphill from the lake giving you a beautiful lake view from the top of town. Moreover, there are some special hotels here.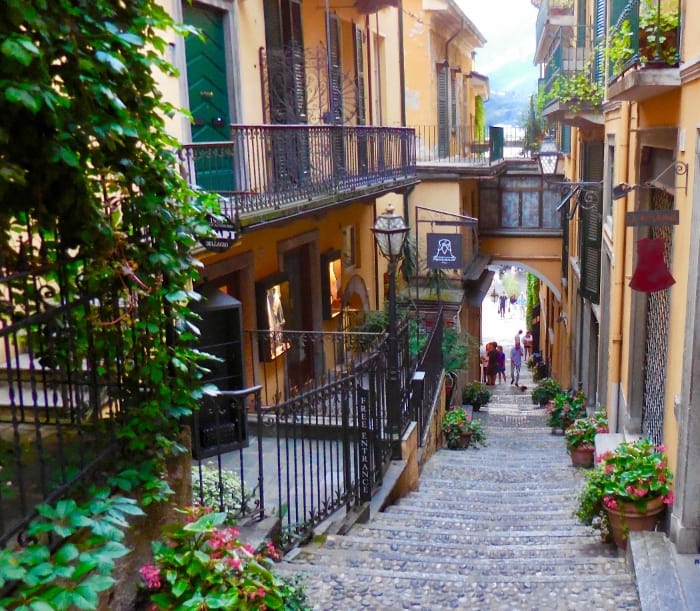 Things to do in Bellagio Italy
Exploring the streets, especially with your camera, is one of the best and first things to do, since there are so many picturesque spots. Undeniably, Salita Serbelloni is one of the most beautiful. It is a long straight flight of stairs which runs from the harbor and goes straight up the hill. All along the street there are shops, small cafes, colourful houses and lots of plants and flowers. Indeed, you will definitely enjoy soaking in Italian sights and sounds of this special town.
Melzi Gardens
Secondly, to see stunning views of the lake, beautiful plants, trees and walking paths, take a stroll to Melzi Gardens. They are on the grounds of a 1800's villa once owned by the President of the Italian Republic. The gardens are free to the public and worth the 15 minute walk.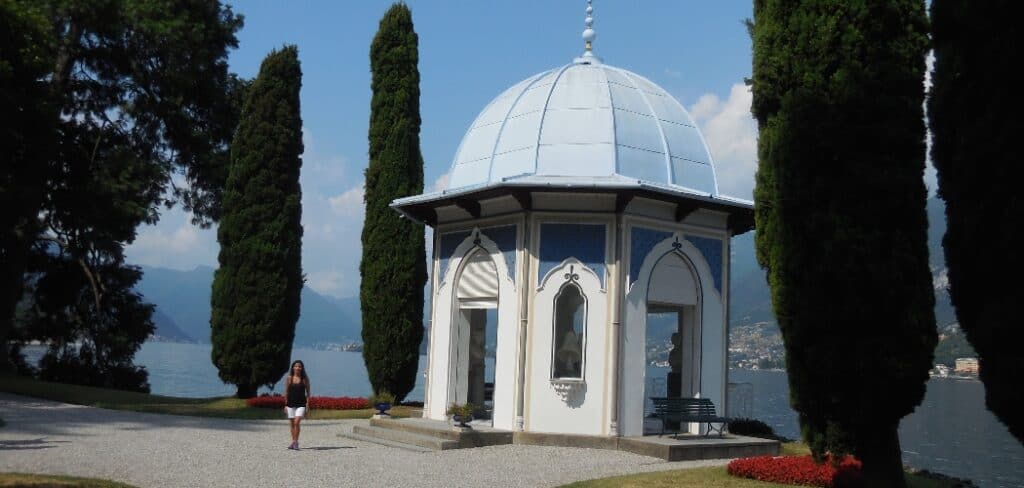 Third, take the time to visit other towns of Lake Como. You will fine Varenna, Lenno, Tremezza and Mennagio close by. The ferry in Bellagio is connected to many other Lake Como towns that criss cross the lake. This public boat service easily connects the shore towns. Go to Navigazione Laghi to see timetables and costs.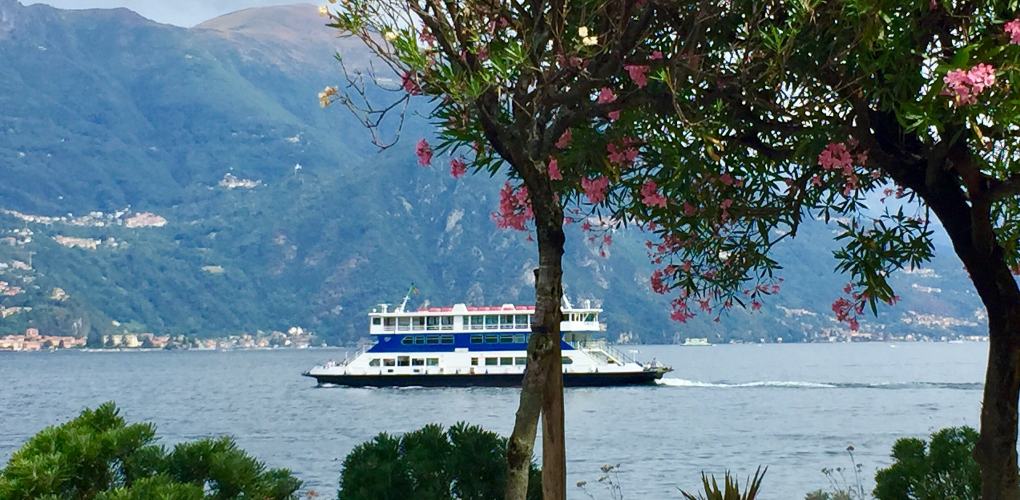 Lido di Bellagio
Then, I always try to fit in some fun in the sun! If you would like to relax in the sun with gazebos and sun beds, Bellagio offers Lido di Bellagio. It is on the shore of the lake between Bellagio and Villa Melzi. It is a fun little 'beach' where you can sip a cocktail and have a light lunch.
Subsequently, in addition of things to do, visit the Romanesque basilica of San Giacomo (St James). The church was built in the 12th century and the iconic bell tower is seen from the shore.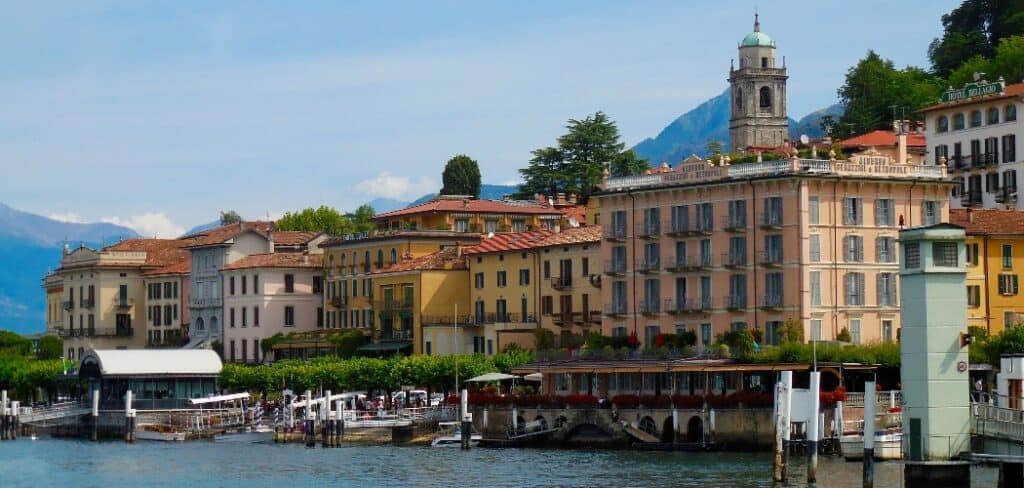 At this point, follow your footsteps and your heart will be happy just to live in the moment of amazing Belligio Italy. Defiitely a must visit!