The picturesque island of Lipari is the largest and most popular of the Aeolian Islands. Summer brings crowds of Italians to visit. The charming old town is certainly worth a visit. Moreover, the crystalline turquoise sea attracts vacationers to the pretty beaches. Since this island is located off the northern coast of Sicily, the climate is definitely warm and mild. It certainly makes a great base for visiting the other Aeolian Islands. Most of all, Lipari boasts an exciting Old Town and bustling Marina area.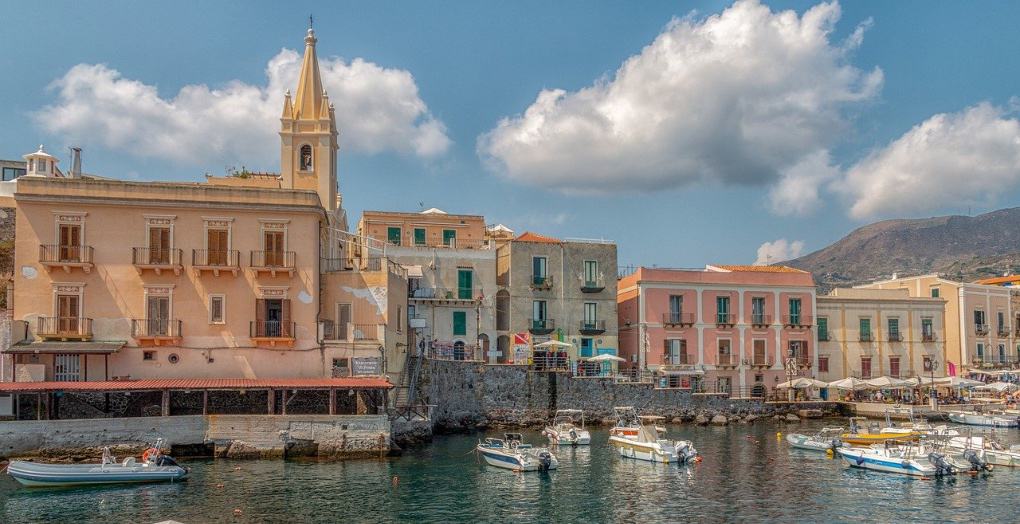 Lipari town is lively, charming and a perfect area for exploring. The pretty streets have an array of flowers flowing from balconies. The main walkway is Corso Vittorio Emanuele. Outdoor restaurants, cafes, stores and markets line the corso and surrounding streets. It certainly comes alive at night! In fact, the old town becomes packed with people strolling the streets. The atmosphere is delightful with live musicians performing everywhere.
Fun Fact: The father of Buddy Valastro, The Cake Boss, was born in Lipari!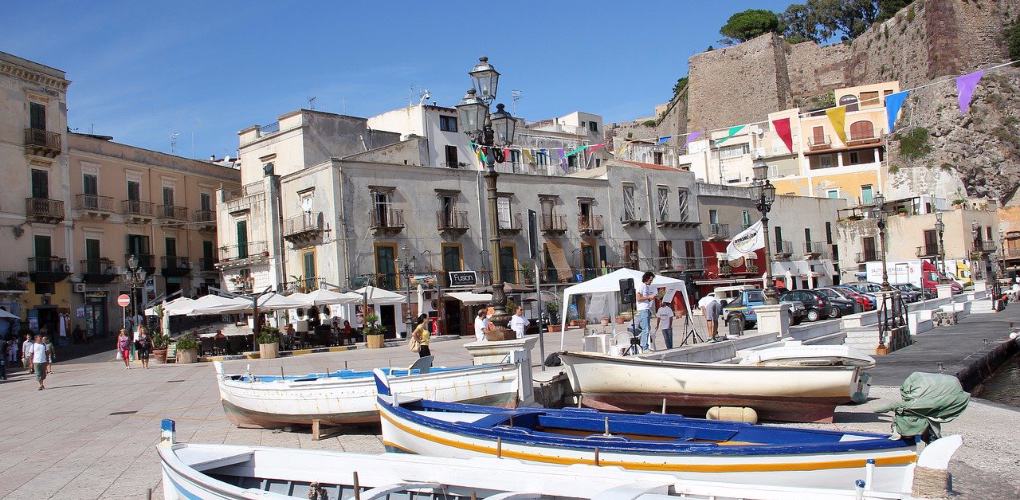 Make sure to go to Marina Corta, which is a short walk from Corso Vittorio Emanuele. It is a charming harbor filled with colorful fishing boats and the main church. In the morning, fishermen are cleaning their freshly caught fish. Without delay, they will quickly be delivered to markets and restaurants. In the evening, the marina is bustling with numerous restaurants and people everywhere. We fell in love with the locals, who are so friendly and welcoming.
The Best of Lipari Italy
Here are some of my favorites…
Lipari Italy HOTELS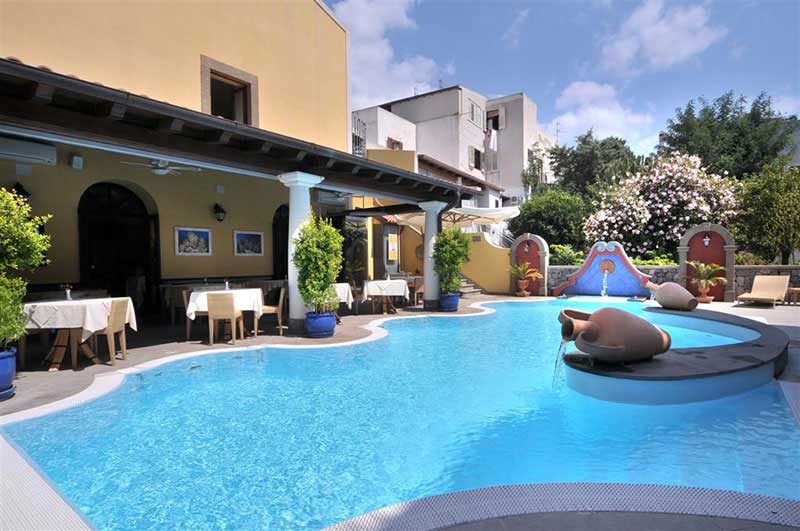 I like this charming hotel because of it's perfect location, within a 5 minute walk of the main pedestrian street and the Marina Corta. Grand Hotel Archiduca boasts a jacuzzi pool, nice rooms and a very good complimentary breakfast. Dining is on the terrace overlooking the pool. In addition, it offers a complimentary shuttle to Coral Beach.
Address: G., Via Giuseppe Franza, Lipari Italy
Lipari Italy RESTAURANTS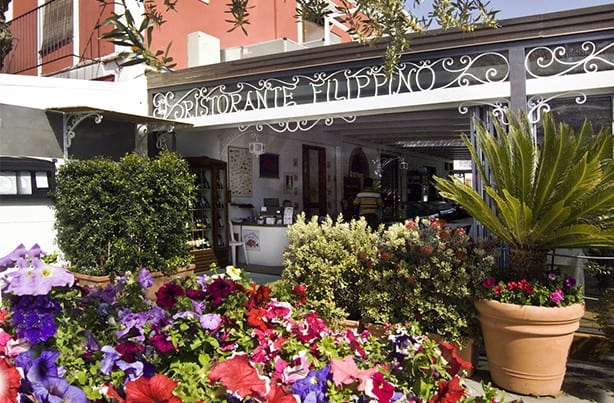 Fresh seafood served from local fishermen's catch of the day to your table. Enjoy Aeolian specialties of fresh regional seafood daily – many of which are served with delicious pasta. Very limited English is spoken, but the service was exceptional. Da Filippino also boasts an excellent wine menu. We enjoyed a delicious Corvo, Glicine 2016. Enjoy your evening dining indoors or outside on a lovely terrace. Ristorante da Filippino is located in the panoramic Piazza del Municipio.
Address: Piazza Guiseppi Mazzini
La Piazzetta
Very nice location set in a quaint square right off the main pedestrian street. La Piazzetta has delicious Italian food. In addition there is very nice ambiance with vine draped outdoor seating. Due to the popularity of this restaurant, you should book early. It becomes extremely crowded after 9:30. Moderately priced.
Address: Piazza d'Austria Salvatore Luigi, Lipari, Italy
NIGHTLIFE in LIPARI ITALY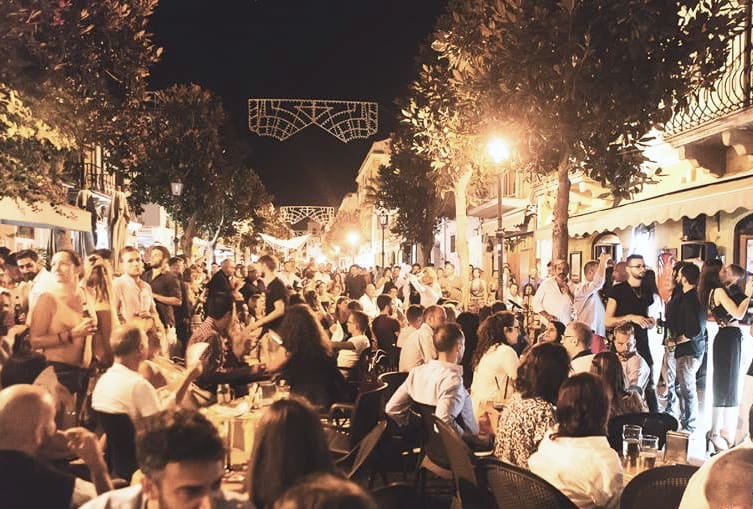 Located in the middle of Corso Vittorio Emanuel. This is definitely the place to be for late night music, cocktails or vino. Furthermore, it's a prime place to people watch. In fact, the area is literally filled with hundreds of people! Most of all, make new friends here, as the Italians are so welcoming!
Address: Vittorio Emanuele 180 Lipari, Italy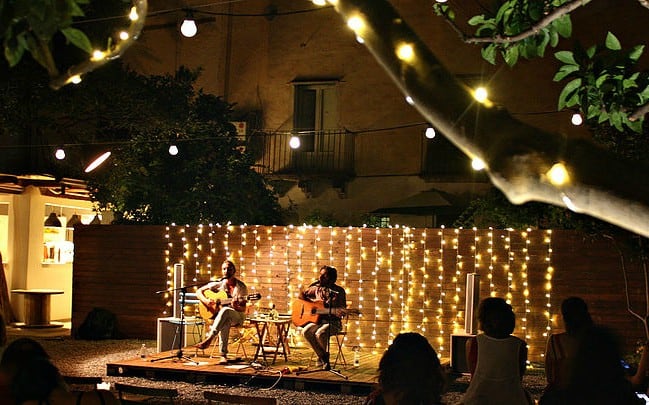 Tucked away on a narrow side street is this hidden gem. Il Giardino di Lipari has live music, great cocktails, and good local food & wine. Furthermore there is a pretty outdoor garden with great ambiance.
Address: Via Nuova, Lipari
Beaches on the island of Lipari cater to every taste; crowded or deserted, white or dark sand. It is one of the most enchanting natural Unesco heritage areas in the world. Click here to read more.

THINGS TO DO
By all means, visit the other Aeolian Islands. Excursions leave daily from Marina Corta. Liberty Lines has easy and convenient ferry service. Especially from Lipari Italy to all the other beautiful Aeolian Islands.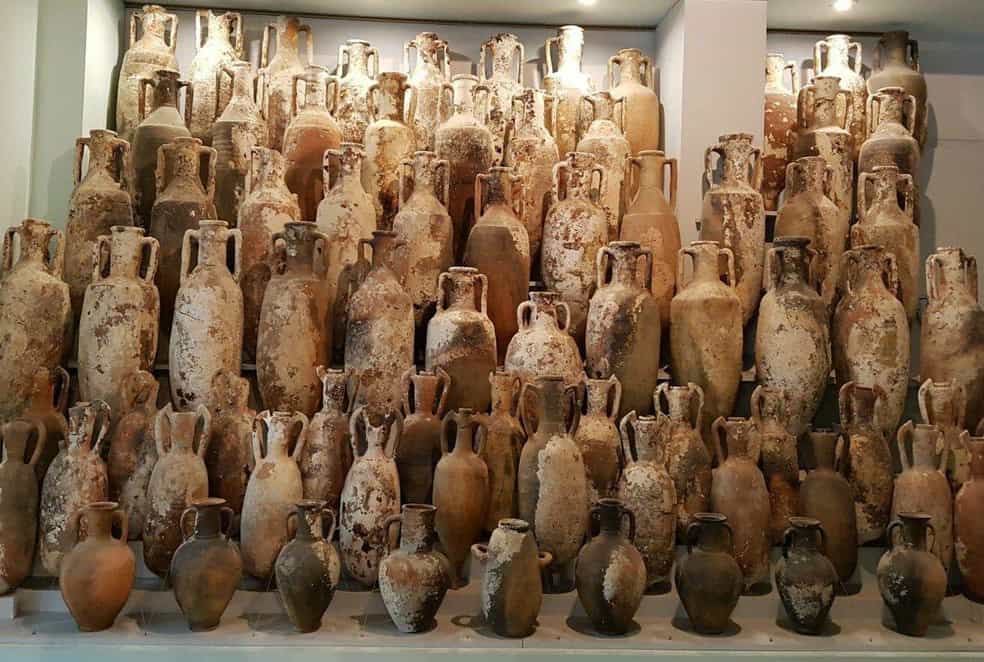 Lipari's archaeological museum boasts one of Europe's finest collections of ancient finds.
Address: Via Castella 2, Lipari
Lipari Italy Cattedrale di San Bartolomeo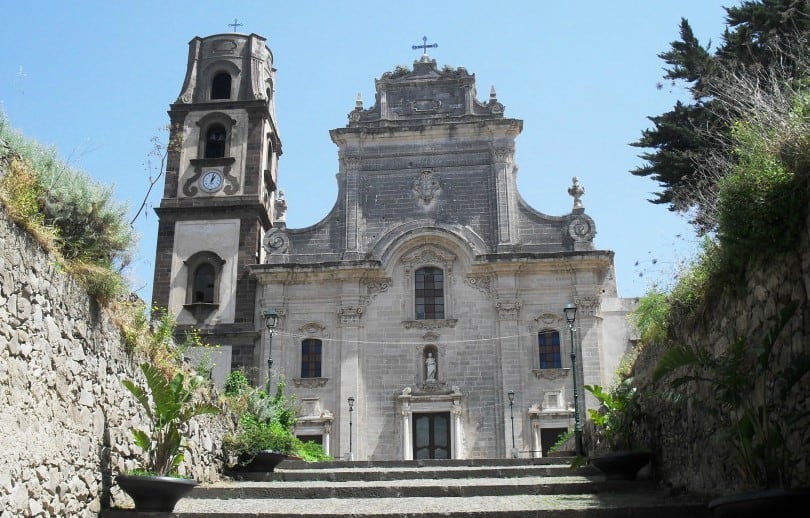 This beautiful church is the oldest and largest in Lipari. It honors Lipari's patron Saint Bartholomew. It's treasured relic are the thumbs of St. Bartholomew.
EVENTS
St. Bartholomew, Patron Saint. August 21-24th
The most important event on the Aeolian Islands takes place in Lipari Town. During this four-day holiday, the piazza of Marina Corta holds wonderful concerts. In addition, there are open markets selling local foods and unique gift items. In conclusion, The St. Bartholomew celebration ends on August 24th with a procession and exciting fireworks.
Bread and Wine Festival, November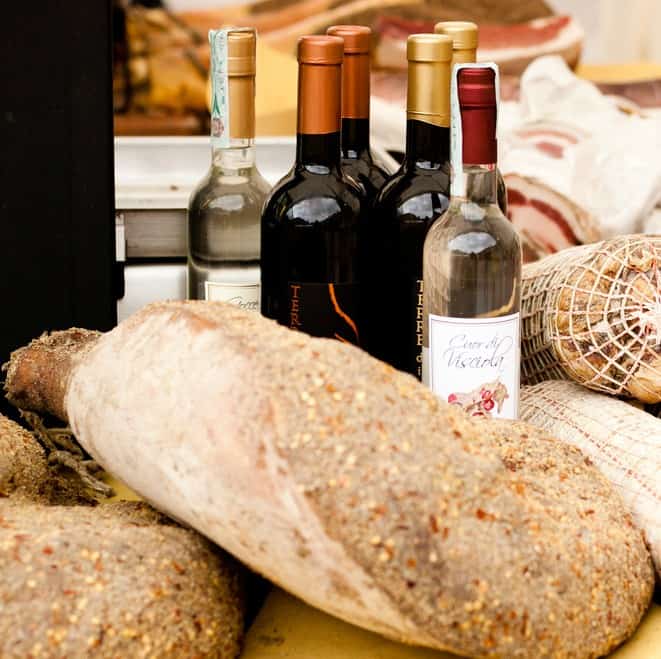 Due to covid19, this will event will resume in 2021.
This festival consists of three full days. It includes tastings of delicious local and home-made products. Wine, bread and roasted meat flavors invade the square. In addition, you can learn about the harvesting grapes. Meanwhile, watch or join in traditional race competitions! For example, donkey races and even a land-digging speed race. All in all, dances and other entertainment make this a fun festival.
Lipari Italy TRAVEL DIRECTIONS
Lipari is easily accessible by ferry or hydrofoil. With this is mind, the Sicilian towns of Milazzo and Messina are the closest ferry stations. The best departure point is Milazzo. Milazzo has almost hourly daily ferries. On the other hand, Messina has a limited amount of daily ferries to Lipari. The cost is approximately 20 EUR per person. They do accept credit cards.