Without a doubt, get ready for an Italian adventure as there are countless things to do and see in Taormina. This is an old town that is perfect for history, culture, delicious food and awe inspiring sights. Let me give you an edge on some of the best things to do in Taormina. Here they are in no particular order:
A great way to explore the Ioanian Coast. Discover the Grotto Azzurra as well as the beautiful nature preserve of Isola Bella. Be on the beautiful sea surrounded by the breathless landscape of Etna and Taormina. We did not reserve, as the boats are by the beach of Isola Bella. It was wonderful!

If you are visiting Taormina, try to see a show at the world famous Teatro Greco, possibly the most spectacular venue on earth. The Ancient Greek Theatre is amazing.  During the day take beautiful pictures of the ancient ruins. In the evening, take in a show at the Greek Theatre with Mount Etna as a backdrop. There are concerts and operas as varied as Sting and The Barber of Seville.  For upcoming shows, click here: events and tickets.
Mount Etna

A visit to Europe's largest volcano, Mt. Etna offers an incredible chance to see lava flows up close. You can join a tour of Mt Etna's lunar-like landscapes for an incredible experience. Mount Etna is on of the highest volcano in Europe and on of the most active in the world. The volcano shaped the Sicilian history and landscape and still affects the island today. It is an UNESCO World Heritage site since 2013 and the smoking volcano craters and the old and new lava flows are always an impressive experience for visitors.
MT. ETNA WINERY TOUR

Visit the vineyards and taste the wines of Mount Etna.  There are wonderful local wineries where you can sample delicious varieties of wine. Visit a splendid winery nestled 900 Meters above sea level, on the northeastern slope of Mount Etna, and sample some of their delicious wines.
CASTELMOLA

Castlemola is a charming little medieval town up the mountain from Taormina. If you have a few hours, it is worth a visit. We took a bus up and walked back down to Taormina on an ancient path between the two. Included in the list of the most beautiful villages in Italy, in Castelmola time seems to have stopped. With its elevated position, Castelmola offers a view of a splendid Mediterranean from its central square.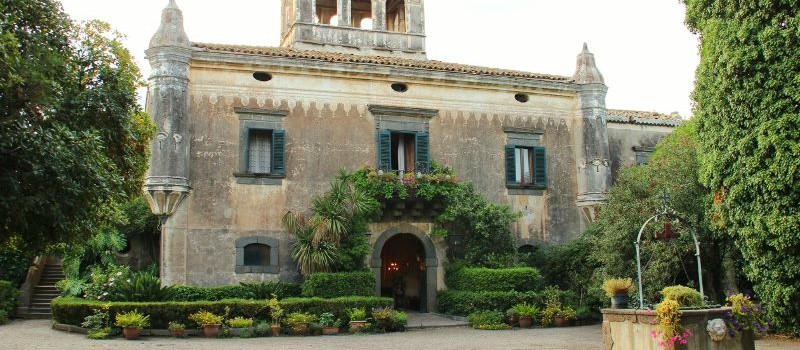 Visit some of the iconic film locations of the blockbuster hit The Godfather. Step back in time in Savoca and Forza D'Agrò and become a part of the filming of The Godfather! Click here for more information.