It's time to spend a beautiful day in the Sicilian sun enjoying the hospitality of Taormina Beach Clubs! Indeed, it is ideal to spend a pleasant day with sun, sea, relaxation and great food. I love to go to the beach and grab a sunbed and umbrella. It is swim, sun, tan and repeat! Of course, there is a delicious lunch break in between all this fun. All the lidos have delicious restaurants.
Take into consideration that these lido's fill up fast.  Therefore, make sure you reserve in advance or make reservations through your hotel for beds and umbrellas. Consequently, if you don't have reservations, make sure you arrive early (11am). If not, your spot will be in the back row – if you get one at all!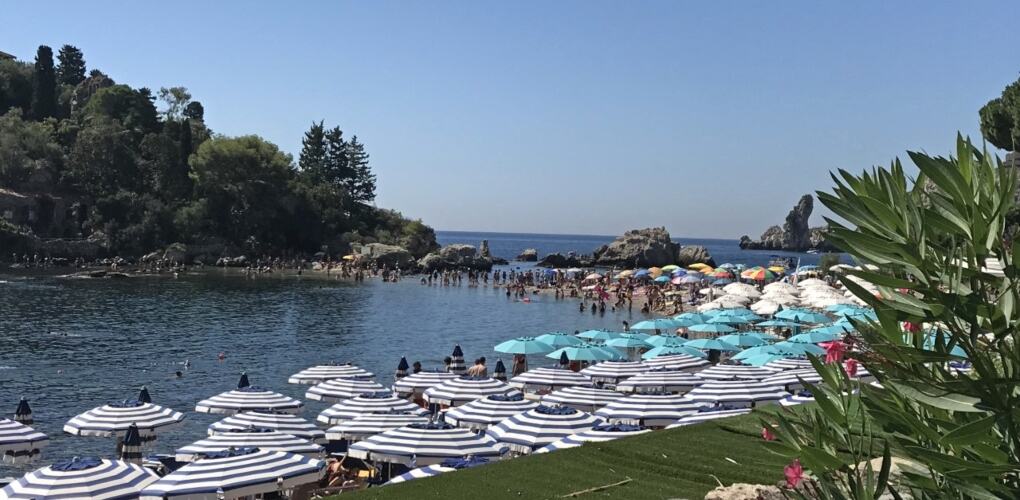 Getting to Taormina Beach Clubs
The Funivia (cable car) is great way to get to the beach area (Taormina Mare). It is located a short five-minute walk from the east end of Corso Umberto.  In my opinion, it is an exhilarating and fun ride down the mountain that only takes a few minutes! The cost is 3-euro one way or 6-euro roundtrip.
Once you arrive to Taromina Mare by funivia (or by car) there are several Taormina beach clubs directly across the street, just steps away. Furthermore, this includes the free public beach of Isola Bella, which is spectacular.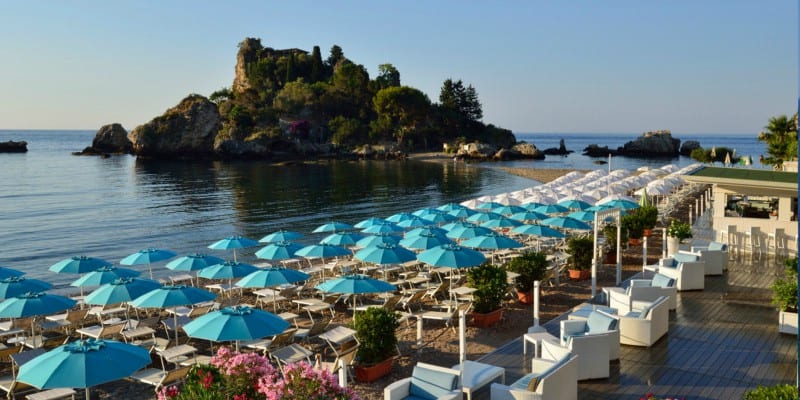 La Plage is a beautiful hotel resort, in fact, it is my favorite, when it comes to breath-taking scenery and ambiance. Keep in mind, it's lido is not open to the public. However, you are able to make reservations in advance to rent lounges and umbrellas. It has a great vibe, music and it's also very attractive. In addition, you can also use the lounge area and enjoy delicious cocktails and food. The Beach Club of the La Plage Resort has sunbeds, beach umbrellas, a bar kiosk, and an inviting gazebo where you can enjoy a massage while embraced by the sea breeze. The Beach Club of the Plage Resort is open from April to October.
Price – summer 2022: EUR 75 for 2 beds, 2 towels and one umbrella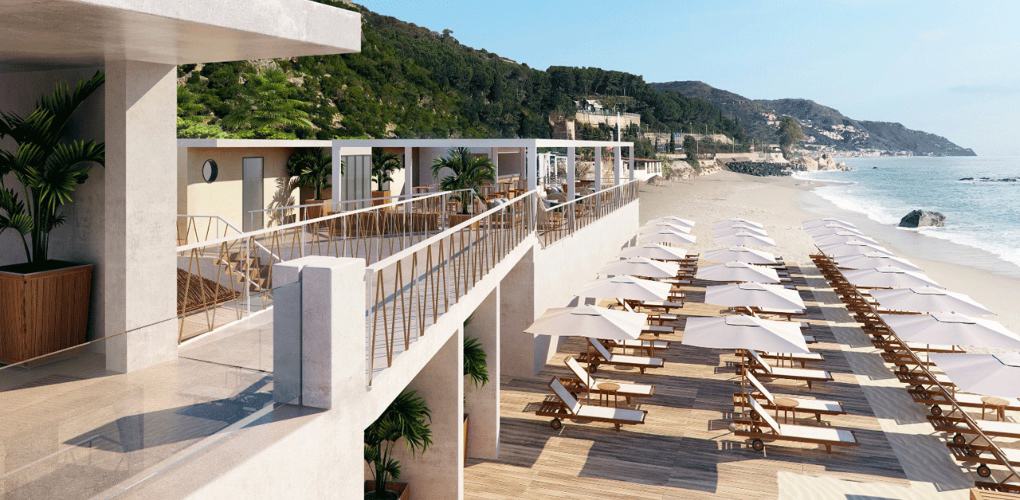 From dawn to dusk Tao Beach Club offers fun and relaxation. The bar service offers refreshments, fresh meals and snacks for breaks between sunbathing and swimming, as well as lunch to be enjoyed on the terraces. Tao Beach Club represents one of the most exclusive corners of Taormina with its private sandy beach, the emerald coloured Ionian Sea and finally the Sicilian sun .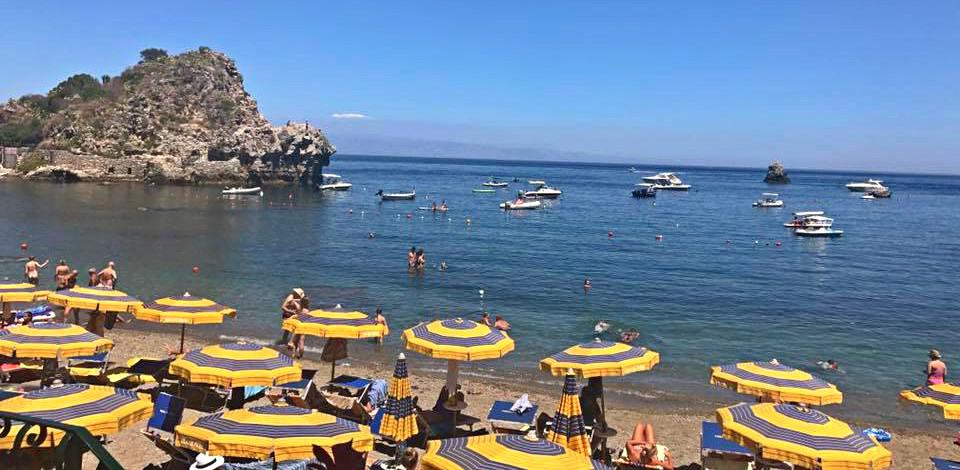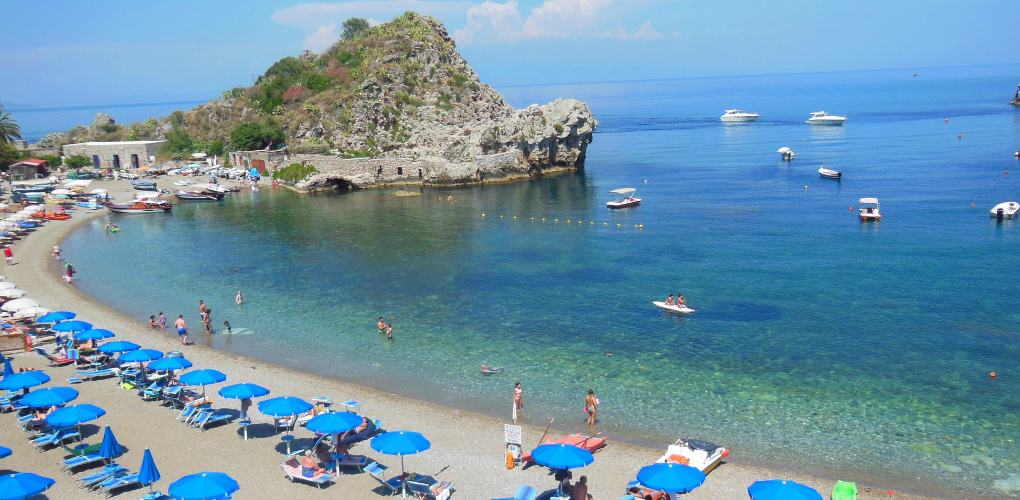 It seems that this is the spot to do many things! We got a boat here that took us on a beautiful excursion to the Blue Grotto and all of Isola Bella. You can rent canoes, paddle boats and even water ski. Not to mention delicious food at the terrace restaurant. All this, in the gorgeous bay, filled with sun and fun!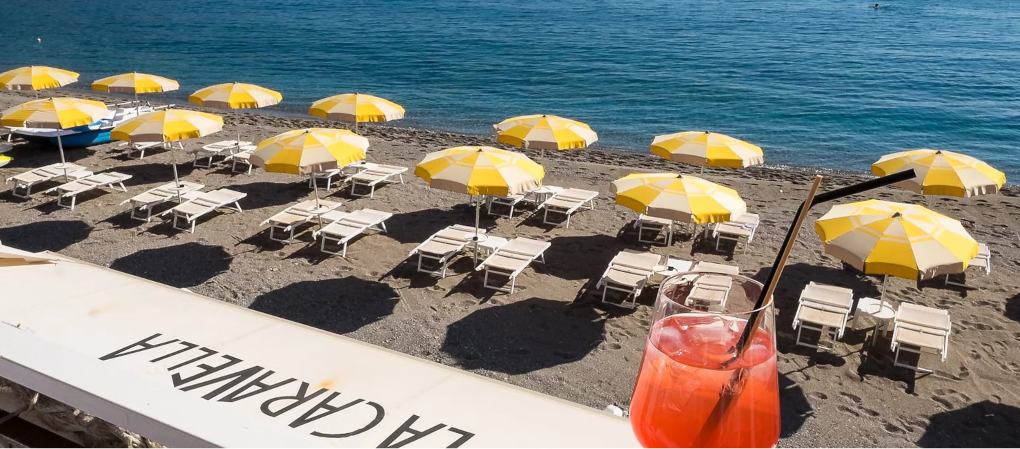 Lido La Caravella is one of the best beaches in Sicily and offers wonderful service. In addition to sunbeds and umbrellas, there is bar service on the beach. Moreover, the lido offers transfers from and to hotels by van, free changing rooms and hot water showers. There is also a private terrace overlooking the sea. Yes, this is what a Taormina beach club is all about!
Letojanni Beaches
Letojanni is a short 15-minute drive from Taormina. It is a popular coastal resort with a long-pebbled beach and crystalline water. That being the case, it is the perfect spot for many beach clubs along the strip. By the way, check with your hotel, since some offer free shuttles to Letojanni Beach.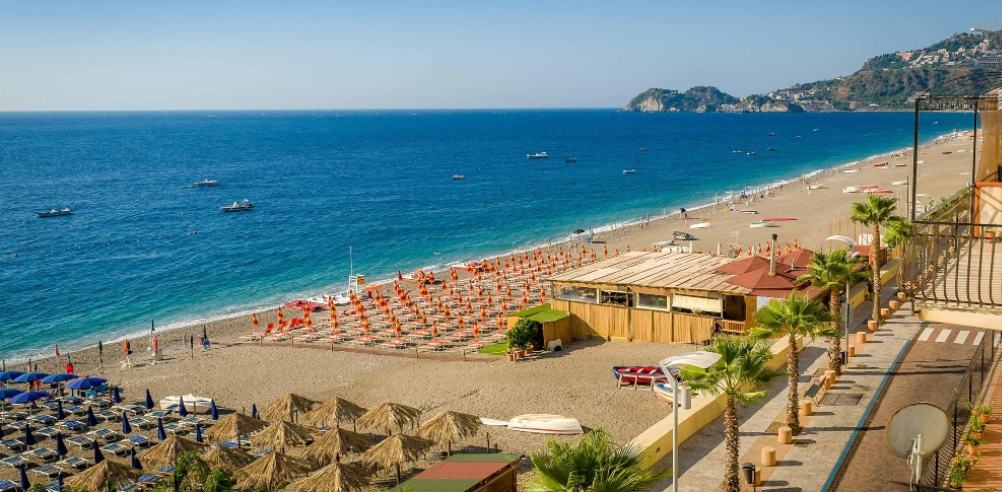 You will find colorful umbrellas and good restaurants and cafes. The lidos are fully equipped with anything you need for a day in the sun. In addition, you have an assortment of restaurants to choose from. Not to mention, they specialize in excellent seafood.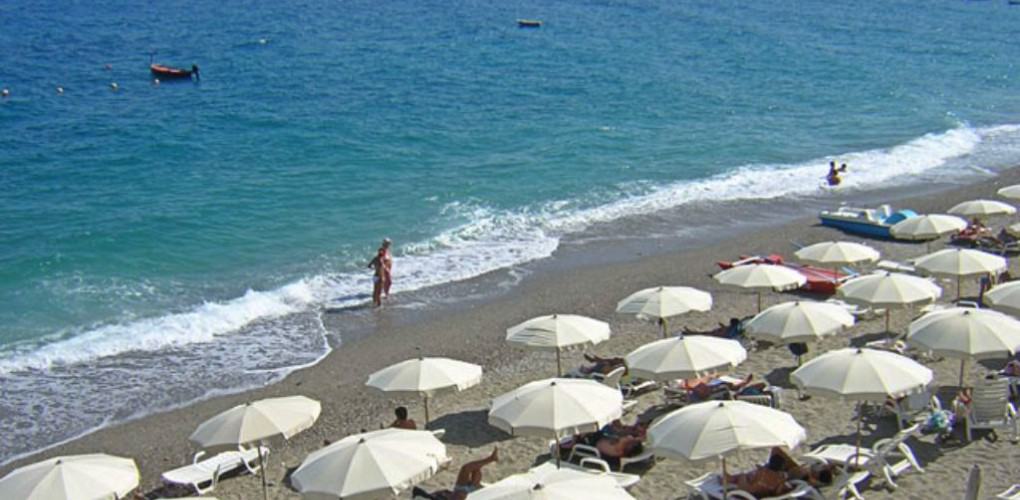 Paradise Beach Club is a very nice lido with a pool, bar and beach facilities. Moreover, it boasts a splendid garden overlooking the sea. Located on Letojanni beach a few minutes from Taormina, you will be in total relaxation, while admiring the scenic bay. You will find terraces submerged by olive trees and tropical plants, to the seawater pool adorned with lava stone. In the "Mojito bar" you can enjoy a snack, an exquisite cocktail based on fresh fruit and delight in the best Sicilian and Italian specialties in the restaurant.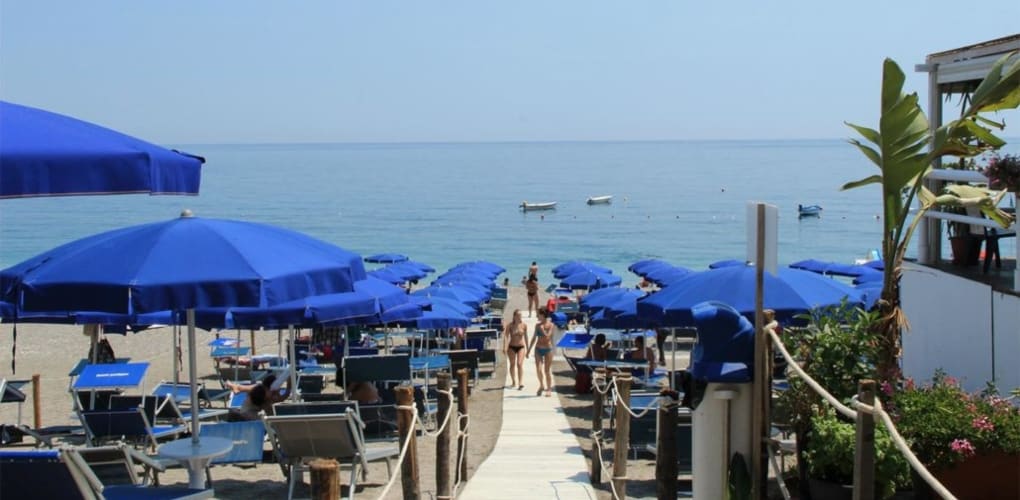 Finally, you can also check out Beach Flamingo. Located on the beach of Letojanni, it has a panoramic terrace, with breathtaking views of the bay of Taormina. This beach is equipped with all comforts and the staff will be happy to make you spend a wonderful day in one of the most beautiful seas of Sicily.
In conclusion, discover the joy of a beautiful day at one of these Taormina beach clubs. You will always remember the beauty and will surely have many pictures to show for it!