Taormina is a wonderful destination for a beach vacation. Perched high upon a cliff is the city of Taormina. However, the beautiful beaches of Taormina are located down below, facing the Ioian sea. This area is know as Taormina Mare. The main road is sprinkled a handful of hotels and a few stand alone restaurants. Cross the street and you will find beautiful bays with several beach clubs, all within walking distance. Taormina beaches are gorgeous. They sparkle with crystal clear, beautiful blue water. Also, they are smooth pebble and rock beaches, which is so pretty.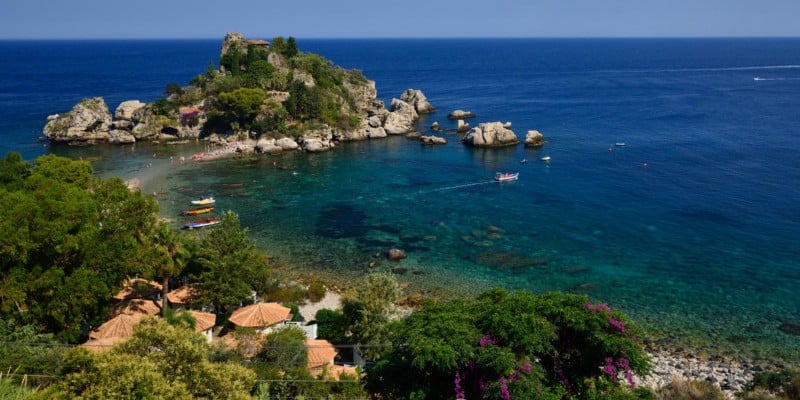 Of course the beach clubs (lidos) in Taormina are fully equipped with rentals of beds, umbrellas and towels. Furthermore, they have delicious restaurants on their property. It is Italian custom to take a break from sunning and have lunch at the beach. Additionally, there is also a free public beach connecting to the small pretty island of Isola Bella.

At all the beaches you can find excursion boats to take you on a tour of the coast and bring you to the Grotto Azzura. I highly suggest taking the excursion. It is a delightful way to see some lovely areas, including going into caves. The boat also stops for swim in some of the most beautiful waters. There is music, fun and just a fabulous time! This is an experience that you will always remember! I recommend the excursion with Sebastian and Carmello
Price – Summer 2017:  Depends on how many people, it can be from EUR 20 – 25.
Getting to the beaches in Taormina
If you are without a car, many of the hotels have shuttles that will take you to a predetermined beach. A great option is the cable car or in Italian, the funivia. It is located a short five minute walk from the east end of the Corso Umberto.  In my opinion, it is an exhilarating and fun ride down the mountain that only takes a few minutes!  It cost 3 euros one way or 6 roundtrip. Once you arrive at the bottom there are several beaches right across the street, including the free public beach of Isola Bella
Walking to the beaches of Taormina
It is a beautiful scenic walk from Taormina down to the beaches.  It is definitely worth the walk! You can walk down in 30 minutes but it took us about an hour, because we stopped so many times to take pictures of the beautiful scenery and amazing views!
Walking Directions: First, exit the Corso Umberto via the arch of Porta Messina and bear right. Then continue past the funivia station, La Pensione Svizzeria and a gas station.  Second, bear left onto Guradiola Vecchia. You will come to a beautiful lookout area that you cannot miss. It almost looks like an ancient ruin with steps going up to the platform and columns on each side. Here you will wind up taking tons of pictures!  Third, you will see a painted wooden sign that says "Isola Bella" to the left of the steps. This points to the path going down to the beach. Enjoy your walk!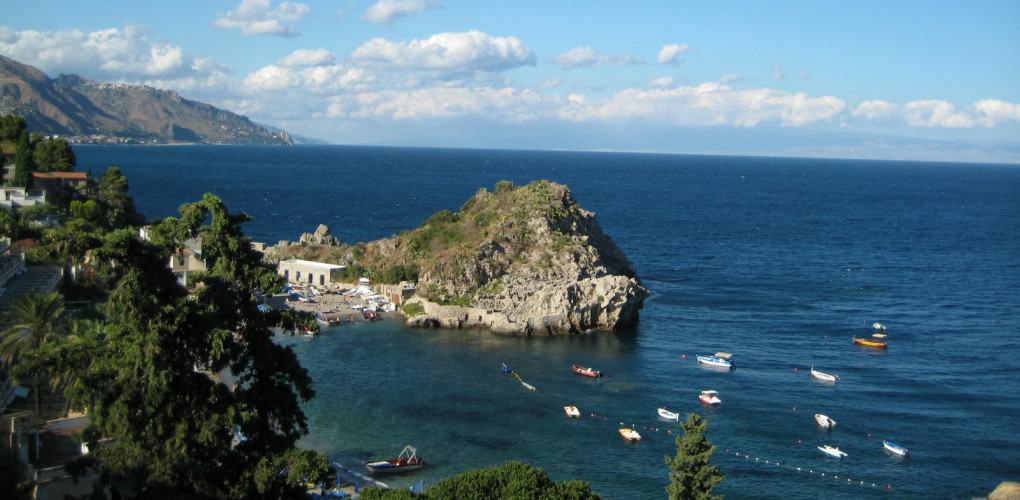 In Taormina, don't worry about time, just stop and smell the roses!  After spending the day at La Plage Resort, we took the funivia back up to town.
Note: The funivia line gets crowded in the late afternoon.  Therefore, give yourself extra time if you have dinner reservations.
Taormina Beach Clubs
Note:  The beach clubs fill up fast.  Therefore, make sure you reserve in advance or make reservations through your hotel for beds and umbrellas.  Consequently, if  you don't have reservations, make sure you arrive early (11am). If not, your spot will be in the back row – if you get one at all!
La Plage is a beautiful hotel resort.  However, it's lido is open to the public. You are able to walk in and rent lounges and umbrellas.  It has a great vibe, music and it's also very attractive. In addition, you can also use the lounge area and enjoy delicious cocktails and food.
Price – summer 2017: EUR 50 for 2 beds, 2 towels and one umbrella
Lido La Pigna
Lido La Pigna is a lovely lido with a terrific restaurant. Definitely stop here for lunch, it will be delicious!
Price – summer 2017: EUR 40 for 2 beds, 2 towels and one umbrella
Isola Bella Beach
Isola Bella is a tiny island and nature reserve which is connected to the mainland by a small strip of beach.  This is a free public beach that consists of pebbles and smooth rocks.  Just gorgeous!  Bring your own towels!
Letojanni Beach
Letojanni is a costal resort with a long pebbled beach and crystalline water. It is just a 15 minute drive from Taormina and a 10 minute drive from Taormina Mare. The lidos are fully equipped with rentals and restaurants. Usually, the hotel shuttles will take visitors to Letojanni beach.
This is a very nice beach club with pool, beach facilities and a beautiful garden. In addition they also have the Mojito Bar for drinks and light snacks.
Finally, you can also check out Flamingo Beach and Lido Fly Beach on Letojanni.