You're sure to enjoy the nightlife in Taormina since the town buzzes with energy! Start your evening at one of the many places to have cocktails and relish the wonderful atmosphere. Furthermore many of the hotels serve cocktails on their terraces or rooftops.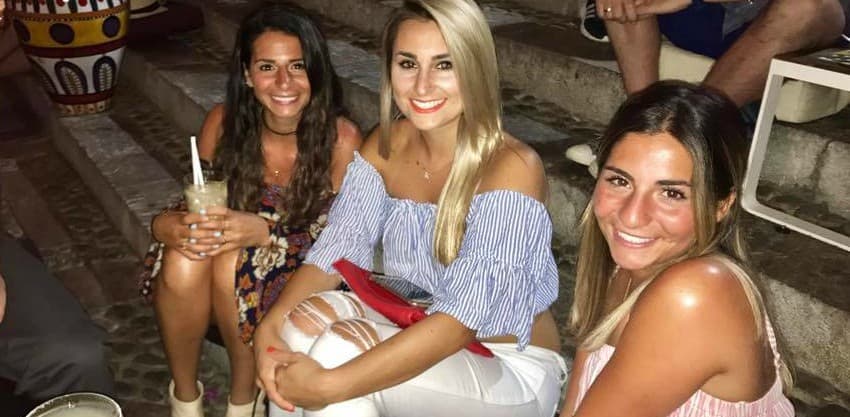 Next, take off to a hot club if you want to dance into the wee hours of the morning. If you are low key or on a family vacation, enjoy the musicians and artists in the streets as well as gelato, granita or dessert! The piazza's and walkways are busy with happy, beautiful people! You will be kept busy and entertained with Taormina nightlife.
At some point, savor dinner at one of Taormina's delicious restaurants. Sicilians usually have dinner between 9 and 10 pm.
Daiquiri Cocktail and Wine Bar is situated on one of the most beautiful staircases in the heart of Taormina. The ambiance is terrific with Sicilian sculptures on the steps along with pretty seating areas with comfy pillows. You will enjoy delicious cocktails as well as light bites. This is definitely a place to enjoy the atmosphere and watch people strolling by in the piazza below. Drink up the atmosphere and the yummy beverages!
Address: Piazza Duomo, Taormina
La Giara
La Giara is the night club for Taormina. First of all, it is very beautiful with a modern elegant design. There is an outdoor area with beautiful views of the the lights shimmering on the sea. This is a hot spot for Taormina nightlife. Crowds party and dance until the wee hours of the night. It is centrally located right in the middle of town. Although it is down a side staircase, you won't miss it because you will see a red carpet and employees outside. Admission was free, although there may be a time frame to that.
Address: Vico la Floresta, 1, Taormina
Morgana Bar

Nightlife in Taormina can start at Morgana Bar. It is a chic lounge with an open air garden. It has a well dressed crowd, delicious cocktails, and good music. Morgana is a small cozy place, right off Corso Umberto, and great for a nightcap and light bite.
Address: Scesa Morgana, 4
Hotel Timeo

For an elegant evening, enjoy a cocktail at the beautiful terrace of Hotel Timeo. You will have stunning views of lights sparkling in the sea as well Mount Etna and the lights of city center. The drinks are delicious and come with a plate of goodies to eat.
CONCERT AT THE GREEK THEATRE

See a show at the Ancient Greek Theatre in Taormina. This is a fully modern entertainment venue. Shows range from Sting and Brian Wilson to classic operas and the delicious sounds of Il Volo. Various performances include concerts, operas, theatre productions, and symphonies. Make it an unforgettable night. Click here for upcoming events and to purchase tickets.
Daiquiri Taormina