Perched upon a cliff above the shimmering sea, adorned with a backdrop of majestic mountains, Taormina Italy, is the sparkling jewel of Sicily. The natural beauty is definitely a feast for your eyes. In the first place, you will admire spectacular panoramic views of the sea. Secondly, you will also have a stunning view of famous Mount Etna idly smoking in the distance.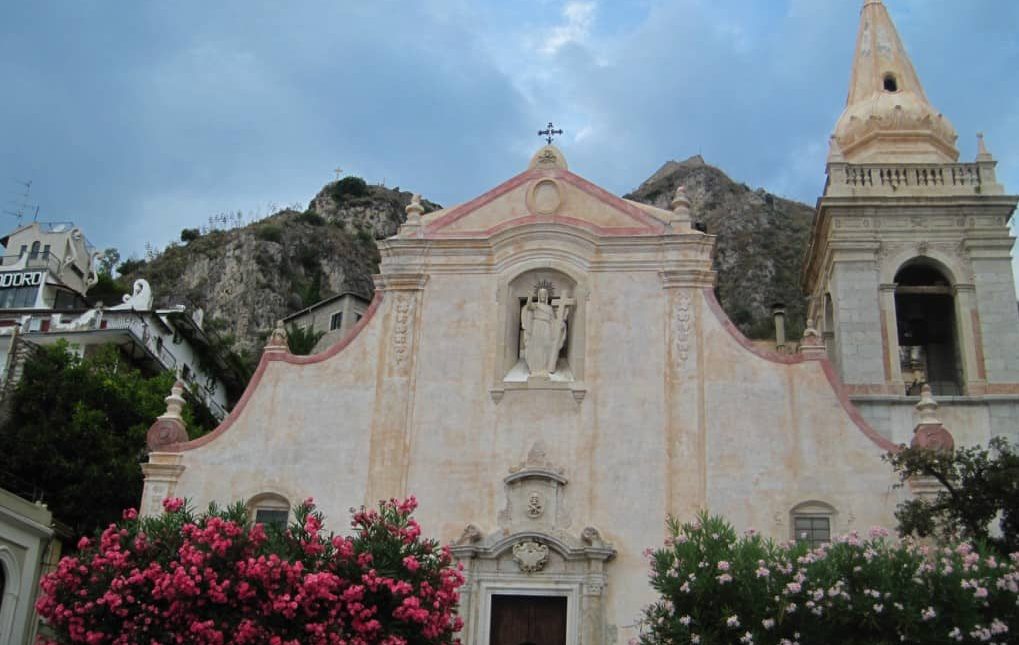 In addition, Taormina boasts a magnificent town center.  Taormina's main gathering place, Piazza IX April, has amazing views of the sea below.  It is in the center of town and a great place to eat, drink, listen to music and people watch.

 Piazza Aprile
The ancient city of Taormina is completely walkable and attractive.  For instance, flowers tumbling down balconies of pretty buildings and flowering oleander trees, just skyrocket the level of charm.  Furthermore, narrow cobblestone streets with cute little shops set the stage for delight!  It really is that good! The main pedestrian street, Corso Umberto, is simply charming.  In addition, there are two main gathering places, Piazza Aprile and Piazza Duomo.
You will enjoy excellent restaurants and cafes to visit. Soak up the lively atmosphere of magnificent Taormina Italy. It is filled with people strolling along cobblestone streets browsing and shopping in numerous luxury and local stores.
Piazza Aprile is a wonderful gathering spot for locals and tourists alike. It is a joy to hear local musicians play classic Italian songs.  Moreover, as I previously mentioned, the piazza has a magnificent view that will keep you mesmerized.
For a bit of history, don't miss the impressive and famous Greek Amphitheater. Meanwhile, don't forget to visit the beautiful beaches. Ride the Funicular (cable car) down to the picturesque bay and beaches of Taormina Mare. All the beach clubs have delicious restaurants and also rent beds, towels and umbrellas.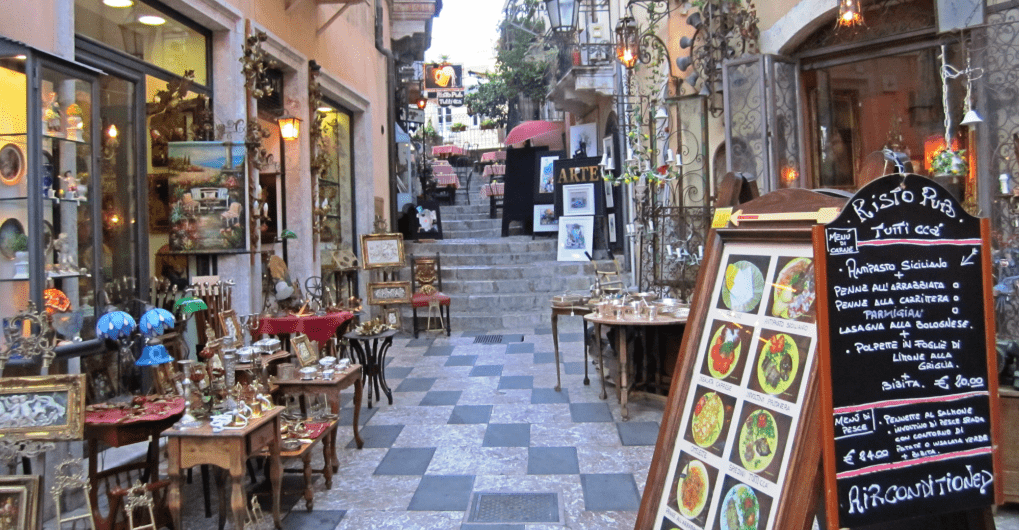 All things considered; Taormina Sicily should be on the top of your list when you visit Italy
The Best of Taormina Sicily……..
Taormina has fantastic world class hotels, luxury boutique hotels and wonderful B&B's. Some have pools and most have stunning views.  Go to my TAORMINA HOTEL GUIDE for great hotel suggestions.
Italy is known for its delicious cuisine and the amazing food in Sicily is one of the reasons why!  There are so many regional specialties and delicious fresh ingredients, not to mention the wine. Go to my Taormina Restaurant Guide for some great suggestions.
The town is energized and alive at night.  You will find a vast choice of things to do and places to go.  Dancing, cocktails, music or just getting gelato.  Check out my guide to Taormina Nightlife.
To me, the Church of San Giuseppe is one of the most splendid.  It was built in the 17th century in grand Baroque style and dedicated to Saint Joseph.  Its beauty dominates the main square of the town, Piazza IX Aprile.
Get ready for an Italian adventure listed on my Things to Do in Taormina post!