The Greek Islands are known for amazing beaches, not to mention, Santorini Beaches which are beautiful, diverse and unique.  Where else can you find two beaches in stark contrast from each other within steps?  It's like going from one world to another.  From Kamari Beach to the red and white sand beaches, Santorini has much to offer. There are several lovely beaches here, some of which are accessible by climbing steps. But don't let that stop you, they are definitely worth every step of the way.
Note: Your hotel staff will be happy to help you with directions or transportation to the beaches.
Katharos Beach, Oia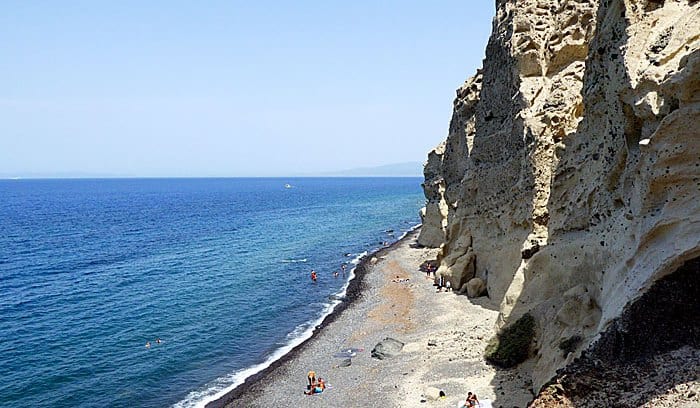 This is a very quiet and beautiful small beach with black sand and pebbles in Oia, Santorini.  From Oia Village, Katharos Beach is only a 15 minute walk down the cliff steps and on a path.  On the way down, there is a cute cafe where you can get a nice lunch.  There are no facilities, therefore, bring your towels.
Kamari Beach, Karmari


Kamari Beach is a very popular beach resort, with a totally different vibe than quiet Oia beaches.  Kamari's long sandy beach is crowded with plenty of sun worshippers.  Oh, did I mention that the sand is black?  Furthermore, the beach is lined with a multitude of cafe's, restaurants, boutiques, stores and tourists. If you are not staying in Kamari, take the public bus to Kamari Beach (Santorini Public Buses).   There is frequent bus service.  From Fira to Kamari is 15 minutes. From Oia to Kamari is 45 minutes with a change in Fira.
Perissa Beach, Kamari

Perissa is another black sand beach with crystal clear water.  It is a full service beach with sunbeds, umbrellas and water sports.  Perissa Beach and Kamari Beach are right next to each other. However, these two beaches are separated by a massive rock called Mesa Vouno, that rises out of the water like a mountain.  It is fun to take a boat around the rock from one beach to the other – maybe for lunch?  It is about a 15 minute ride and only a few euros.  Boats depart about every 40 minutes.
Santorini Red Beach

Red Beach is a small but beautiful beach which is a few steps away from the ancient ruins of Akrotiri.  First of all, the unique color of its sand is red due to the beautiful red cliffs that surround it.  Secondly, this is simply a gorgeous beach including the view from atop the cliff when you first arrive.  The crystal clear water is just a gorgeous color green and makes a wonderful contrast with the earth.  You can reach this beach by car or by boats from other beaches or the Port of Akrotiri.  There are sunbed and umbrella rentals.  Enjoy a wonderful day at one of the most beautiful of Santorini beaches!
White Beach

White Beach is another stunning one of  Santorini beaches.  The backdrop is high white cliffs and the beach is white pebbles and rocks.  It is very close to the Red Beach –  in fact, it is in the next cove.  You can get there by foot or boat from the Red Beach.