In the first place, there are so many Venice hotels to choose from, but which will be the perfect one for you?  Let me help you find the best Venice Italy hotel that will be perfect for you!
Here are some things to consider.  Do you want to be San Marco, which is in the heart of the action, or in a quiet neighborhood on the outskirts.  Are you looking for hotels with pools, they are limited but available. Do you need your hotel's entrance directly on the canal, or can you walk with your luggage over a bridge and up a few blocks. Would you like to be in the lap of luxury or a stay at a value hotel. Answering these questions will help you find your perfect choice!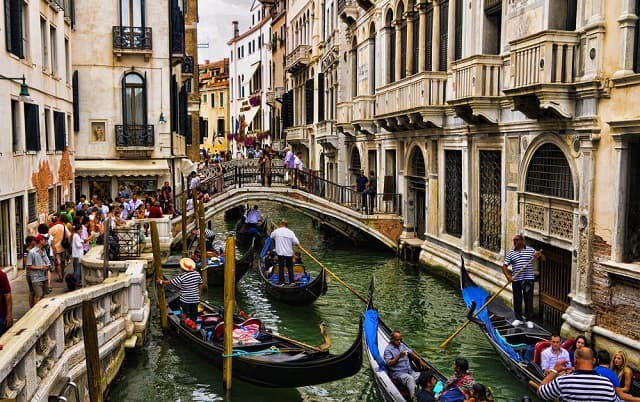 LUXURY VENICE HOTELS – POOL
Note:  Even if the hotel is open for the season, the pools may not open until end of June even if the weather is hot.  Check with your hotel for pool opening date so you are not disappointed.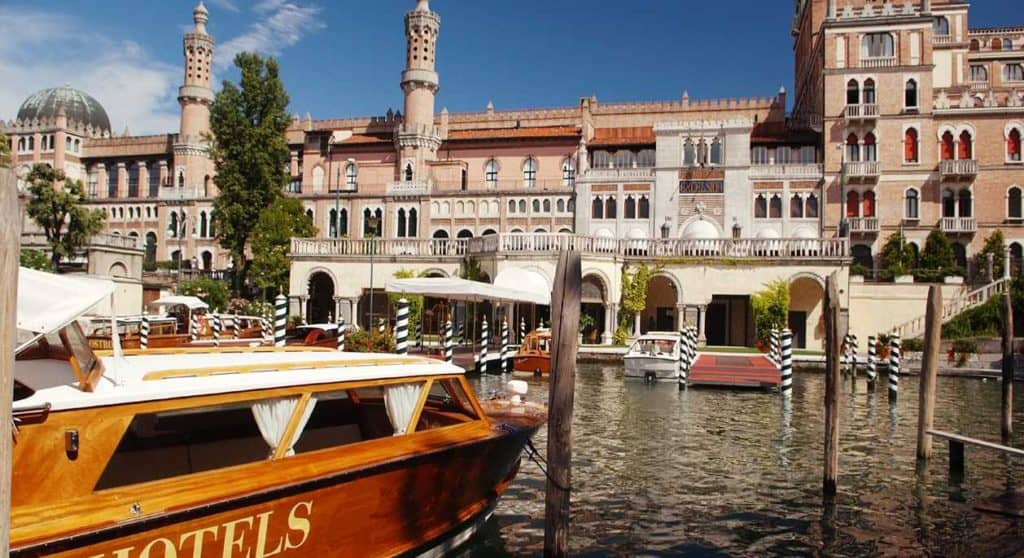 Luxury with Pool – Located on Lido Island – The Excelsior is a truly exceptional experience. I like the fact that it is away from all the hustle and bustle in the heart of Venice. In fact, this luxury hotel is located on fashionable Lido beach, complete with a private beach club and beautiful pool. The hotel has elegant indoor as well as outdoor terrace dining with a view of the sparkling Adriatic Sea. Even more, they offer complimentary boat shuttles to transport you across the lagoon to St. Marks Square in 10 minutes.  The Excelsior Hotel is a celebrity hot spot, especially during the Venice Film Festival.
Luxury with Pool – Located on Guidecca Island – The Belmond Hotel Cipriani is in the perfect location.  It is in a peaceful setting away from the crowds. A complimentary five-minute boat shuttle to St. Marks Square adds to the charm of being in Venice.  It boasts an olympic sized swimming pool, gorgeous grounds, impeccable service and old world charm. everything about the hotel is first class and outstanding, it is expensive but will be an incredible stay! It opens for the season on March 16, 2018
SUPERIOR VENICE HOTELS
Hotel Ai Cavalieri di Venezia

Superior 4* Luxury – Fabulous Hotel Ai Cavlieri di Venezia is ideally located between the Rialto Bridge and St. Marks Square and easily walkable to all main attractions. The decor with 18th century frescos, the ambiance, and the views are wonderful here. Facing the picturesque canals of Venice on two sides of the building, the hotel features a bar with a large terrace overlooking Venice. The staff is wonderful and you will have a fantastic experience here.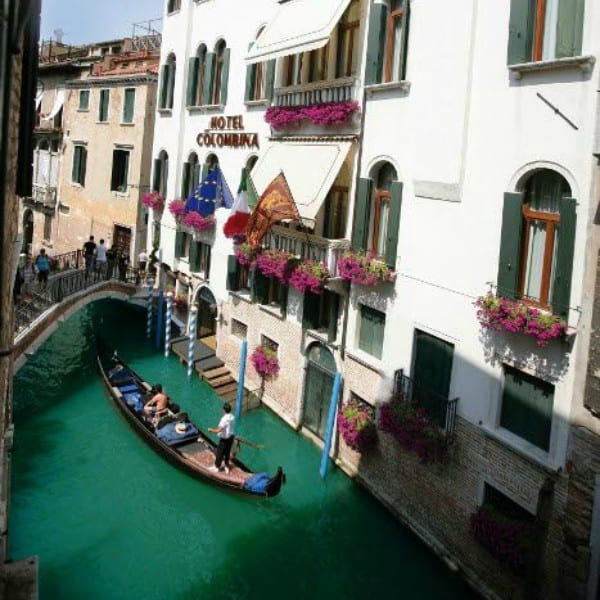 Superior – This hotel, positioned in the heart of Venice, is only a two-minute walk from St. Marks Square. It is located on the narrow, beautiful Rio di Palazzo Canal. A parade of gondolas pass by with singing gondoliers therefore try to book a room with canal view.  You can also sit on the dock in front and watch all the gondolas float by.  The canal is so beautiful and adorned with many little bridges. As a matter of fact, the Bridge of  Sighs is a few bridges down this canal. Such a lovely location!  A terrific staff and rooms furnished in elegant Venetian style. I had a unique top floor room with an outside rooftop terrace – perfect for seeing the view and all the gondolas below.
Boutique Hotel – Relais Venezia stands in an old 15th Century palazzo and is perfectly located behind St Mark's Square on one of the oldest streets in the city. It is in the heart of an authentic and  lively Venetian area with many restaurants and pubs. In addition, it is a short walk to all of Venice's attractions. The decor is beautiful, and the staff is extremely helpful giving you personal attention.  This hotel is not on the canal, you will have walk a bit with your luggage. My advice is to pack lightly, especially for Venice. Most likely your airport transfer, or vaporetto will drop you off on the dock in front of St. Mark's Square.
To Find Hotel: Exit St Marks square in the Basilica corner. Turn left immediately before the bridge into a narrow street. Continue until a small bridge, cross it and turn right. Then first left, first right. Continue to the end of the alley. The door is opposite you slightly to the right.
VALUE HOTELS
Budget Hotel – If you are doing Venice on a budget, Hotel Filu is a good pick as you can get a room for under $150 per night in season.  The hotel is in an old building but is newly renovated and the rooms are immaculately clean and comfy. Rooms with canal views are available. It is located in the Cannaregio area of Venice which is about at 30 minute walk from St. Mark's Square and most main attractions.  It is on a canal steps away from Ponte (Bridge) delle Guglie, in a Venetian neighborhood. Hotel Filù is easily accessible from the main arrival terminals – airport, train and vaporetto station.  From Venice airport, take the vaporetto orange line to Ponte delle Guglie, the hotel is a few buildings down on the right after the pharmacy.
Getting to Your Venice Italy Hotel
In my opinion, the best way to get from the airport to your Venice hotel would be a private transfer.  It's easy and a fast way to get to your hotel– probably right to the front door! Of course, there is the vaporetto (water bus) which is definitely great if you're on a budget. The vaporetto will leave you at  a vaporetto stop.  You will have to walk a bit with your luggage. Read here for information on airport transfers.
Note:  If you are visiting during the Venice Carnival or Venice International Film Festival, try to book 6 months in advance to get your choice of hotel.