Venice is one of the most romantic and unique cities in the world.  It is filled with art, culture and history, not to mention that the city is built entirely on water. Furthermore, there are so many things to do in Venice Italy!  With this in mind, my suggestion is to spend at least 3 full days to see all the attractions and landmarks. Likewise, allow an extra day or two if you want to see the outer islands of Murano or Burano. In addition to all the sights, here are some other suggestions to add memorable moments to your visit. By all means, there are countless things to do in Venice Italy.
Venice has incredible architecture, amazing history, priceless art and a wonderful culture. Top attractions to see are: St. Marks Basilica. the Rialto Bridge, St. Marks Square, Doges Palace as well as St. Marks Tower.  In fact, for comprehensive information including tickets and hours, visit my Venice Attraction Guide.
Gondola Ride – Top of the bucket list

Your trip won't be complete without a Gondola ride! It is romantic, unique and a wonderful way to see side canals of Venice. The gondoliers wear striped shirts and sing. Indeed, they are the classic image of Venice. In general, make sure you know the official gondola fares so that you don't get overcharged. Additionally, my suggestion is to take your ride on the side canals, not the Grand Canal. My favorite canal is the Rio de la Palazzo o Canonica, since it is a scenic canal that runs under the Bridge of Sighs behind the Doges Palace.
 Kayaking

Experience the enchanting atmosphere of Venice while kayaking through the canals.  Indeed, it's a great way to admire the architecture and beauty of the city, not to mention being a hands-on experience. Although gondolas are a beautiful sight in the lagoons of Venice, I can only imagine how nice kayaking in Venice would be. On my next visit, I will definitely enjoy the opportunity of paddling the Venetian lagoons! Check out the tours available at Real Venetian Kayak.
Row Venice


Row Venice! Get off the beaten path and onto the Venetian waterways!  You have options of a daytime rowing lesson or an evening lesson on the Grand Canal.  If you're a foodie or wine enthusiast you can do the Cichetto Row and sample the goodies when you glide into a traditional bàcari.
A hands-on activity to discover the authentic Venetian lifestyle. First you will experience a walking tour around the favorite districts of the locals.   Secondly, you will see Venice from the canals themselves, rowing your own boat. You'll be accompanied by a local guide and assisted during your rowing class by certified rowing teachers!
Go to a show of Baroque and Opera. This is an entertaining 1.5 hour show that will not take much time from your busy vacation schedule. Enjoy costumed performers and a festive atmosphere as these talented musicians play their instruments and sing beautifully. This is an excellent way to spend an evening. Tickets prices start at E 24.00.
Address: Scuola Grande di San Teodoro, San Marco, 4810
This is a fun and tasty 2.5 hour walking tour through the backstreet bars of Venice. Taste delicious food and wine at five different 'enotecas' (wine bars). At each stop, sample regional wines and Prosecco served alongside plates of the popular Venetian appetizers called 'cicchetti.' Group size is limited to 14 to ensure a personalized experience.
Walking Tour

Of course I suggest taking an informative walking tour of all the major sights. But, I also suggest a small group walking tour of the hidden corners of Venice in only 2.5 hours.  As a result, you will really get to see the local sights and way of  life.
You may want to immerse yourself in an opera, ballet, concert or contemporary production at this famous Venetian Opera House. Teatro la Fenice has excellent acoustics and seats over 1000 people. It is the most recognized opera house in Italian Theatre. Go to Teatro La Fenice to peruse the many upcoming events and buy your tickets online.
Address: Campo San Fantin 1965, 30124 Venezia
Visit during one of Venice's world-class events such as Venice Carnival.  Go to my Venice Events Guide to explore all there is to do and see.
PLACES TO VISIT WHILE IN VENICE
Visit the colorful island Burano. Burano is listed as one of the 10 most colorful places in the world. All houses are painted pretty pastel colors that reflect in the water of the canals. In addition, Burano is very famous for its needle lace and you will see ladies embroidering while they chat in the squares. They will invite you into their shops to admire their lace working. Enjoy the cafes, boutiques, pizzerias and ice cream shops.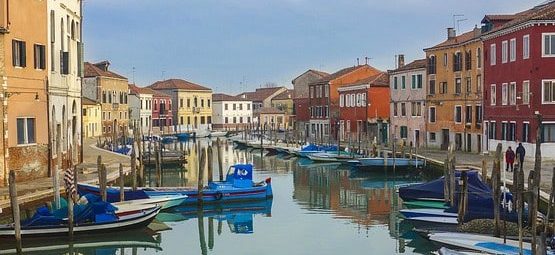 Visit the island of Murano, known for its exquisite hand blown glass. Artisans offer demonstrations of their colorful work. Moreover, this master craft was handed down from ancestors in a constant line of artisans which reaches back to the inception of the craft itself. Murano itself is a picturesque area with sidewalk cafes and stores. In the same fashion as Venice, it has its own little Grand Canal.
Not far from Venice and perfect for a day trip, is the charming and beautiful town of Verona. It is definitely one of my favorite Italian cities. I highly suggest a visit to this city of love and romance! It was made famous by Shakespeare's Romeo and Juliet. Not to mention that Verona is a beautiful city with large charming piazzas and many sites to see.  Join the crowds at popular Juilette's house and visit the Roman Arena, Piazza Bra, Piazza Delle Erbe, and the Ponte Pietra. Read more about this amazing city in my Verona guide.
Train from Venice to Verona is 90 minutes or less. If you go by car, take the A4 La Serenissima motorway.