Visiting Verona?    See these attractions!
First of all, you will be captivated the minute you arrive in this ancient city. Verona is vibrant, lively and totally walkable. You can lose yourself for hours meandering through the attractive lanes and gorgeous piazzas finding a multitude of restaurants and wine bars. Practically surrounded by the Adige River, there are many beautiful bridges as well as waterfront restaurants and pubs. Rich in history and crammed with love, here are the top sights to see in Verona.
Piazza delle Erbe
This is my favorite and most picturesque piazza. Beautiful pastel buildings with faded frescos. Two clock towers stand at each end. The center has a lovely fountain and also an ornate water-well. Café umbrellas line one entire side of the piazza. During the week there is a festive open-air market in the middle. Tip: If you want to have a bird's eye view of Piazza delle Erbe, stay at Corte Reali Suites. I enjoyed a huge balcony overlooking this beautiful piazza. This was my view every day!
Piazza Bra
You can enter Piazza Bra through Portoni della Bra which is a double-arched medieval gateway. This tremendous cobbled piazza has a park on one side and a line of restaurants and cafes along the other. Relax, have a cappucinno and watch the people go by. This will also lead you to the oldest Roman amphitheatre in Italy, the Verona Arena. In addition, you can also catch the mini-train here for a Verona tour.
Verona Arena
Built in 1st century A.D., this ancient arena held up to 30,000 spectators to view gladiator fights and hunting. It is also the third largest ampitheatre in Italy. At the present time, because the stage area is so tremendous, it seats 15,000 people. The Arena hosts various concerts and performances. Moreover, summer opera season draws fans from far and wide. Operas such as Carmen, Aida and The Barber of Seville are on the 2018 schedule. It's an exciting experience.  Tickets start at 25E with discounts for seniors and those under 30. Tickets in the gold section are 189E.
Dress Code Note: For tickets on floor, men must wear pants, not shorts.
Juliet's House
Verona and love go together like Romeo and Juliet. One of the most crowed spots in all of Verona is Juilet's house. Get there early for an unobstructed view of the courtyard and Juliet's balcony. You can even purchase tickets to enter and see the place where the love letters are answered and walk out on the balcony. This is one of the most popular of 'what to see in Verona'.
Sant' Anastasia Church
Located by Piazza dei Signori, St. Anastasia is a majestic gothic church and the biggest in the city. The façade is a mixture of colored marble and a beautiful gothic arch. Obviously, this church is simply beautiful inside and out.
Castelvecchio
This spectacular medieval fortress was built in the 14th century. It is a masterpiece of gothic architecture and now houses a history museum. There is a medieval bridge attached which crosses over the Adige river. The bridge was totally destroyed in World War II but was rebuilt in 1951. Enjoy wonderful views from both the castle and the bridge.
Basilica of San Zeno
San Zeno Church is a beautiful example of Romanesque architecture.  In addition, it has magnificent bronze doors leading into the church and many artworks inside. The church is dedicated to the patron saint of Verona, Saint Zeno.
Funicular of Castel S. Pietro
Take this funicular up to Castel S. Pietro and get a spectacular view of the city!
Via Mazzini
Evening strolls and chic boutiques are the highlight of the most popular shopping street in Verona. This is the best place to shop in Verona. Make sure you have room in your luggage to bring home some fashion finds. Not only is the shopping great, but there are a number of cafes and restaurants to stop at between shopping. I was also impressed by the beautiful shiny limestone pavement.
Porta Borsari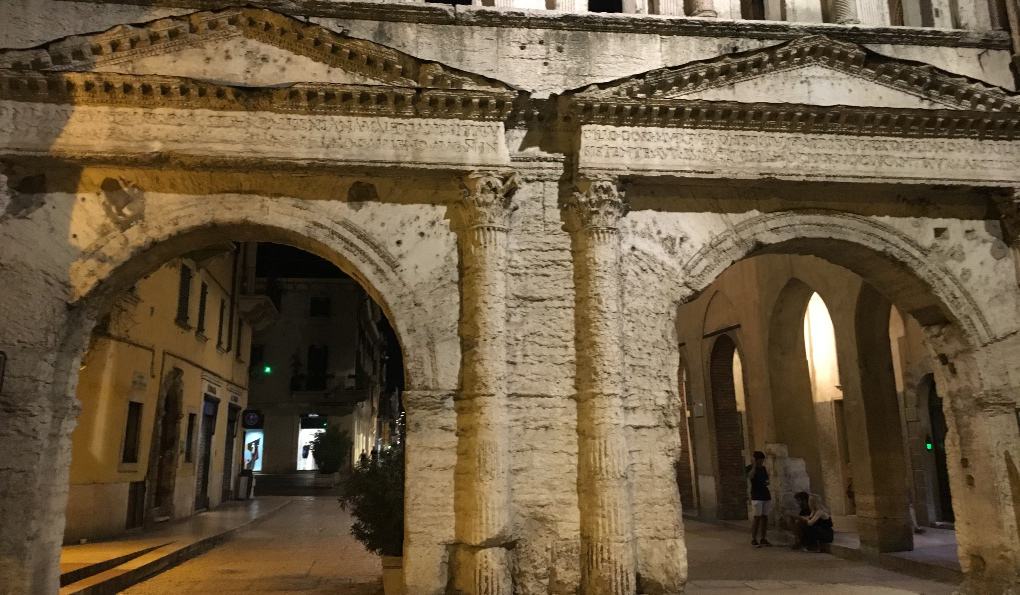 This majestic Gate dates back to Roman times and it still marks the entrance into the city. Porto Borsari was built between the 1st century BC and 1st century AD. It has magnificent double arches and an external facade of white stone. Of course, it is certainly a beautiful historic sight to see in Verona.
Now that you know what to see in Verona Italy, you have to discover what to do when you're there. Verona offers a wide variety of wonderful tours to take.
Tours
In addition to all these free sights to see, you can pick from a tremendous amount of tours available.  Enjoy wine and food tours in addition to biking, walking and rafting tours.
Jump to my Top Tours to do in Verona.