Captivating Verona offers something for everyone! Your options will be overflowing when it comes to things to do in Verona. Wine enthusiasts, foodies and culture vultures will be in heaven! In addition you can find bike, Segway and rafting tours. Furthermore, if Verona is your home base, I can suggest a few fantastic day trips to take. You will love it here, there is so much to do in this fantastic, vibrant city. Here is my list of top tours in Verona.
What to do in Verona
Of course, you will find plenty of free attractions in Verona. On the other hand, here is a great list of tours and things to do during your visit which I highly recommend. Immerse yourself in the culture of this wonderful area of my favorite country, Italy!
Tip: Book early! In order to get your first choice of the day and time, schedule your activities a week or two before you arrive. This is true especially if you're only here for a few days.
Food and Wine Walking Tour
This is a fun, delicious tour that we loved! Take a 3.5 hour walking tour with a friendly enthusiastic foodie guide. Enjoy visiting the local bottega's and wine stores as you walk through old town on narrow streets and cobblestone lanes. Try local cheeses, fresh pastas, homemade bread and handmade gelato. Of course, let's not forget the wine! Enjoy amazing Amarone wine, which is only produced in Verona. Then try some other Valpolicella wines, while hearing interesting stories behind the flavors. This was a great way to spend a morning. We really enjoyed and recommend the Veronality Food and Wine Tour.
Biking Tours
I highly recommend going on the Veronality Bike Tour. Not only is it a great way to explore Verona, but you will learn interesting bits of history and culture on the way. Enjoy an easy 3 hour tour through the city's main squares and ancient monuments. Some of the highlights will include; Piazza Erbe, Piazza Bra, Juilet's House, the Verona Arena and the Medieval Bridge among other sites. The local guides are warm, friendly and knowledgeable. It was a really fun morning for our group – we loved it!
Verona Winery Tours
Verona is located in the most prestigious wine making regions in Italy, Valpolicella. Therefore, there are countless – and I mean countless – winery tours to choose from. This is where you have to do your homework. There are full day, half day, far drive, short drive, with meal, with snack, this wine, that wine, private, semi private, group….the list goes on and on. It literally took me a few weeks to finally decide on a tour that was just right for us. Finally, we picked an AirBnB Experience at  Santa Maria Valverde Estate which was great for us. Anna picked us up and drove us to her beautiful winery for a private tour. Here are other great options for wine tours: Get Your Guide Tours, Veronality Tours, Viator, and AirBnB Experiences.
Verona Arena
When in Verona you must experience an opera at the Arena. Summer opera season draws fans from far and wide. Operas such as Aida, Carmen, La Traviata and Tosca are on the 2019 schedule. It's an amazing experience. Furthermore there are various concerts and performances. Placido Domingo will perform on August 4, 2019.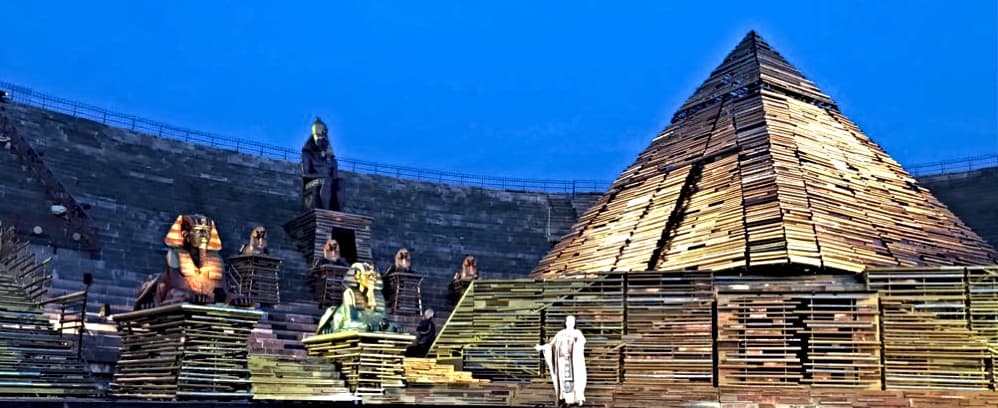 Opera Dress Code Tip: If your seats are in the gold section, men must wear pants. If a man wears shorts (even though it may be sweltering outside) he will not be admitted. For his convenience, black pants are sold at Gate 1 for 35 euros. Of course, this was the case with us, but the pants are really nice! We consider them a souvenir from Verona!
Prices: Opera tickets range from 25euro (top rows, non-numbered seats) to 192 euros in the gold section. Discounted for seniors and those under 30. Concert prices vary according to the artist. For schedule and tickets go to the Official Ticket Site.
Verona Rafting Tour
Discover Verona from the river. Rafting is a unique and fun way to admire the charm of Verona. This city was built and developed on the banks of the Adige River. As a result, you will 'soak up' a different perspective from the water. Enjoy an unforgettable experience with Adige Rafting Tours.
Mini Train Tour
Of course, it is always fun to take the mini train tour around town! It is a short 25 minutes and brings you past all the major sights. Ticket prices: Adult 5 euros, Child (5-15) 3 euros.
Verona Segway Tour
Experience historic Verona from a unique perspective. Glide through the historic center and see the main attractions. A Segway Tour is definitely a fun way to explore this beautiful city.
Romeo and Juliet Experience
This is a unique multimedia exhibition. Thanks to a careful use of state-of-the-art immersive technologies, it will give visitors the possibility of physically and emotionally immersing themselves in different environments, experiencing first-hand the essence of the famous tragedy.
Obviously, it is so easy to fall in LOVE with Verona!