Great Eats – Shelter Island Restaurants
It's been a tough summer 2020 for restaurants on Shelter Island.  Let's hope that the 2021 season is AWESOME on this beloved island!
Shelter Island may be small, but there is no shortage of great Shelter Island restaurants. The foodie in you will be delighted. Menus range from delicious Italian to fresh local seafood. Of course, you must taste the excellent local east end wines.
Restaurants on Shelter Island
As a matter of fact, local oysters are on most menus. My recommendation is to try Peconic Gold Oysters – they are delicious and right from the local waters! Let me introduce you to some of the best restaurants on Shelter Island – many of which are in some terrific hotels.
Pridwin Beach Hotel Restaurant
Waterfront Dining – Romantic
The Pridwin serves delicious new America cuisine. You will have one of the best views on the island when you dine on the balcony of this restaurant. Moreover the menu has wonderful choices and the food is excellent.
Sunset Beach Restaurant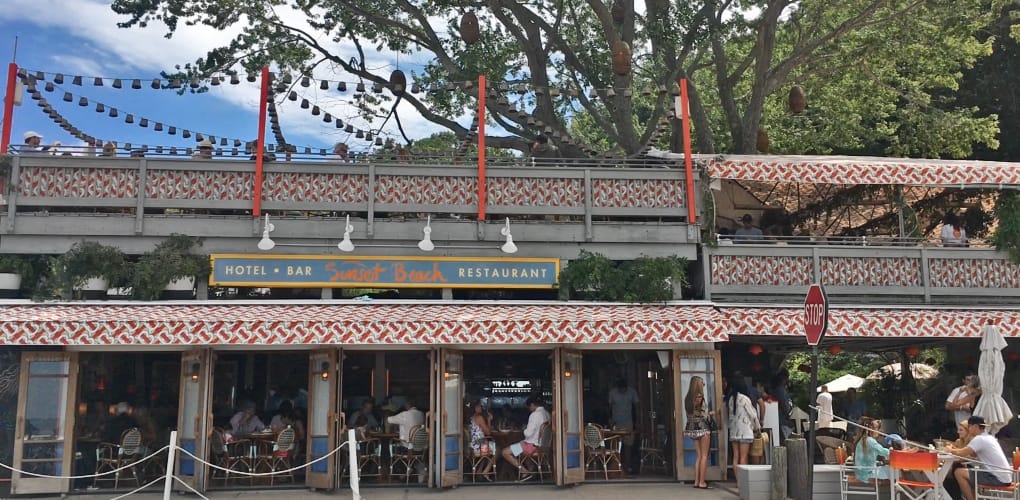 Waterfront Dining – DJ – Dancing
This chic, beach restaurant serves French classics with an emphasis on fresh seafood. This is a trendy Shelter Island hot-spot. Definitely try the mussels – they are delicious! You must make reservations in advance, even for lunch.
Salt Waterfront Bar & Grill
Waterfront Dining – Live Music at the Shipwreck Bar
Salt Bar & Grill is a casual but stylish restaurant located on a beautiful canal and the Island Boatyard. The restaurant focuses on fresh and local foods. It has a great ambience and very good food.
Vine Street Cafe
This restaurant is far from a cafe. It is a popular restaurant with a sophisticated menu and excellent food. It serves an evolving chef's menu with seafood and a local seasonal menu. Many celebrities have been spotted here!
Caci Shelter Island
Caci is a newly opened restaurant in Shelter Island House. The chef focuses on seasonally inspired northern Italian cuisine. Fine ambiance and food awaits you with indoor or outdoor dining.
Hope you enjoyed this restaurant tour!! Let's have a great 2021 season!!!