As for Dubrovnik beaches, it's nice to know that basically anywhere you see water, you can jump in and take a swim! Beaches in Dubrovnik come in all shapes and sizes. You will find a long pebbly beach, stunning pebbled bays and beautiful rocky beaches to be discovered here. Moreover, you will find beach clubs and a wide range of water sports available. Here are the three best beaches in Dubrovnik. All are within or immediately outside the Old Town walls: Banje Beach, Šulić Beach and Buza Beach
Banje Beach Dubrovnik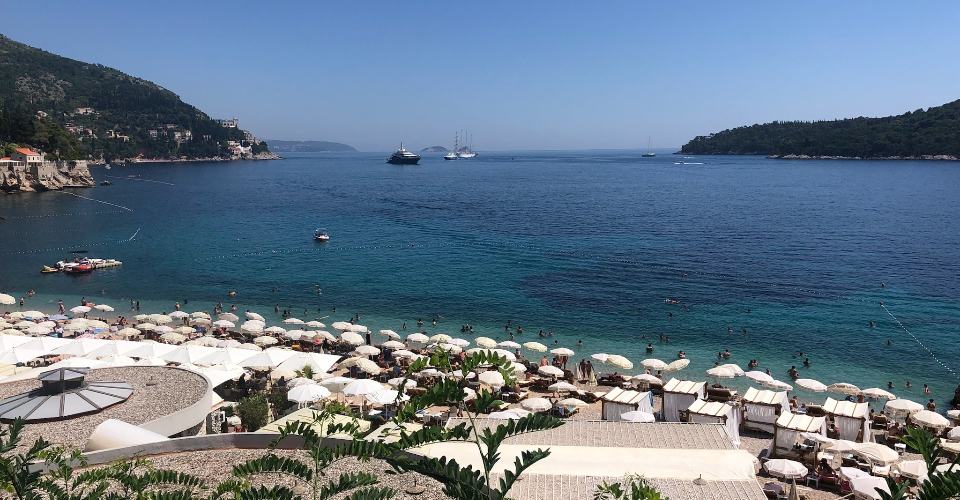 Banje Beach is a beautiful place to swim, relax and have fun in the sun! (See video below) Surely the chicest beach in Dubrovnik, it is complete with lounge chairs, exotic bamboo beds and a delicious restaurant. In addition, you can enjoy tubing, wakeboarding, kayaking, etc. A pebbled beach with some beautiful rocky sections, it is only 5 minutes by foot from Ploce Gate. Moreover, take your camera for some beautiful pictures on the rocks and the fantastic scenery of historic Old Town. Take a break from sightseeing and enjoy your time at Banje Beach Dubrovnik!
▶︎ Banje Beach Dubrovnik also has a free area ▶︎ Bring fip flops or water shoes for those pebbles
Šulić Beach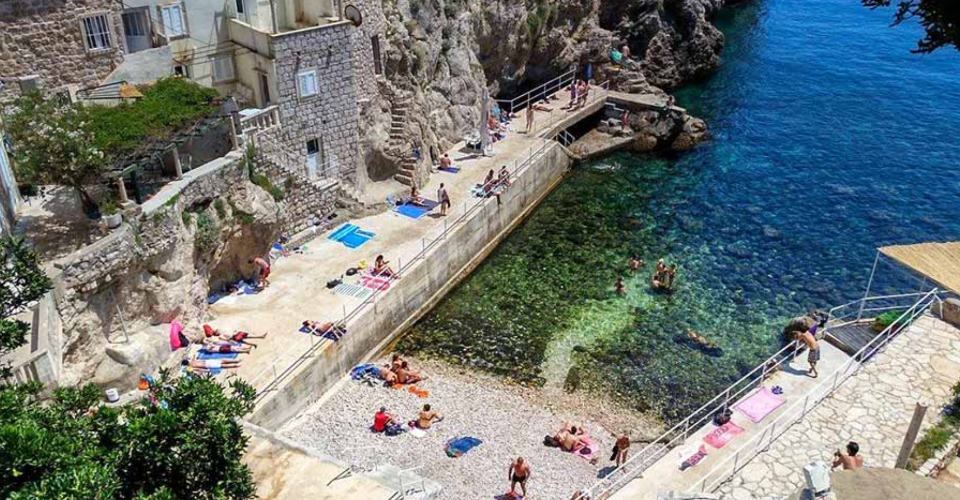 In my opinion, Šulić Beach was one of the best for fun! First of all the small pebbled beach has crystal clear water and is picturesquely snuggled into a small bay under Lovrejenac fortress. While swimming, you can enjoy a stunning view of the historic fortress and city walls. Secondly, it has great jumping spots – many people climbed the rocks and plunged into the sea. It is fun to watch, or if you're brave, it's thrilling to do. And then, there is Beach Bar Dodo . It is the perfect spot to have a drink and watch all the activity, which we certainly did!
Šulić Beach is 5 minutes by foot from Pile Gate, very close to the Old Town. Thanks to its hidden location, Šulić is never crowded, which is nice. However, bring a towel and umbrella to this beautiful rustic beach. Once there, you can rent kayaks which is a great way to discover more bays and beaches. High above the beach enjoy a great beach bar and a cute restaurant with a scenic views: Beach Bar Dodo and Ala Mizerija.
Beach Bar Dodo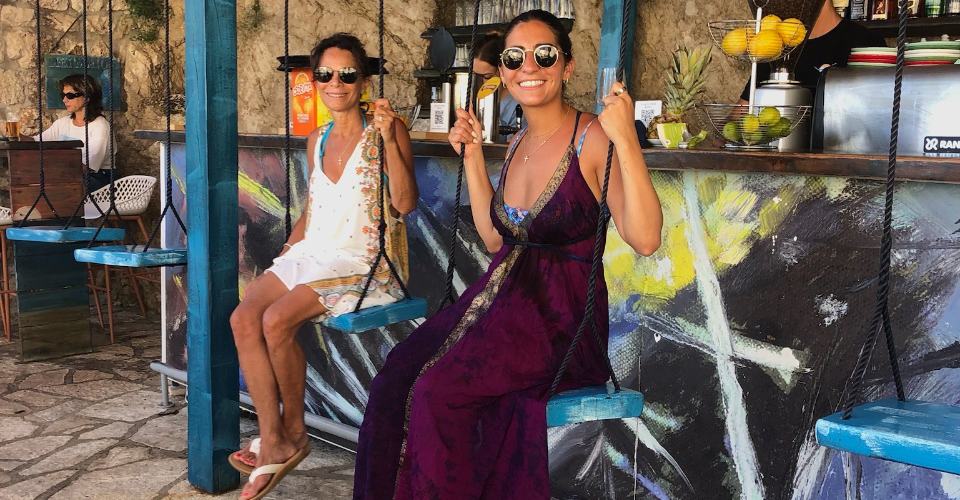 At Šulić Beach you will find Beach Bar Dodo. (See video below) It's a small spot with a big personality. Perched high above the beach, you get a bird's eye view of all the cliff divers and fun at the beach. Moreover, the view of the cliffs and sea is beautiful. They serve a delicious cocktail and instead of barstools, have fun sitting on the swings. Why can't we have this in New York? Such a unique and fun place!
Buza Beach Dubrovnik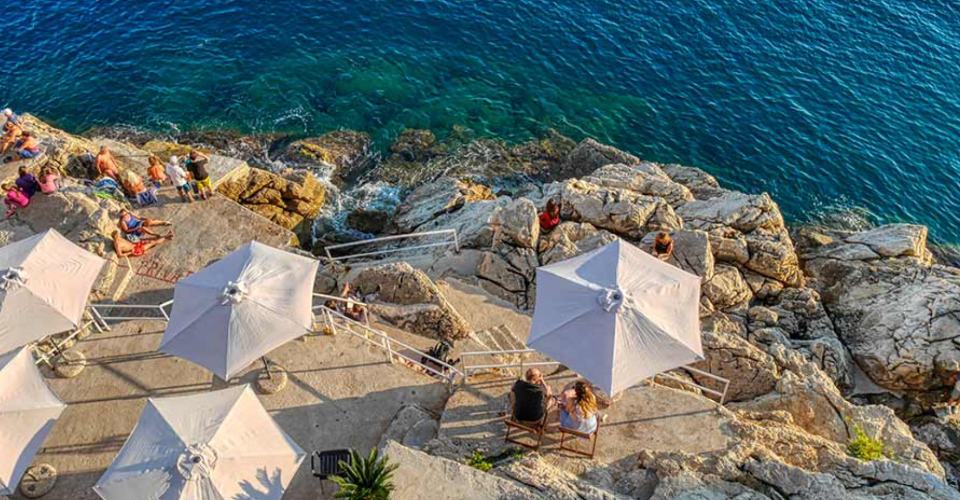 Walk though a hole in the wall and you will arrive in a beautiful place hanging on a cliffside.
This 'beach' is really an array of cliffs, platforms, stone steps and ladders that lead to the sea. It boasts raw, natural beauty and is famous for spectacular sunsets. Buža is also known as a great spot for jumping from rocks and taking a swim. There are two Buzas along the Old Town Walls of Dubrovnik. The famous Buza Beach and beautiful Bard Mala Buza. Both have charming beach bars where you can have a cocktail and rent a sunbed. Therefore, put a bathing suit in your backpack while exploring Dubrovnik's Old Town as you might want a break from the heat!